A House Democrat on Friday dismissed the Republican constitutional feud with the Obama administration over immigration as nothing more than a simple "food fight" that could damage U.S. national security.
"At a time of great international threat, daily threat, and daily threats to our homeland, Republicans have decided that they want to have a food fight with the president of the United States because he took executive action on immigration when they failed to act on immigration," Rep. Donna Edwards (D-Md.) told reporters after the Democratic retreat in Philadelphia.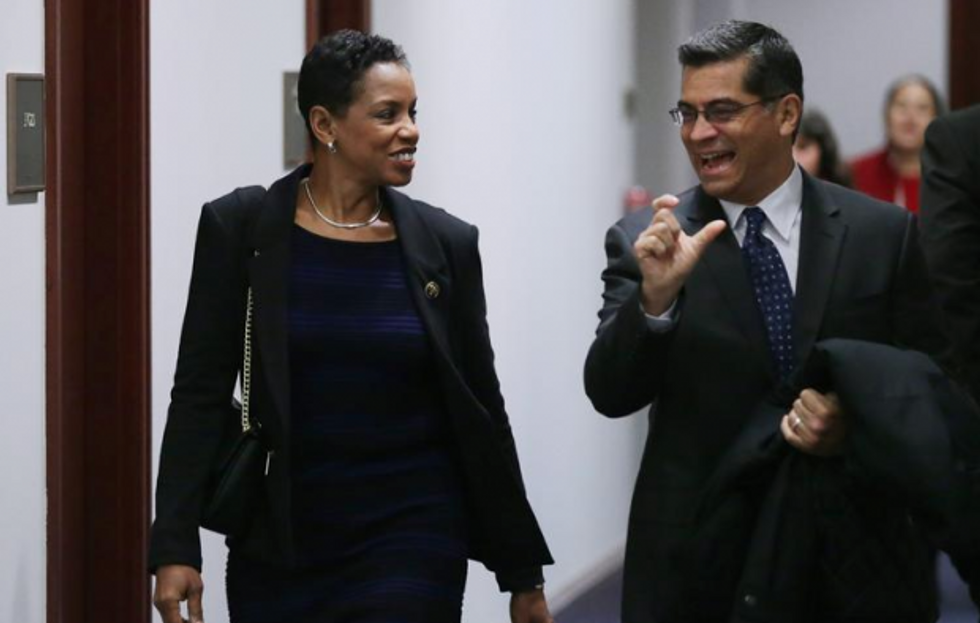 Rep. Donna Edwards (D-Md.), left, said Friday that the GOP effort to confront President Obama on immigration is nothing more than a 'food fight.' Image: Chip Somodevilla/Getty Images
Edwards was referring to the effort to neutralize President Barack Obama's executive action on immigration, which the GOP says violates the Constitution by trying to re-write immigration law without Congress.
Obama has described his action as an attempt to prioritize the deportation of criminals, spies and others. But Republicans say Obama went beyond that, and is also rewarding people on the lower end of the priority list by affirmatively letting them stay in the United States, and letting them work.
The issue came up this week during a hearing on Obama's pick to be the next Attorney General, Loretta Lynch. But when pressed by Republicans, Lynch declined to say whether Obama's decision to reward low-priority illegal immigrants was a violation of the law.
The House included language defunding Obama's action a bill to fund the Department of Homeland Security.
But Edwards said the language is threatening a shutdown of DHS, and blamed Republicans for this possibility.
"Right now, they want to hold hostage the funding for the Department of Homeland Security, and it's unacceptable," she said. "I think the American people should know that it is at the feet of the Republican Party that our domestic security is in jeopardy."
Republicans have said blame for a shutdown would fall at the feet of Democrats for refusing to consider the bill. The blame game between the two parties is likely to increase next week when the Senate considers the House-passed bill.