When a British teenager got his head almost completely shaved to raise money for charity, it was determined that his action broke a school rule...and he was therefore placed in "isolation" for several days, BBC News reported.
Stan Lock (yes, his last name is correct) got his head shaved last Sunday in the hopes of raising 100 pounds (about $150 U.S.) for Macmillan Cancer Support "because cancer affects so many people," the 14-year-old told the network.
But the head teacher at Churchill Academy in North Somerset apparently wasn't pleased with Lock's new look. The school has a policy against "extreme haircuts," BBC News reported.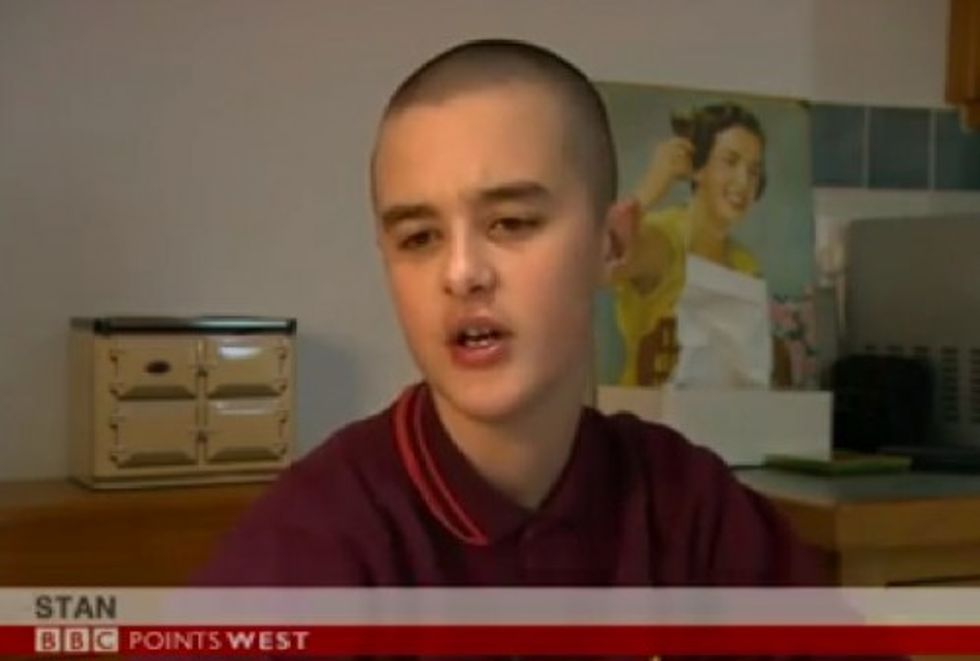 Image source: BBC News
Dr. Barry Wratten said Lock was placed in "isolation" — a kind of suspension during which he spent the school day alone. The isolation lasted four days, the BBC said.
While Lock told the network that his head teacher "did not approve" of the haircut, Lock's mother Melanie Rees said she was "incredibly proud" of her son.
"I'd hoped the school would have shown some element of judgment and would have made an exception," she told BBC News.
But Lock's situation has become fundraising gold for the lad: On Friday his total went from 200 pounds (about $300 U.S.) to over 7,500 pounds (about $11,300 U.S.) and counting.
—
Follow Dave Urbanski (@DaveVUrbanski) on Twitter