Which team will hoist the Vince Lombardi trophy on Sunday evening?
Sports prognosticators have been speculating left and right about the outcome of the big game — and experts favor the Seattle Seahawks.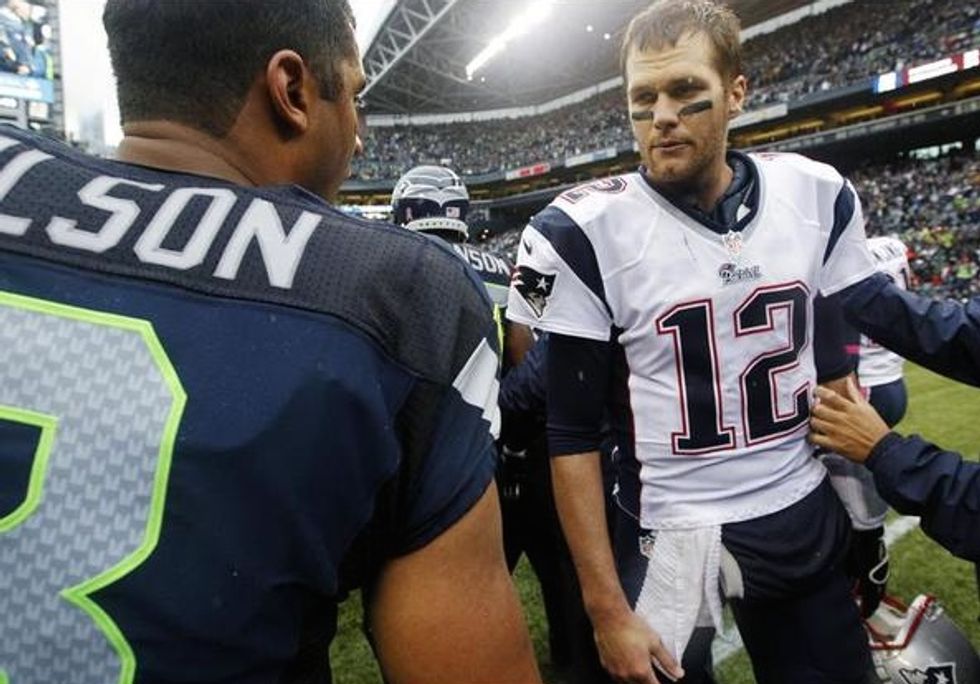 In this Oct. 14, 2012, file photo, New England Patriots quarterback Tom Brady (12) talks with Seattle Seahawks quarterback Russell Wilson after an NFL football game, in Seattle. There is a lot to look forward to when Wilson's Seahawks take on Brady's Patriots in the Super Bowl, and not just that Seattle can become the first team to win consecutive NFL championships since New England a decade ago. (AP Photo/Elaine Thompson, File)
NJ.com rounded up more than 80 expert predictions from around the web on Friday, and found that more than half of the experts picked Seattle to win over the New England Patriots.
ESPN's staff was pretty close to a tie, with 24 staffers picking Seattle and 22 picking New England.
Over at CBS Sports, five experts went with the Patriots and only three picked the Seahawks — but the CBS Sports "Prediction Machine" picked Seattle for the win.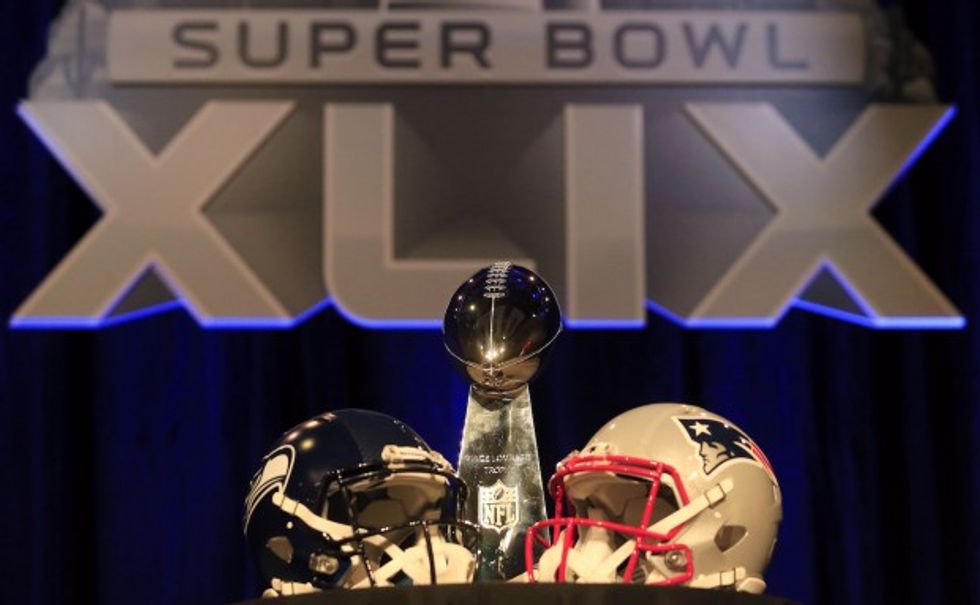 The Vince Lombardi Trophy is displayed between the helmets of the Seattle Seahawks and New England Patriots prior to a joint press conference with Head Coach Bill Belichick of the New England Patriots and Head Coach Pete Carroll of the Seattle Seahawks prior to the upcoming Super Bowl XLIX on January 30, 2015 in Phoenix, Arizona. (Rob Carr/Getty Images)
Bleacher Report's staff was 11 to five in favor of the Seahawks winning, and at NFL.com, eight of the 14 polled analysts went with Seattle.
One "expert" pulling for New England: a video game.
In the "Madden NFL 15" simulation of Sunday's game, New England pulled out a narrow 28-24 victory.
Watch the "Madden NFL 15" Super Bowl XLIX matchup below:
Which team are you backing in the big game? Take the poll below and discuss in the comments.
(H/T: Forbes)
—
Follow Zach Noble (@thezachnoble) on Twitter