The call went out to Police Officer Justin Roby — there was a suspected shoplifter at the Kroger grocery store in London, Kentucky, being held by the store's loss-prevention officer.
But what typically is an open-and-shut scenario turned out to be anything but after Roby started talking to the detained man after he arrived on the scene last weekend.
The down-on-his luck single father was caught stealing baby formula for his six-month-old son who was with him at the store, Roby told WKYT-TV. The officer at the store didn't want to press charges — and neither did Roby.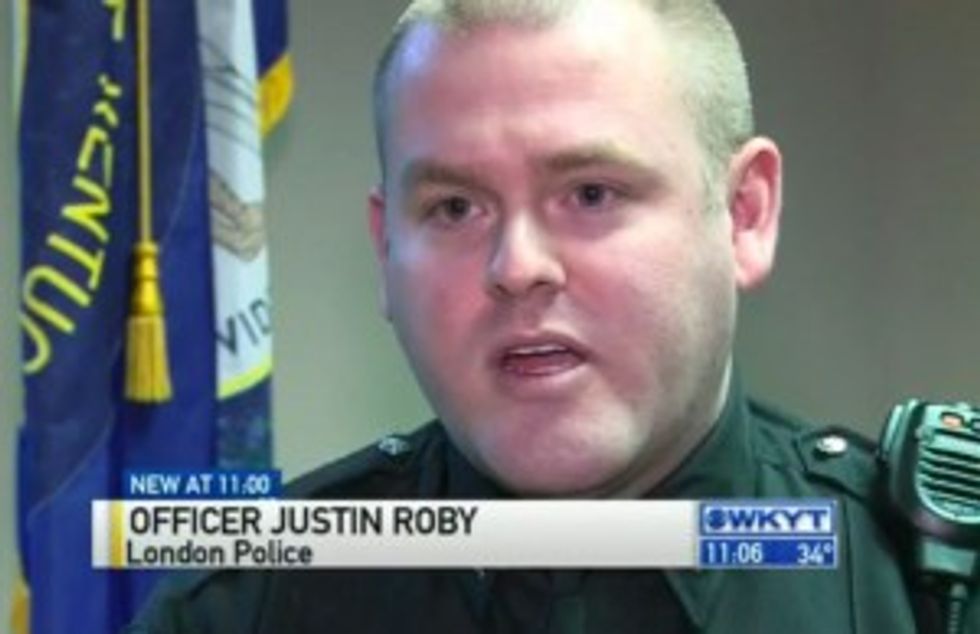 Image source: WKYT-TV
"Me citing him for court wouldn't have done any good for him," Roby told WKYT. "He's already short on money, can't afford formula, so me making him appear in court, he's still not going to have any food for that baby."
But that's not the only merciful thing that happened: Roby bought the baby formula for the dad.
"You put yourself in the situations," he told WKYT. "I think, 'Well, what if me and my son, what if this was us?'"
Roby also made sure the dad knew that rather than shoplift he could seek organizations designed to help those in need like him.
"As a police officer, it's not black and white for us," Roby told WKYT. "There's a lot of gray. And you have to cipher through everything and you really need to figure out the whole story."
Roby added that his act of kindness isn't so unusual, as police officers help people in similar ways every day without a lot of fanfare, whether it's changing tires or giving rides to people who need them.
"I think when (a lot of people) look at us, they see just the uniform and just the car, just the tools that we have on our belt," Roby told WKYT. "But behind the uniform, I'm a human being and I'm a person out in this community just like any of them. I have a little boy. I'm a father just like that gentleman was."
(H/T: Young Conservatives)
—
Follow Dave Urbanski (@DaveVUrbanski) on Twitter