She makes more than the average American — a lot more.
Her bosses want to fire her — and they can't.
Now she's suing the school system for discrimination.
It's just another story from New York City's educational system.
Ann Legra, a first-grade teacher at PS 173 in Washington Heights, has been rated "unsatisfactory" for six years in a row, but the New York City school system has been barred from firing her despite what city lawyers called her "six years of failing her students," the New York Post reported Sunday.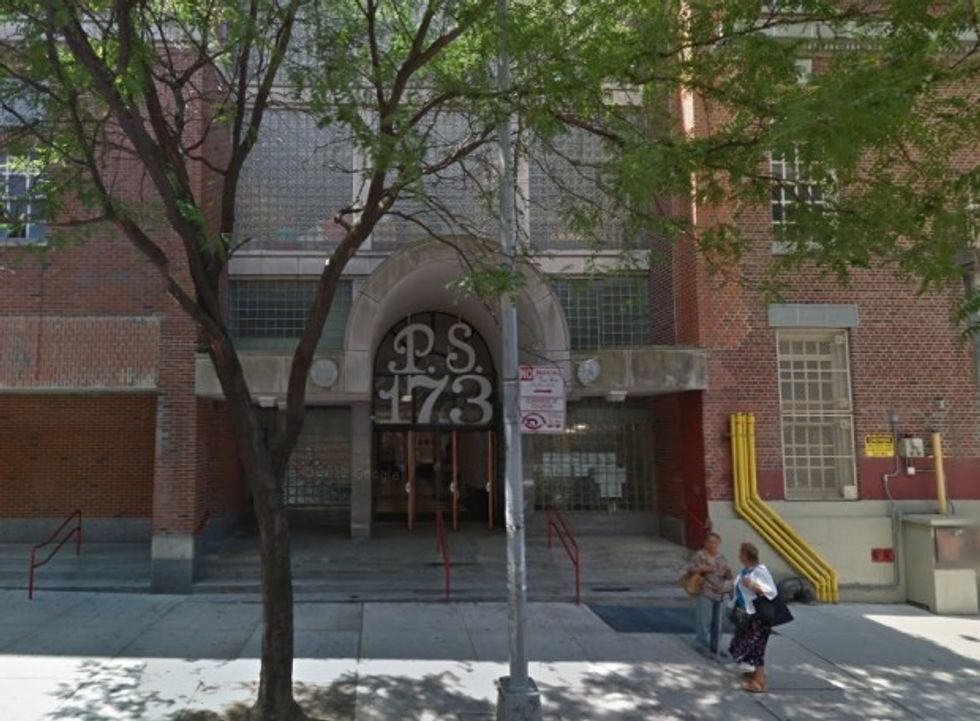 A view from the street of PS 173, where failing teacher Ann Legra has been retained. (Image via Google Maps)
"Six U-ratings is an outrage," said Michael Mazzariello, a former chief prosecutor for the Department of Education. "It's a black eye on the system."
Hearing officer Eugene Ginsberg agreed that Legra demonstrated "inability to supervise students," that she was constantly late or absent and planned lessons poorly, but instead of allowing her termination, he said she hadn't received enough coaching and imposed a 45-day suspension without pay.
He also assigned her to the substitute teacher pool, though she'll still receive her full salary, the Post noted.
Legra has been working for the school system for 23 years, 14 of those as a teacher.
The 44-year-old Legra pulls down a $84,500-per-year salary, the Post reported.
Compare that to a median American salary around $50,000 per year.
In the hearing, PS 173 Assistant Principal Kevin Goodman said he'd witnessed her classroom in "chaos."
"Students up out of their seats, at least one was running, another was demonstrating karate moves on the closet door and the majority of the students were not involved in anything instructional — an issue that has repeatedly plagued your tenure as a classroom teacher," he said, adding that three children had been injured that day.
As "mayhem" swirled around her, Goodman claimed, Legra was "buried in a corner at a computer table."
Over the 2012-13 school year, Legra was absent 27 times and late 37 times.
Her defense for her absences: her asthma and a custody battle with her ex.
Legra filed a federal lawsuit against the Department of Education after the hearing, alleging discrimination based on her race, gender, national origin and medical disability, the Post reported.
Fewer than one percent of New York's teachers are rated ineffective each year and pro-teacher hearing officers often keep lousy teachers from being fired, the Post noted, findings which led Gov. Andrew Cuomo to call the rating system "baloney."
—
Follow Zach Noble (@thezachnoble) on Twitter