Senate Minority Leader Harry Reid (D-Nev.) returned to the Senate on Monday after his eye surgery last week, only to lecture Republicans about how they squandered an entire month by working on a bill to approve the Keystone pipeline.
"I have watched very closely… with what has gone on here the last month," he said. "I'm sorry to say that we spent one month on a bill calling for the importation of oil from a foreign country, and then importing that oil outside of America."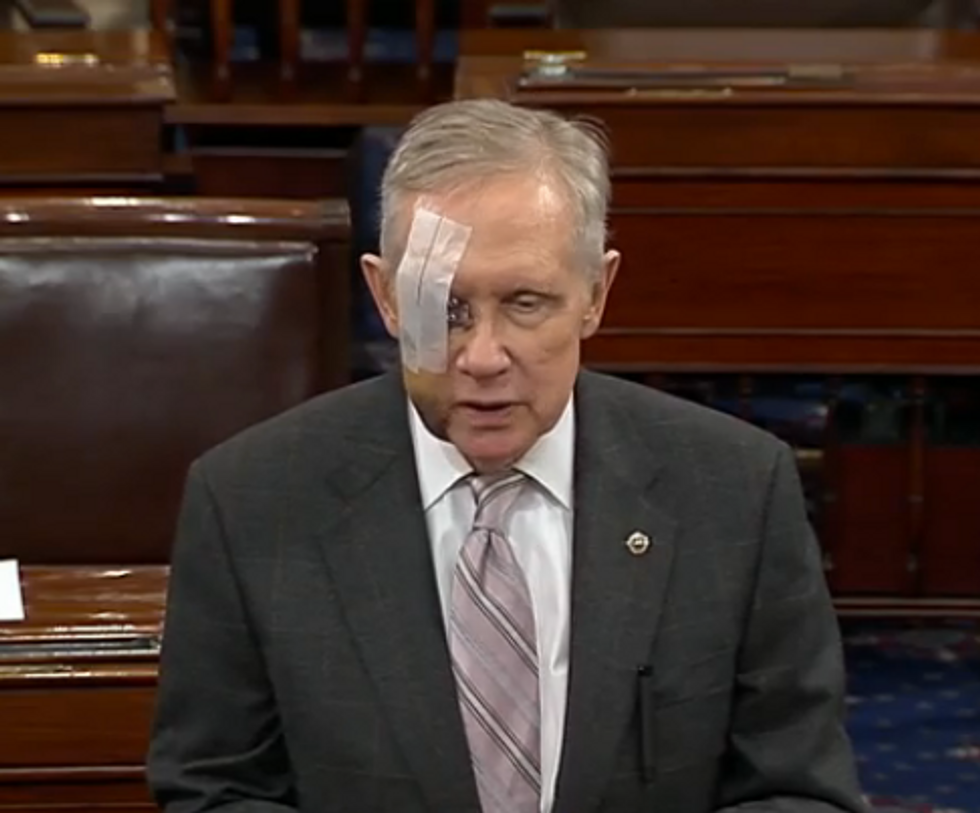 Senate Minority Leader Harry Reid (D-Nev.) said Republicans erred in spending a month trying to pass the Keystone pipeline bill. Image: CSPAN screengrab.
The Senate spent the entire month on the Keystone bill, mostly to accommodate dozens of amendments from both Republicans and Democrats. After the first few days, the Senate had held more amendment votes than all of 2014 under Reid's leadership.
Reid's point wasn't that amendment votes are bad, even though he rarely allowed amendment votes. "I'm glad that we were able to work it out so that we had a number of amendments, and that was really good," he said.
Instead, Reid's point was that the Senate spent a month dealing with an issue that doesn't matter to the middle class. "Our work is measured by what we're able to accomplish for the middle class, or it will accomplish for the American people," he said.
Republicans have rejected Reid's analysis by saying the pipeline would create thousands of jobs while the line is being built.
Reid said the best thing the Senate could to do help average Americans is to quickly pass a Department of Homeland Security spending bill that doesn't defund President Barack Obama's executive action on immigration. Reid predicted the Senate would end up with a "clean" DHS bill anyway, and that GOP leaders should just pass that version now.
So far, Senate Majority Leader Mitch McConnell (R-Ky.) has not offered many details about how the Senate will consider the House-passed bill. It's widely seen as dead in the Senate, since it can't advance without help from six Democrats.
That has led to speculation that McConnell will make a token effort to pass it before moving on to a clean funding bill.
Reid returned for his first day in the Senate chamber after a New Year's Day accident in which he severely injured his right eye. Doctors have said they are optimistic that he will regain his full use of that eye.