Sen. Rand Paul (R-Ky.) clashed with CNBC host Kelly Evans over a number of topics on Monday, including vaccines, a corporate tax holiday proposal and the basic idea of freedom. At one point, Paul grew so frustrated with the interview that he literally shushed the host, putting his finger over his mouth and telling her to quiet down.
Evans first confronted the senator over comments he made to radio host Laura Ingraham in which he argued parents should be able to decide whether or not to vaccinate their children.
"Did you really just say to Laura Ingraham that you think most vaccines in this country should be, quote, voluntary?" she asked.
"I guess being for freedom would be really unusual," Paul replied sarcastically. "I guess I don't understand the point of why that would be controversial."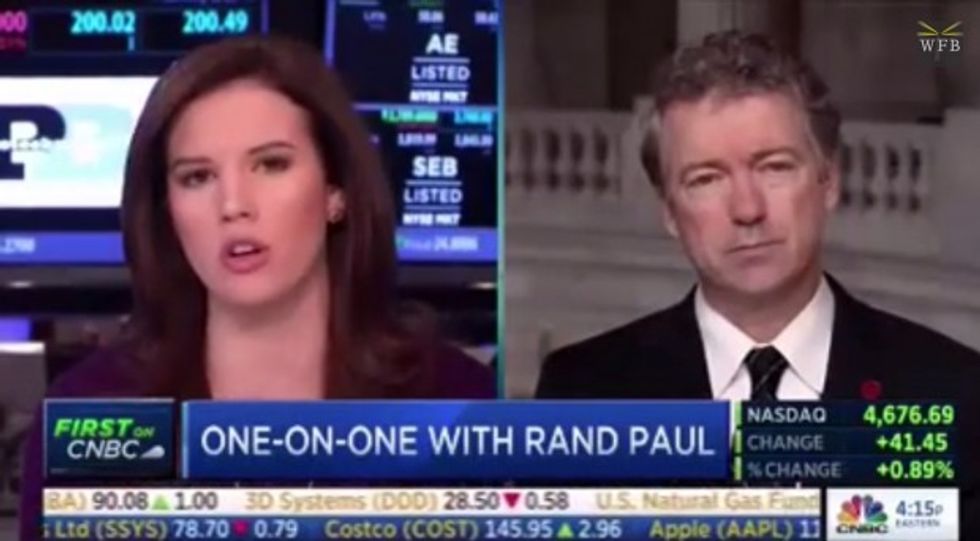 (CNBC/YouTube)
After the host continued to emphasize the importance of vaccinating against certain diseases, like measles, Paul clarified his stance on vaccines.
"I think vaccines are one of the greatest medical breakthroughs that we've had. I'm a big fan," he said. "But, you know, for most of our history, they have been voluntary."
But this just made Evans again suggest that some diseases that were once eradicated could start coming back if parents decide not to vaccinate their children. At this point, all Paul could do was reiterate what he had already stated.
"I think they're a good thing but I think the parent should have some input. The state doesn't own your children; parents own the children and it is an issue of freedom," he said.
Later in the segment, Evans asked Paul about a corporate tax holiday proposal he is co-sponsoring with Sen. Barbara Boxer (D-Calif.). She quickly alleged that "research indicates" the tax holiday would end up "costing more money over the long term than they save."
"Your premise and your question is mistaken. Most of the research doesn't indicate that. In fact, there's a prominent study… looking at the holiday in 2005, when we lowered the rate to 5 percent, and his conclusion was that it brought $300 billion of new capital home and it brought in about $30 billion of new tax revenue," Paul shot back.
As Paul was concluding his response, Evans attempted to interrupt him. Paul was apparently so frustrated at this point that he literally put his finger to his lips and shushed her.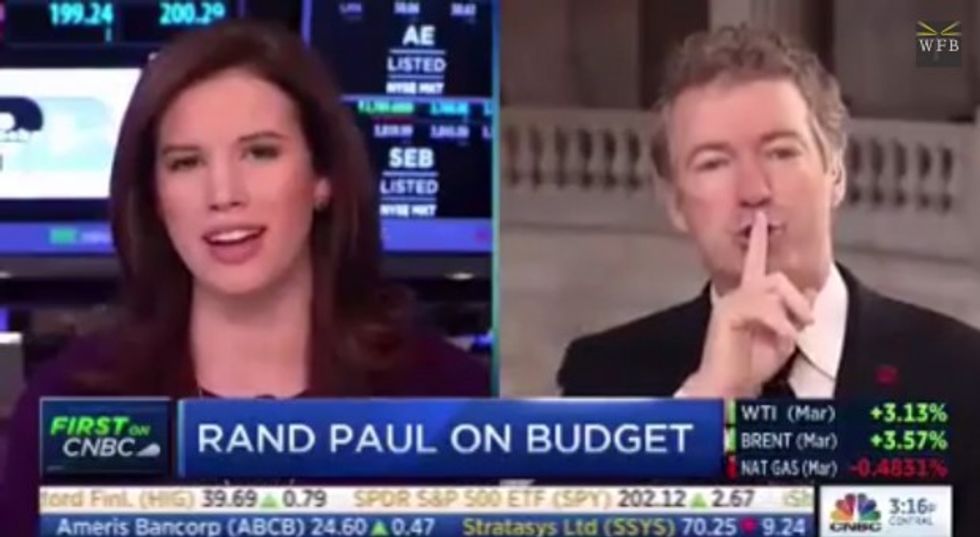 (CNBC/YouTube)
The Washington Free Beacon cut the highlights from the contentious interview:
Finally, as Evans tried to end the interview, she asked Paul about his plans for 2016. He provided a very short answer and then continued to lecture the CNBC host.
"We're thinking about it and we're looking around the United States and seeing if the message resonates. Part of the problem is that you end up having interviews like this where the interview is so slanted and full of distortions that you don't get useful information," he said. "I think this is what's bad about TV sometimes so, frankly, I think, if we do this again, you need to try to start out with a little more objectivity going into the interview."
Watch the full interview below:
(H/T: Mediaite)