Some Pakistani teachers are now bringing concealed weapons to school with local government approval after Pakistani Taliban gunmen massacred nearly 150 students and teachers in December.
The Associated Press reported that government officials in Pakistan's northwest frontier are now allowing teachers to bring concealed firearms to school, a decision that is not being met with universal enthusiasm.
Shabnam Tabinda and 10 female colleagues who teach at the Frontier College for Women have enrolled in firearms training and say they plan to bring guns to work to protect their students in the event of an attack.
"Yes. Whoever kills innocents, God willing I will shoot them," Tabinda, 37, told the AP.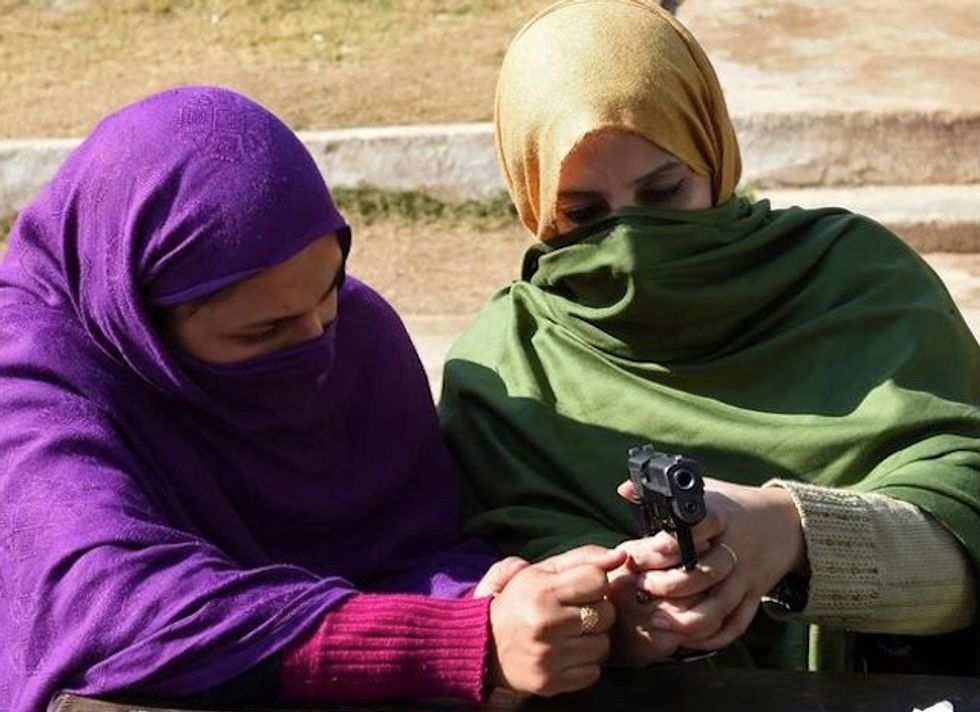 Pakistani teachers handle a pistol during a weapons training session for school, college and university teachers at a police training center in Peshawar on Jan. 27, 2015. Authorities in northwest Pakistan have allowed teachers to carry firearms to schools and have begun weapons training for them, officials said. The decision was taken in the wake of the December 2014 attack on an army-run school that killed 150 people, 134 of them children, in Peshawar, the main town in the country's northwest. (A. Majeed/AFP/Getty Images)
That sentiment was echoed by principal Abdul Saeed at Peshawar's Government High School for Boys. Saeed keeps a loaded pistol in one of his desk drawers.
Saeed told CNN how shaken his students have been since the Taliban attack on the Army Public School in Peshawar.
"They would look to the door every time they heard a sound. Now when they see me wearing a gun, they need not worry and can focus on the task at hand, which is to educate themselves," he said.
In this Tuesday, Jan. 27, 2015 photo, a Pakistani police commando gives weapons training to teachers in Peshawar Pakistan. (AP Photo/Mohammad Sajjad)
Mushtuq Ghani, the higher education minister in the Khyber Paktunkhwa provincial government, based in Peshawar, said the local government supports arming teachers because police are stretched too thin to protect against the kind of attack launched in December.
Ghani told the AP that terrorists could be deterred just by knowing that teachers might be armed.
"We're at war," Ghani said.
Meenadar Khan, a teacher at Government High School in Peshawar, said he carries his weapon to work but makes sure it stays hidden in a holster under his shirt.
Khan said that the staff at his school believes armed teachers could if necessary "defend our school and kids."
Not all educators support the idea of guns in classrooms.
Muzammal Khan, provincial president of the All Teachers Association in Peshawar, told the AP he believes students will be alarmed by seeing their teachers with guns and that the government has ultimate responsibility for school safety.
"Pens belong in our hands, not guns," Muzammal Khan said.
"Why would you glorify guns?" asked Umar Daraz, a member of the Executive Council of Peshawar's Primary Teacher Association.
"If teachers take guns into classroom it glorifies this deadly weapon in the eyes of children, and in the future it could inspire them to seek out guns, misuse them and cause more tragedies to take place," Daraz told CNN. "Teachers are meant to teach."
CNN reported that some 20 female teachers have received gun training following the Dec. 16 school attack.
"Most of them were mothers and they were helpless then. They will be never helpless again," said Inspector Rozia Altaf who is training them.