Recently we brought you an in-depth interview with Bill Browder, the grandson of the head of the Communist Party USA who became the largest foreign capitalist in Russia through his Hermitage Capital Management hedge fund, only for corrupt Russian officials to crush his company, imprison, torture and kill his lawyer Sergei Magnitsky.
This episode led Browder to lobby for the passage of the Magnitsky Act, the first round of sanctions leveled against the Putin regime that paved the way for further punitive measures from the West in the wake of Russia's invasion of Ukraine.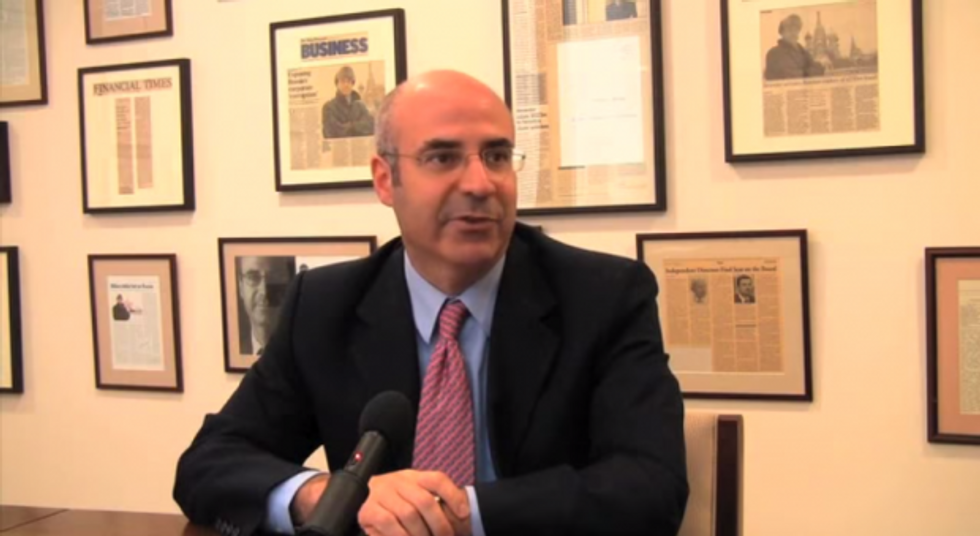 William Browder. (Image Source: OpalesqueTV/YouTube screengrab)
Below is an excerpt from Browder's new book, "Red Notice: A True Story of High Finance, Murder, and One Man's Fight for Justice," in which Browder first discovers the "Russian raider attack" that marked the beginning of his firm's demise.
After the long flight, I went straight to the office to meet Vadim and Ivan. We settled into the conference room and they debriefed me on what they'd learned while I was in the air.

The first thing was that the judgment was indeed real. Eduard had taken the train to Saint Petersburg, gone to the court, retrieved the case file, and taken pictures of the documents with his digital camera. Vadim pulled one of these pictures from a stack of papers and laid it in front of me. He pointed at a word on the page. "This says Mahaon," which was one of the fund's dormant investment holding companies. "And this is the amount." It was in rubles, but I did a quick mental calculation and could see that it was roughly $71 million.

"How could we not have known about this?" I demanded, thinking it was some colossal oversight on our side.

"Sergei was wondering the same thing," Vadim said. "While Eduard was in Saint Petersburg, Sergei checked the company ownership database." 
[instory-book ISBN="9781476755717"]
"And?" I asked with a sinking feeling.

Ivan sighed. "Mahaon's been stolen, Bill."

"What do you mean stolen? How do you steal a company?"

Ivan, who knew a bit about the company registration process, said, "It's not simple. But basically a company's owners can be illegally changed without you knowing if the person taking control of the company has the company's original seals, certifications of ownership, and registration files."

This hit me hard. "Those are the documents that were seized by the police," I said quietly. "When they raided Jamie's office."

"Exactly," Ivan confirmed.

He explained that once this was done, the new owners could act just like any other owners of a company. They could run it, liquidate it, take its assets, relocate it--anything they wanted.

Everything had now become clear. We had become the victims of something called a "Russian raider attack." These typically involved corrupt police officers fabricating criminal cases, corrupt judges approving the seizure of assets, and organized criminals hurting anyone who stood in the way. The practice was so common that Vedomosti, the independent Russian newspaper, had even published a menu of "raider" services with prices: freezing assets--$50,000; opening a criminal case--$50,000; securing a court order--$300,000; etc. The only way to fight these Russian raiders effectively was to retaliate with extreme violence, which was obviously not an option for us.

Sergei spent the night doing research and called us the next day to explain how it had all happened: "Mahaon, plus two other companies that belonged to you, have been reregistered to a company called Pluton, located in Kazan." Kazan is the provincial capital of Tatarstan, a semiautonomous republic located in Central Russia.

"Who owns Pluton?" I asked.
[sharequote align="center"]We had become the victims of something called a "Russian raider attack."[/sharequote]
"A man named Viktor Markelov, who, according to the criminal records database, was convicted for manslaughter in 2001."

"Unbelieveable!" I exclaimed. "So the police raid our offices, seize a ton of documents, and then use a convicted killer to fraudulently reregister our companies?"

"That's exactly what happened," Sergei said. "And it gets worse. Those documents were then used to forge a bunch of backdated contracts that claim your stolen company owes seventy-one million dollars to an empty shell company that you never did any business with."

"My God," I said.

"Wait. It gets even worse. Those forged contracts were taken to court, and a lawyer who you didn't hire showed up to defend your companies. As soon as the case started, he pleaded guilty to seventy-one million dollars in liabilities."

As rotten and incomprehensible as this was, everything now made sense. As the story crystallized in front of my eyes, I started laughing.

At first a little, then loudly. There was nothing funny about what was going on, but I was laughing out of sheer relief.

At first everyone was silent, but then Ivan joined me, followed by Vadim.

We now knew exactly what they were up to, and they had completely failed. They wanted the Hermitage money, but none of it was there. Based on the published price list of corporate raiding, these guys had spent millions bribing judges, cops, and clerks only to get nothing.

The only person who didn't laugh was Sergei. "Don't relax, Bill," he said ominously over the speakerphone. "This is not the end of the story." 

"What do you mean?" Vadim asked.

"I don't know, Sergei answered, his phone line crackling slightly. "But Russian stories never have happy endings."
[sharequote align="center"]Russian stories never have happy endings.[/sharequote]
Note: The link to the book in this post will give you an option to elect to donate a percentage of the proceeds from the sale to a charity of your choice. Mercury One, the charity founded by TheBlaze's Glenn Beck, is one of the options. Donations to Mercury One go towards efforts such as disaster relief, support for education, support for Israel and support for veterans and our military. You can read more about Amazon Smile and Mercury One here.
–
Follow Ben Weingarten (@bhweingarten) and TheBlazeBooks on Twitter and Facebook.
You can find all of our Blaze Books interviews on Soundcloud and Stitcher, and subscribe to our podcast automatically via iTunes.