As if on cue, a driver accidentally made their point for them.
While snow storms wreak havoc on the northern states of the U.S., a pair of reporters with Vermont's WPTZ-TV set out to film a news clip on the dangerous weather Monday evening — and they just happened to catch a perfect example of the conditions.
The minute the reporters start their live broadcast, a car careens into a pole behind them.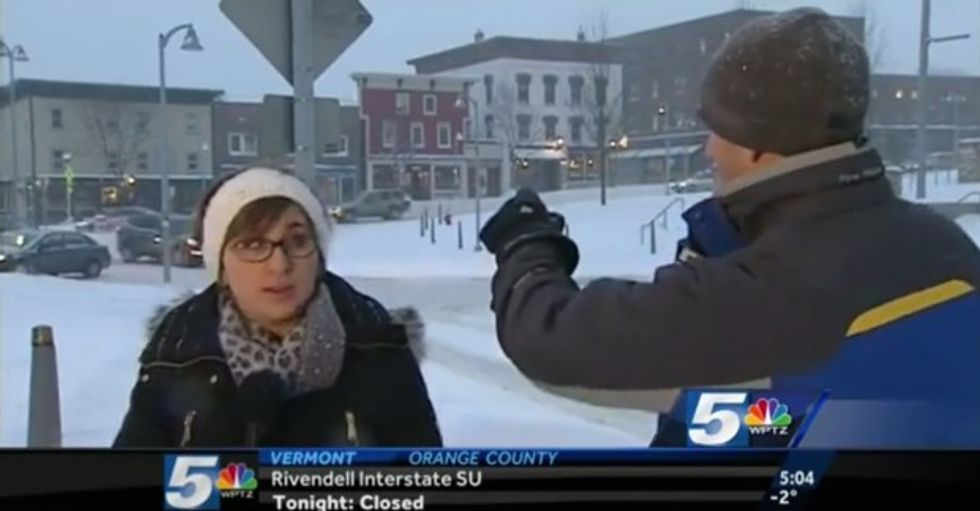 Image via WPTZ-TV/YouTube
"We've got an accident right behind us here, right here in the traffic circle," one of the reporters quickly notes.
After a few stunned moments of silence, one of the reporters says, "Uh, wow, so that just kind of gives you the nature of why [Vermont] Gov. [Peter] Shumlin is telling us to kind of take it easy and stay off the roads tonight, huh?"
The condition of the person involved in the collision wasn't immediately available, but the collision appeared to take place at a fairly slow speed.
Watch the clip below:
(H/T: Deadspin)
—
Follow Zach Noble (@thezachnoble) on Twitter