A rookie New York City police officer has been indicted in the death of 28-year-old Akai Gurley, a lawyer told the Associated Press Tuesday.
Officer Peter Liang fired into a darkened stairwell in a Brooklyn public housing complex on Nov. 20, fatally injuring Gurley. It was not immediately clear what charges Liang will face.
"The fact that he was assigned to patrol one of the most dangerous housing projects in New York City must be considered among the circumstances of this tragic accident," said Patrick J. Lynch, the head of Liang's union.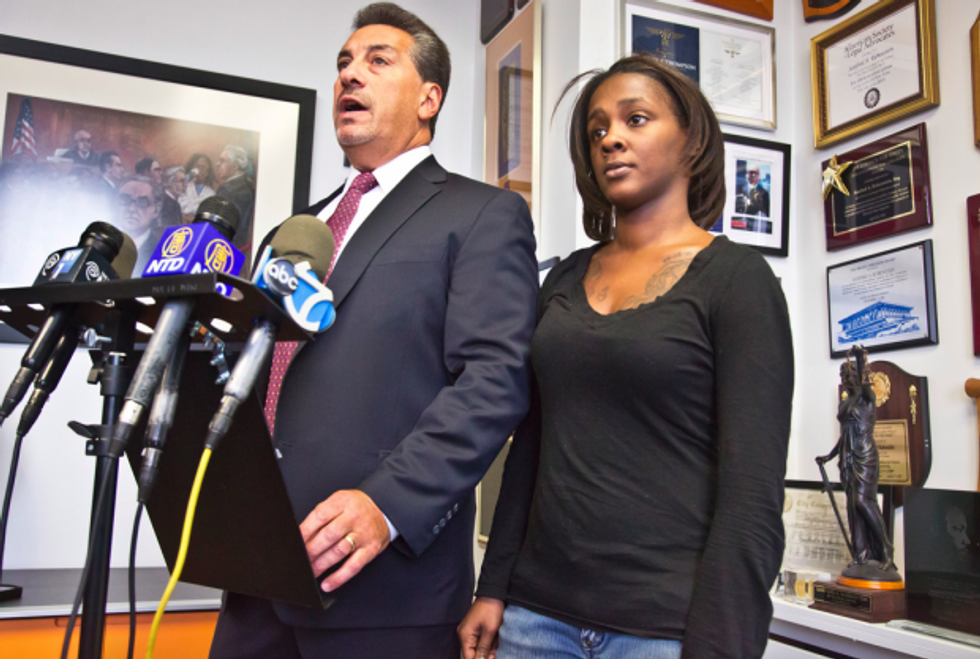 Attorney Scott Rynecki, left, and Kimberly Ballinger, the domestic partner of Akai Gurley and mother of his toddler daughter, hold a press conference, Thursday, Jan. 29, 2015, in New York. Ballinger filed a lawsuit seeking $50 million against the city, the New York Police Department and officers Peter Liang and Shaun Landau in the shooting death of Akai in a Brooklyn housing project stairway. (AP Photo/Bebeto Matthews)
But Scott Rynecki, an attorney representing Gurley's family, said the shooting was unjustified and "this is the first step for justice."
The Associated Press has more on the story:
The officers had descended onto an eighth-floor landing when, 14 steps away, Gurley and the woman who had been braiding his hair opened a door into the seventh-floor landing after giving up their wait for the elevator so he could head to the lobby. The lights were burned out in the stairwell, leaving it "pitch black" and prompting both officers to use flashlights, police said after the shooting.

Liang, for reasons unclear, also had his gun drawn, police said. He was about 10 feet from Gurley when, without a word and apparently by accident, he fired a shot, police said.

Gurley was struck in the chest. The two made it down two flights of stairs after he was shot, but he collapsed on the fifth-floor landing and lost consciousness, according to the woman, Melissa Butler.

Gurley was taken to a nearby hospital, where he died, police said. Police officials pieced together the details of the shooting from radio reports and interviews with the girlfriend and the second officer, but they have not spoken to Liang and won't until after the criminal proceedings are completed. Liang was placed on desk duty after the shooting.