Larry Kudlow, who describes himself as a "Hayekian, free-market classic liberal," said Tuesday that the government's tendency to pay people not to work is "very troubling" and has got to stop.
"The culture of entrepreneurship I think is alive and well," Kudlow said on The Glenn Beck Program. "Trouble is, our government down through the years, under both Republicans and Democrats, has created a whole series of incentives not to work. This is what I find very troubling: they're going to pay you not to work."
Kudlow cited unemployment insurance of up to 99 weeks, adding: "As soon as we stopped it, people started going back to work. How about that?"
Kudlow also said Obamacare is "essentially premised on the fact that if you get a job and succeed and your income goes up, they will take away the Obamacare subsidies and tax credits. They are basically paying you not to work. That's got to stop."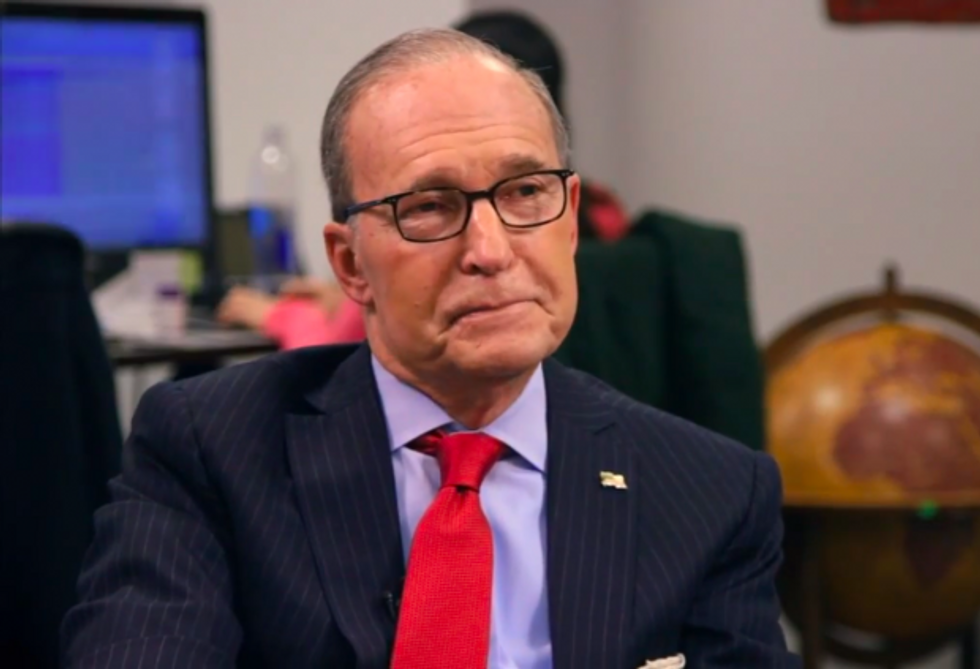 Larry Kudlow speaks on The Glenn Beck Program Feb. 10, 2015. (Photo: TheBlaze TV)
Beck and Kudlow also discussed potential future leaders, and the CNBC senior contributor said retired four-star General Jack Keane is the only person he's heard who addresses the threat of radical Islam "straight-up."
"I had him on the radio show ... and he said, 'This is like fighting communism, and we better understand this.' And I don't think we do," Kudlow related. He added that Louisiana Gov. Bobby Jindal also recognizes the threat, while President Barack Obama "won't even acknowledge that it's an Islamic problem."
Beck asked Kudlow what he thinks will happen if America's economy collapses, weighing in: "When we wake up to our horrible situation all around the world, I think people are going to be screaming for blood and screaming for a strongman to fix it, as they are now in Greece."
"I'm a lot more optimistic about the economy, assuming we're still a free country," Kudlow responded with a smile. "I've said this before and I'll say it again: you and I and like-minded people who believe in freedom -- I can sit down with you and fix the economy. Give me a half hour. ... I've been doing it for close to 40 years. The principles don't change."
Both Beck and Kudlow struggled with alcoholism in the past, and agreed that "there are a lot of lessons to be learned" in bottoming out and having to pull yourself back up.
"The bottom was a lot worse than I ever thought," Kudlow said. "I lost some awfully good jobs along the way in the late 80's, early 90's. I lost a Wall Street career. I had a career in journalism; I lost that. I had been doing a lot of broadcasting; I lost that. It's very hard to hold a job, Glenn, if you don't ever show up for it. It's one of the lessons I learned."
Kudlow said part of his "new world mantra" is just to "show up."
"I'm, God's grace, coming up to 20 years. And I show up [for] everything, everything," Kudlow said. "Unless I'm really three-quarters dead, I'm going to show up, I don't care how bad I am."
Kudlow shared how his faith and his wife of 27 years have kept him on the right path, saying he's not a "proselytizer," but he is immensely grateful.
"I'm grateful to have work, interviews. Every night for 12 years I'm grateful for a TV show on CNBC that I just love. When I couldn't do it anymore, they re-wrote the contract and kept me on as a commentator. I have a radio show that's high-ranked. I'm just grateful for my whole life."
[mlbvideo content_id=37224873]
The full episode of The Glenn Beck Program, along with many other live-streaming shows and thousands of hours of on-demand content, is available on just about any digital device. Click here to watch every Glenn Beck episode from the past 30 days for just $1!