Republicans indicated Wednesday that they may be looking to toughen up President Barack Obama's request to use military force to fight the Islamic State.
Obama sent his formal request for authorization for the use of military force, or AUMF, to Congress on Wednesday morning, accompanied by a letter that stressed he does not want to authorize the use of ground troops.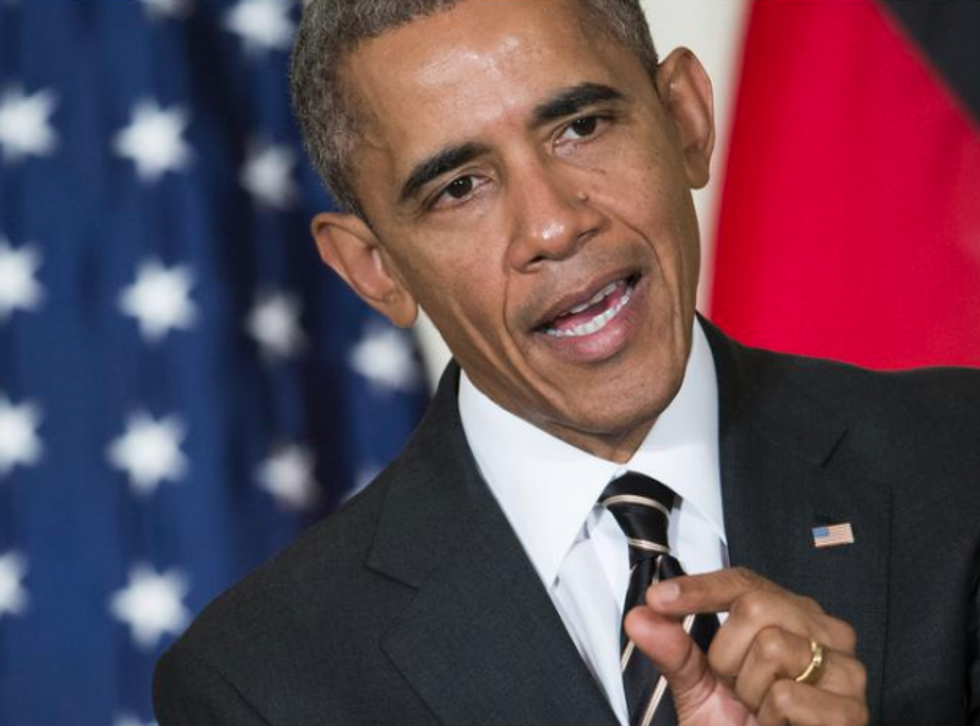 Some Republicans sound like they want to tweak President Barack Obama's request to use military force against the Islamic State. Image: AP Photo/Evan Vucci
"My administration's draft AUMF would not authorize long‑term, large-scale ground combat operations like those our nation conducted in Iraq and Afghanistan," he wrote. "Local forces, rather than U.S. military forces, should be deployed to conduct such operations."
The key section of his formal AUMF resolution reads, "The authority granted… does not authorize the use of the United States Armed Forces in enduring offensive ground combat operations."
For Democrats who want to avoid any use of ground forces, that sentence could be seen as authorizing some ground troops, as long as they aren't used for too long. Wednesday afternoon, White House spokesman Josh Earnest indicated the language is flexible enough for the U.S. to respond with ground troops in limited ways, to react to events that cannot be predicted.
Republicans in general have not called for the immediate use of ground troops. Still, some Republicans immediately indicated they weren't fans of the limitation in Obama's proposal, since the language could make it harder for the U.S. to reach its goal of destroying the Islamic State. House Speaker John Boehner (R-Ohio) said he's not yet convinced that Obama has outlined a good plan.
"I believe that if we're going to authorize the use of military force, the president should have all the tools necessary to win the fight that we're in," he told reporters. "The president's point is that he wants to dismantle and destroy ISIS. I haven't seen a strategy yet that I think will accomplish that."
House Majority Leader Kevin McCarthy (R-Calif.) was also critical, and said Obama's request seems designed to limit U.S. options as it fights the terrorist group.
"I have been supportive of efforts to give the commander-in-chief additional authorities to confront these growing challenges, but rather than expanding his legal authority to go after ISIL, the president seems determined to ask Congress to further restrict the authority of the U.S. military to confront this threat," McCarthy said.
"I am prepared to support an authorization for use of military force that provides new legal authorities to go after ISIL and other terrorist groups," he added. "However, I will not support efforts that impose undue restrictions on the U.S. military and make it harder to win."
House Armed Services Committee Chairman Mac Thornberry (R-Texas) said Obama needs to explain how the U.S. can win against the Islamic State with the military restrictions he requested.
"He must also assure the American people and our allies around the world that his heart is in the fight," Thornberry said. "And the Congress must uphold its constitutional obligations as a separate branch of government with vital responsibilities to defend the American people against a bitter enemy."
In the Senate, Majority Leader Mitch McConnell (R-Ky.) said the upper chamber would carefully review Obama's request, with input on military strategy from people in the U.S. Armed Forces. "The Senate will review the president's request thoughtfully, individual senators and committees of jurisdiction will review it carefully, and they'll listen closely to the advice of military commanders as they consider the best strategy for defeating ISIL," he said.
But Senate Majority Whip John Cornyn (R-Texas) said he would be reserving judgment about the plan until he learns more.
Obama's request goes to the House Foreign Affairs and Senate Foreign Relations Committees. House Chairman Ed Royce (R-Calif.) said his committee would hold a hearing on Obama's request on Thursday. Senate Committee Chairman Bob Corker (R-Tenn.) similarly welcomed Obama's request, and promised "rigorous hearings."
Read Obama's AUMF request here: