Story by the Associated Press; curated by Dave Urbanski
KIEV, Ukraine (AP) — The cease-fire period for the fighting in Ukraine has begun, but there are no immediate indications of whether either side in the conflict that has killed more than 5,300 people is observing it.
Under an agreement struck last week, both Ukrainian forces and Russian-backed separatist rebels were to hold their fire as of one minute after midnight on Sunday. If that holds, both sides are to begin pulling back their heavy weaponry to form a wide buffer zone.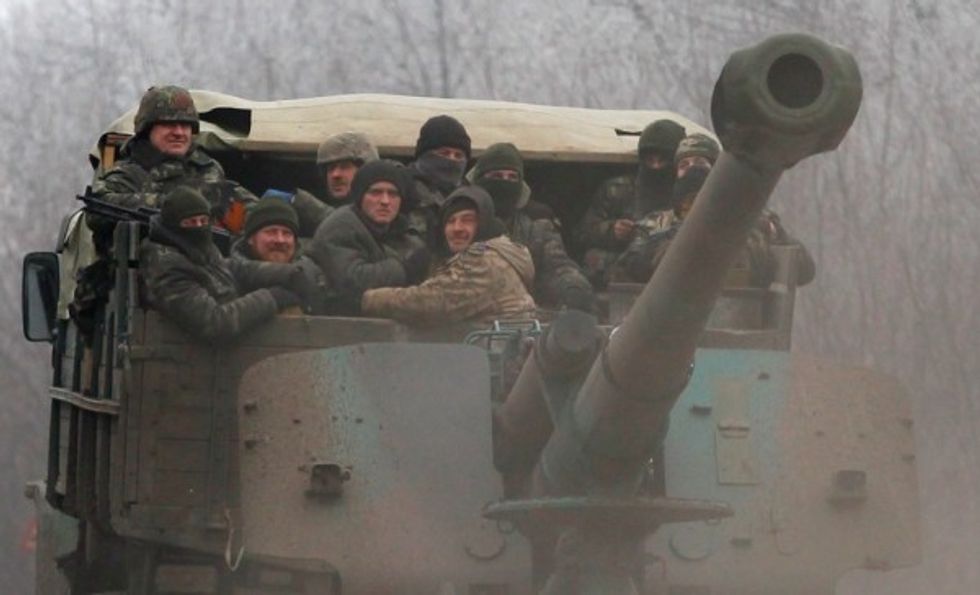 Ukrainian government soldiers ride on a vehicle on the road between the towns of Dabeltseve and Artemivsk, Ukraine, Saturday, Feb. 14, 2015. (Image source: AP/Petr David Josek)
On Saturday, intense fighting persisted around the strategic government-held railway hub of Debaltseve, which has been besieged by separatist forces. In an inauspicious omen for the prospects of any cessation of hostilities, rebels have said they will not consider any battles for the town to be a violation of the cease-fire.
—
Follow Dave Urbanski (@DaveVUrbanski) on Twitter