Story by the Associated Press; curated by Dave Urbanski
WASHINGTON (AP) — The United States is condemning the purported killing of 21 Egyptians by militants in Libya affiliated with the Islamic State group as "despicable" and "cowardly."
White House press secretary Josh Earnest adds in a statement Sunday that the group's barbarity "knows no bounds."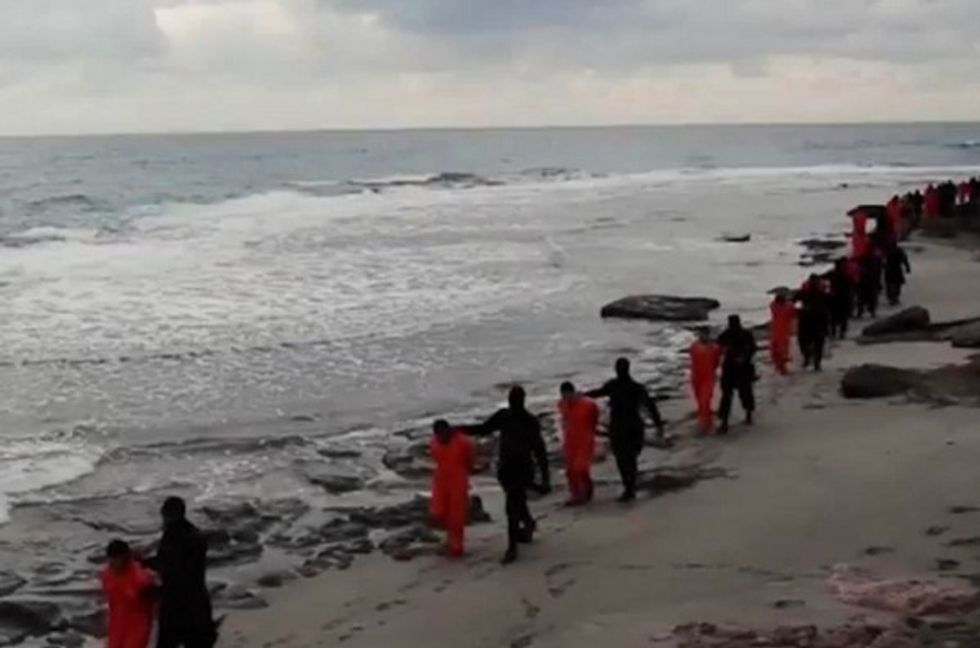 This image made from a video released Sunday Feb. 15, 2015 by militants in Libya claiming loyalty to the Islamic State group purportedly shows Egyptian Coptic Christians in orange jumpsuits being led along a beach, each accompanied by a masked militant. Later in the video, the men are made to kneel and one militant addresses the camera in English before the men are simultaneously beheaded. The Associated Press could not immediately independently verify the video. (Image source: AP)
Earnest says the killings underscore the need for a political resolution to the conflict in Libya. He says the situation in Libya only benefits terrorist groups, and he called on the Libyan people to unite in opposition to terrorism.
Video purporting to show the mass beheading of Coptic Christian hostages was released Sunday by IS.
The Associated Press could not independently verify the video. But the Egyptian government and the Coptic Church, which is based in Egypt, have said the video is authentic.
—
Follow Dave Urbanski (@DaveVUrbanski) on Twitter