Egypt said Monday it had launched airstrikes against Islamic State group targets in Libya one day after the release of a gruesome video purporting to show the beheading of a group of Egyptian Coptic Christians.
The Armed Forces General Command announced on Egyptian radio that the strikes were "to avenge the bloodshed and to seek retribution from the killers."
"Let those far and near know that Egyptians have a shield that protects them," the military said according to the Associated Press.
On the tape, one of the jihadists vowed the Islamic State would "conquer Rome." The AP noted that the group which aims to establish an Islamic caliphate in the Middle East, Europe and elsewhere "has established a direct affiliate less than 500 miles (800 kilometers) from the southern tip of Italy."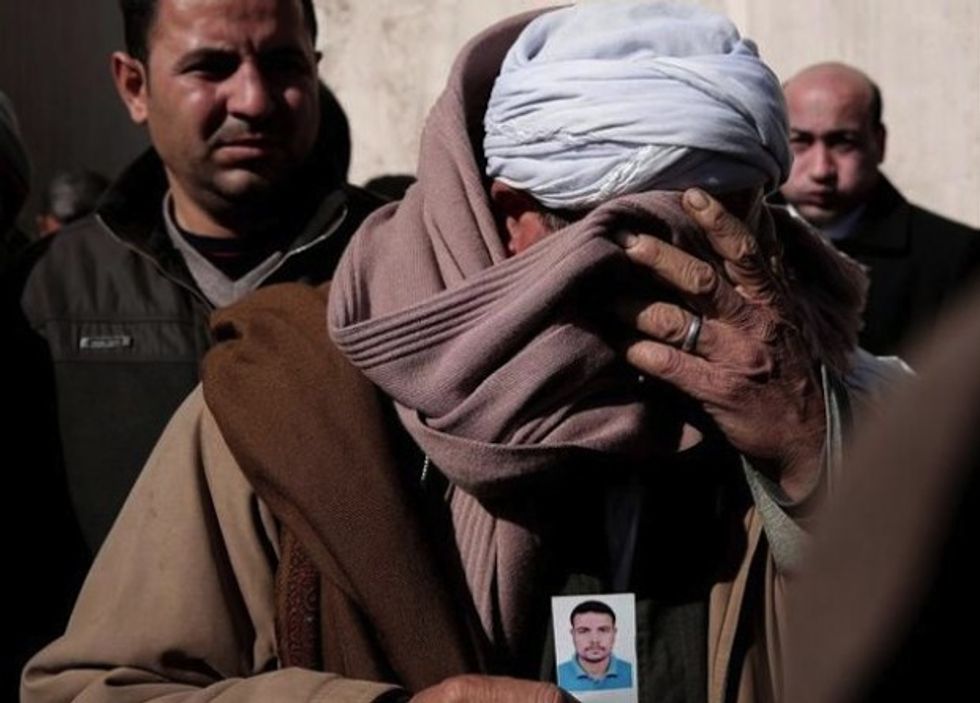 Coptic Christian Samir Mujeed weeps as he holds the photo of his 23-year-old son, Girgis Samir, who was abducted in Libya, in front of the foreign ministry in Cairo, Egypt, Monday, Jan. 5, 2014. (AP Photo/Nariman El-Mofty)
The Egyptian announcement said the targets were Islamic State weapons caches and training camps.
The video released Sunday showed the Egyptian Christian captives being marched to a beach and forced to kneel after which they were beheaded. They had been abducted during December and January from the Libyan city of Sirte.
The Big Pharaoh, a widely-read Twitter user who reports on Egypt posted that one of the hostages cried out "Lord Jesus" before being pushed to the ground.
I heard one of the Egyptian Christian hostages cry out "Lord Jesus" in Arabic as he was pushed to the ground. #Libya

— The Big Pharaoh (@TheBigPharaoh) February 16, 2015
"These cowardly actions will not undermine our determination," Egyptian President Abdel Fattah el-Sissi said Sunday. "Egypt and the whole world are in a fierce battle with extremist groups carrying extremist ideology and sharing the same goals."
The AP reported Sunday that those behind the video identified themselves as the Tripoli Province of the Islamic State group.
In the video which was titled, "The people of the cross, followers of the hostile Egyptian church," the Christian captives were referred to as "crusaders."
Neighboring Jordan also responded swiftly and harshly to the Islamic State group burning alive a Jordanian fighter pilot in Syria earlier this month. Within hours, it executed two jihadist prisoners, followed by multiple airstrikes on Islamic State targets.
White House press secretary Josh Earnest called the killing of the Egyptians "despicable and cowardly" and a "heinous act."
"ISIL's barbarity knows no bounds.  It is unconstrained by faith, sect, or ethnicity.  This wanton killing of innocents is just the most recent of the many vicious acts perpetrated by ISIL-affiliated terrorists against the people of the region, including the murders of dozens of Egyptian soldiers in the Sinai, which only further galvanizes the international community to unite against ISIL," Earnest said in a statement.