The homeless man arrested Monday evening in connection with Friday's fire at a Texas Islamic center reportedly said the burning of the religious building was an accident.
Darryl Ferguson, 55, charged by Houston police with arson, told KPRC-TV he was simply trying to stay warm and the resulting fire that burned the Quba Islamic Center was not intentional.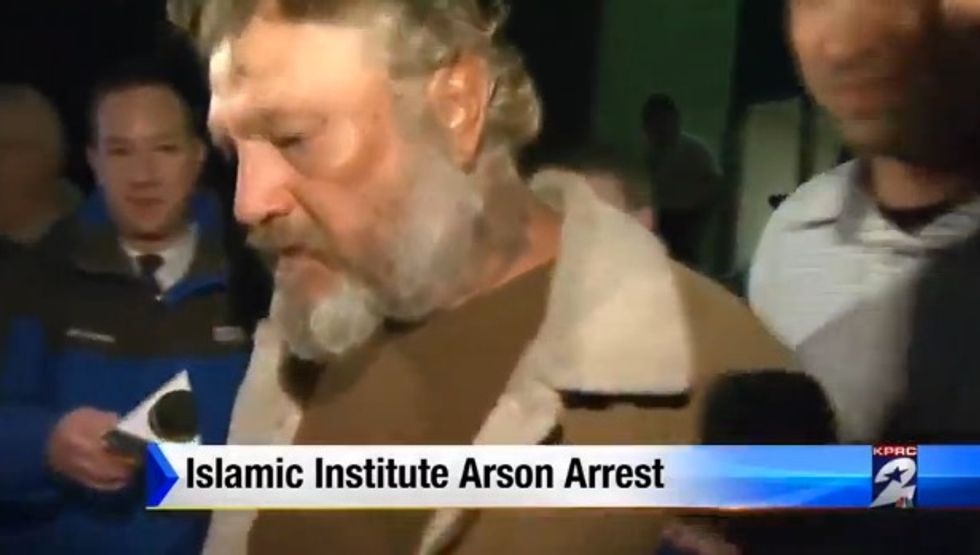 Darryl Ferguson is charged with arson in connection to the fire at a Texas Islamic center. (Image source: KPRC-TV)
"You were just trying to stay warm?" a reporter asked him as he was led out by authorities.
"Yes sir," Ferguson responded.
I just asked Islamic Center arsom suspect why he did it...he said it was an accident.

— Syan Rhodes (@SyanRhodes) February 17, 2015
Since the fire, many have questioned whether it was a hate crime. Authorities said earlier that an accelerant was used in the blaze.
Investigators said that Ferguson voluntarily approached authorities on his bicycle near the location of the fire and took responsibility for it.
"He was very cordial," a detective said. "He voluntarily wanted to speak to us."
Investigators, however, aren't saying whether or not they believe Ferguson's story that the fire was not intentional.
"At this time we can't go into details of the investigation or the case," Chief Arson Investigator Ruben Hernandez told KPRC.
Assistant Imam Ahsan Zahid addressed the issue.
"I believe obviously it could have been an accident," he reportedly said. "If that's what it turns out to be, we'll be happier than if it was a hate crime."
Ferguson has no history of arson, but does in fact have a criminal history, officials said.
—
Follow Oliver Darcy (@oliverdarcy) on Twitter