A 2-year-old Al Qaeda "wanted" poster draws another link between last month's Charlie Hebdo attack and what happened over the weekend in Copenhagen.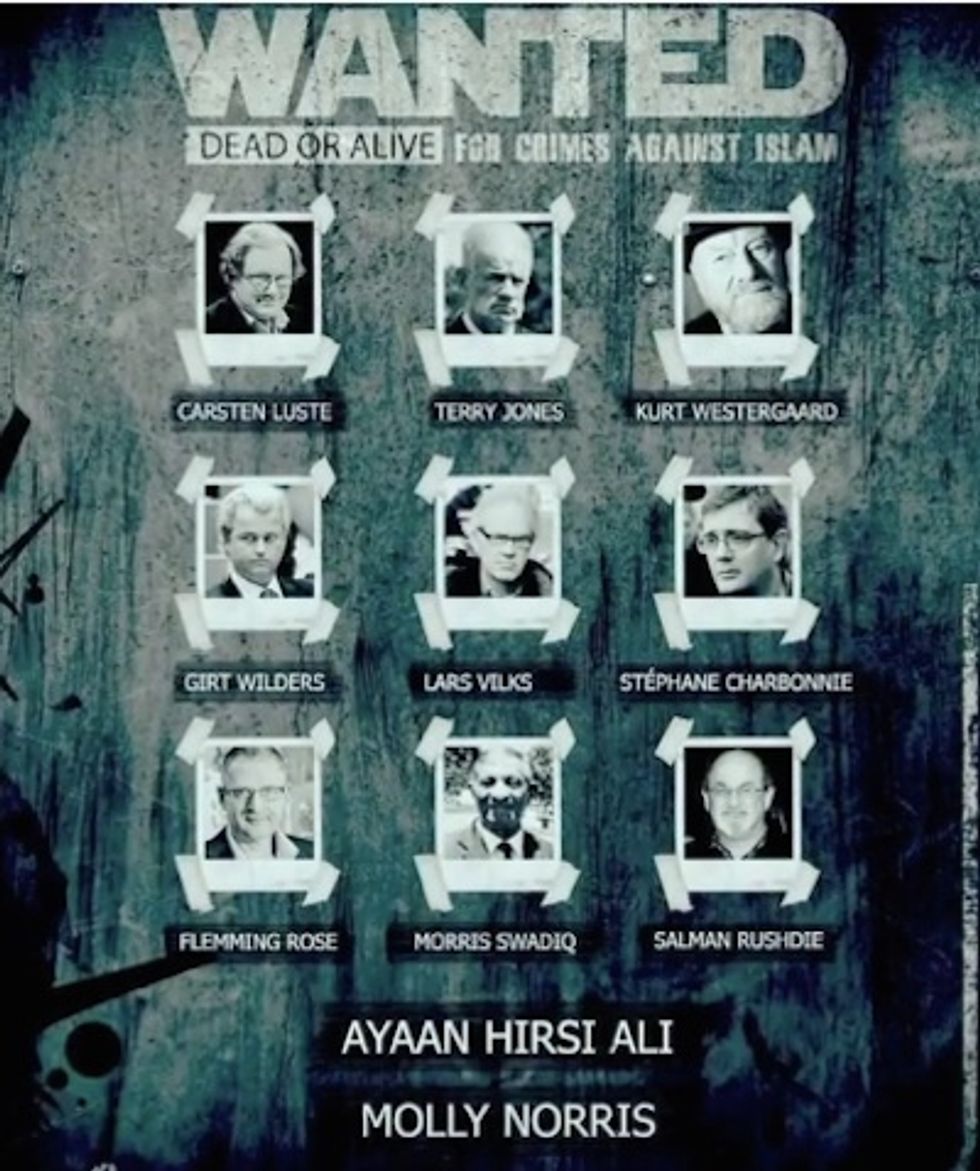 Image source: CNN via YouTube
The March 2013 issue of Al Qaeda's "Inspire" magazine included a "crimes against Islam" list with the names of 11 people it considered deserving of assassination. Among them: cartoonist Stephane Charbonnier, one of the victims killed in last month's attack on the offices of Charlie Hebdo, which was well known for caricaturing the Muslim Prophet Muhammad.
Another person on the "wanted dead or alive" list is Lars Vilks, the Swedish cartoonist who drew Muhammad's head on a dog's body, and who has said he believes he was the intended target of Saturday's first Copenhagen attack. He has since gone into hiding.
Also on the list:
• Carsten Luste, Flemming Rose and Kurt Westergaard: All three worked for Jyllands-Posten, a Danish publication that printed Westergaard's depiction of Muhammad with a bomb in his turban in 2005. The men have all been threatened, with Westergaard actually having to fend off an ax-wielding attacker in his home in 2010.

• Geert Wilders and Ayaan Hirsi Ali: Wilders is the leader of Denmark's far-right party and Ali is a former member of the Danish Parliament who has spoken out strongly against radical Islam.

• Americans Molly Norris and Terry Jones: Norris suggested 2010's "Everybody Draw Muhammad Day" and has been in hiding for more than four years after receiving death threats as a result. Jones is the Florida pastor who wanted to arrange a mass- Koran burning.

• Morris Swadiq: An Egyptian Coptic Christian.

• Salman Rushdie: Author of 1988's "The Satanic Verses," Rushdie has been a target of radical Islamists since Valentine's Day 1989 when Iran's Supreme Leader Ayatollah Khomeini issued a fatwa calling for his death.
CNN's Nic Robertson runs down the list here:
—
Follow Mike Opelka (@Stuntbrain) on Twitter