Former Florida Gov. Jeb Bush said Wednesday that President Barack Obama has imposed a failed, aimless foreign policy that has seen the U.S. shirk its role as a world leader, and led other countries to lose trust and faith in the United States.
Bush, a possible 2016 presidential candidate, said Obama's failure is especially notable given Obama's promise to strengthen engagement with other countries. He said that time and time again, the Obama administration has disengaged with countries such as Russia, and has even created alarming distance between the U.S. and firm allies like Israel.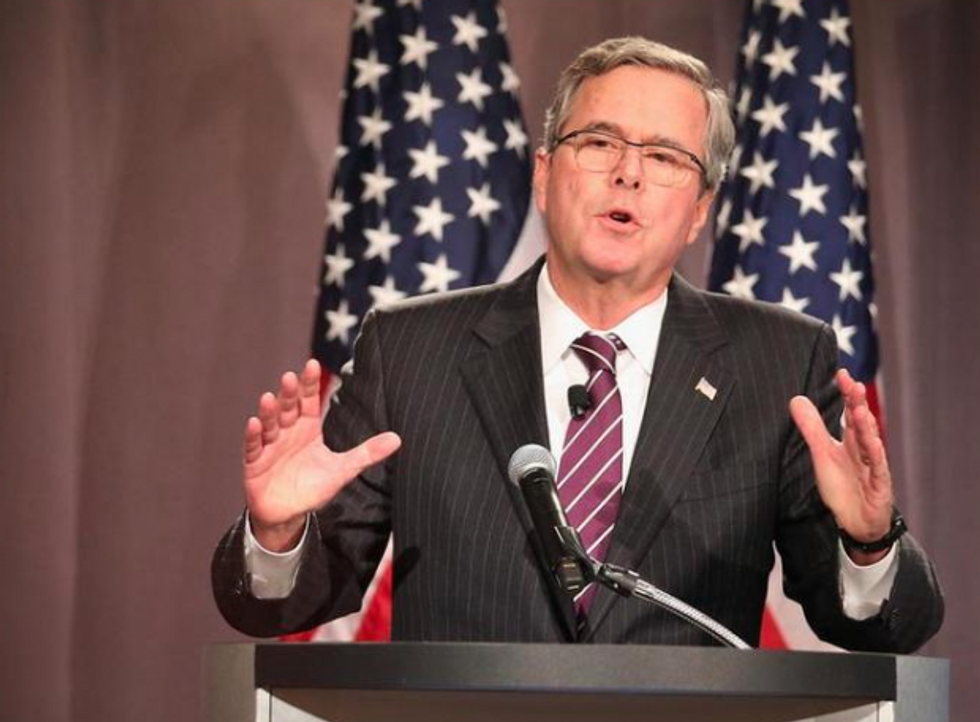 Former Florida Gov. Jeb Bush on Wednesday dismissed the Obama administration's foreign policy achievements and said they have reduced U.S. influence in the world. Image: Scott Olson/Getty Images
"The great irony of the Obama presidency is this: someone who came to office promising greater engagement with the world has left America less influential in the world," Bush told the Chicago Council of Global Affairs.
"This administration talks, but the words fade," he said. "They draw red lines, and then erase them. With grandiosity, they announce resets, and then disengage. Hashtag campaigns replace actual diplomacy and engagement. Personal diplomacy and maturing is replaced by leaks and personal disparagement."
"Under this administration we are inconsistent and indecisive," he added. "We have lost the trust and confidence of our friends. We definitely no longer inspire fear in our enemies."
Bush said he believes America is still a force for good in the world, but said Obama and his administration doesn't appear to share this believe. "I have doubts whether this administration believes American power is such a force," he said.
Bush said one of the biggest examples of Obama's failure is Iran, where decades of experience show that Iran is not a nation that can be trusted, and is one that supports terrorism. Bush said Obama's effort to negotiate an end to Iran's nuclear program has also become flawed, as the effort now appears to be aimed at managing an emerging nuclear program in Iran.
"[T]he Obama administration has launched negotiations in which the goal has shifted," he said. "The administration no longer seeks to prevent nuclear enrichment, now it seeks merely to regulate it."
But he said Obama's failures can be seen elsewhere around the world, including its failure to engage in territorial conflicts in Asia and Africa, and its failed reset with Russia.
Bush offered six principles that need to guide U.S. foreign policy, and started with the need for stronger economic growth domestically.
"American can't be a force for peace and security in the world if our economy doesn't grow over the long haul," he said. "Our aspiration should be 4 percent growth for as long as the eye can see."
Secondly, Bush said U.S. words and deeds must match, and noted that Obama has clearly failed in this area by dismissing the Islamic State as a "j-v" team, and dismissing Russia as a regional power. Insulting Israel has also not helped.
"In all of these actions, we see a careless disregard to the long-term interests of America and the world," he said. "Instead, what we see is an effort to try to win the political news cycle."
As his third point, Bush said the U.S. military needs to be fully funded, and said failing to take this step could invite war. "The president should call on leaders of both parties to fix the budget and to address the shortfalls in our defense spending," he said.
Strengthening U.S. alliances, finding ways to address asymmetric threats, and promoting liberty around the world must also be key parts of U.S. foreign policy.
Bush acknowledged that many will want to compare him to his father, George H.W. Bush, and his brother, George W. Bush, both of whom served as president. But he said some of those comparisons could be unfair, and indicated he would lead according to his own wisdom.
"I'm my own man, and my views are shaped by my own thinking and my own experiences," he said.