Churches, like most other social institutions, have learned that the Internet can be a powerful tool to reach believers and nonbelievers, alike, but the extent to which pastors and the faithful believe that people can and should solely rely upon online worship is a point of debate.
Overall, though, use of the Internet to reach the masses is widely accepted. A recently released study by the Barna Group found that the vast majority of Protestant pastors (87 percent) believe that it is permissible for churches to offer religious experiences through the Internet.
But it is the exploration of where pastors believe online worship is headed that is, perhaps, most noteworthy, as nearly half of Protestant senior pastors believe that it is possible that some people will have all of their faith experiences on the Internet within the next decade.
"Today, just about half of pastors believe people will have all of their faith experiences online within 10 years," reads the Barna report. "Of course, this means that just over half of pastors believe this will not be the case."
While 47 percent of pastors believe that some people will definitely or probably have all of their faith experiences through the Internet within the next decade, 51 percent believe that this will probably or definitely not happen.
See the graphic below, which provides the breakdown and a comparison to data collected in 2000: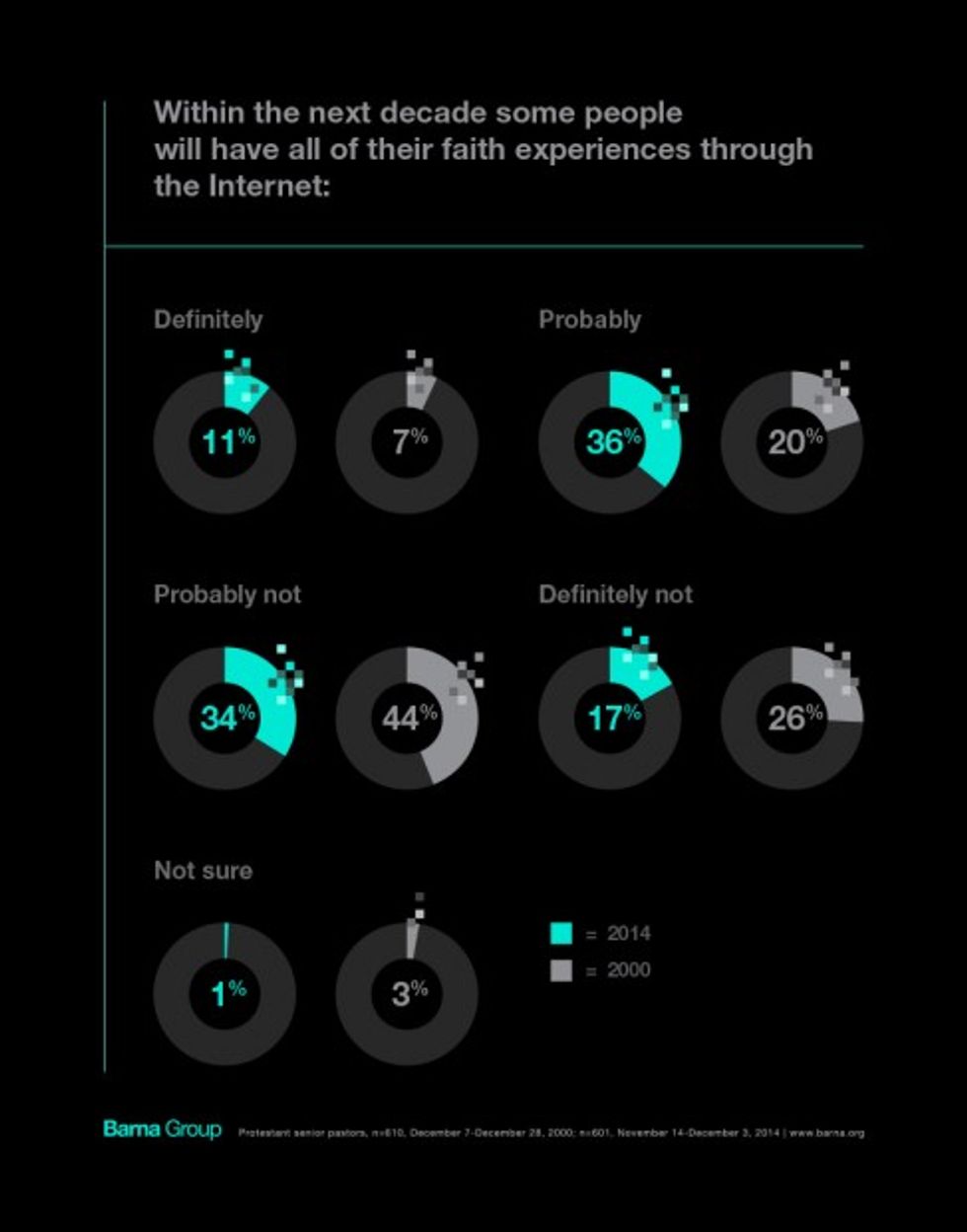 Barna Group
Regardless of whether online worship — which would arguably lack some of the social communication and community that physical churches provide — becomes a predominant mode of worship for some believers, data does show that faith leaders are increasingly open to religious experiences being facilitated online.
Many pastors see the Internet as a valuable connective tool, Barna noted. Ninety-six percent of pastors report using computers at church, with 54 percent agreeing that the Internet is a "powerful tool for ministry." See all of results here.
The data collected came from a telephone survey of 601 Protestant senior pastors conducted from November 14 through December 2, 2014, with a margin of error of +/- four percentage points. 
(H/T: Christianity Today)
--
Front page image via Shutterstock.com