As Democrats from around the country convene in Washington, Democratic National Committee Chairwoman Debbie Wasserman Schultz is fending off a potential scandal. But in front of a partisan crowd, she received a nod from the actual leader of the party, President Barack Obama.
Wasserman Schultz, already a polarizing figure, allegedly offered to change her position on medical marijuana if a top Florida donor – John Morgan – would take back his scathing criticism of her, Politico reported. She denied the allegation to a Florida newspaper Friday.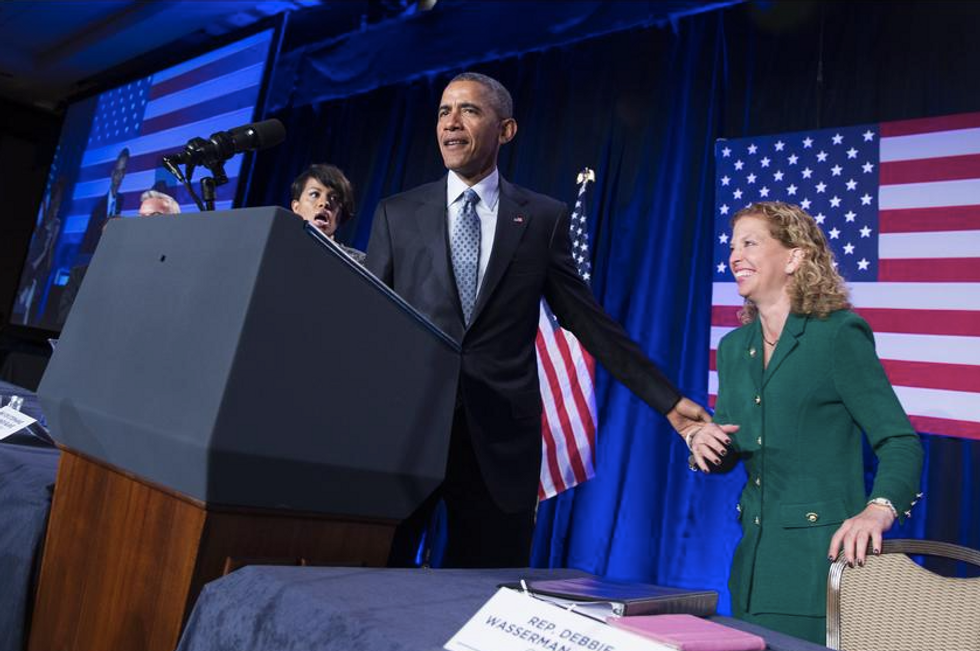 President Barack Obama greets Democratic National Committee Chair Rep. Debbie Wasserman Schultz (D-Fla.) before speaking at the Democratic National Committee winter meeting in Washington, Friday, Feb. 20, 2015. (AP Photo/Evan Vucci)
At the DNC's winter meeting Friday, Obama gave her a public vote of confidence at the start of his speech.
"I want to thank Debbie Wasserman Schultz for being an outstanding chair of our party," Obama said. "She is a great partner."
The dustup is making waves in Florida, where state Democratic Party Chairwoman Allison Tant told reporters, "I'm just disappointed."
John Morgan, a Democratic attorney, helped bankroll a failed ballot initiative in 2014 to amend Florida's Constitution to allow for medical marijuana. After Wasserman Schultz, a potential U.S. Senate candidate for 2016, expressed opposition, Morgan let it be known how he felt about her, calling her "disliked," "despised" and "an irritant."
Afterward, according to emails obtained by Politico, Wasserman Schultz offered to change her position on medial marijuana if Morgan would take back what he said.
Morgan refused, accusing the chairwoman of being in a "tizzy," and saying, "No. She is a bully. I beat bullies up for a living."
In a Friday interview with the South Florida Sun-Sentinel, Wasserman Schultz denied offering to switch her position.
"I wouldn't change my position in exchange for support under any circumstances – ever. I stand on principle. I'm always very proud to stand in front of my constituents and explain when I have a difference of opinion with them," she said.