Just days after Esperanza Martinez spoke to a Time Warner Cable representative about her cable box problem, she opened up a Feb. 16 letter from the cable company and noticed her first name was incorrect.
But it was far more than a typo: "Esperanza" had been changed to "C***."
She saw it again on the greeting line: "Dear C*** Martinez"
So the Orange County, California, woman got in touch with Ars Technica and provided a copy of the letter; it also said incorrectly that she had requested a service cancellation: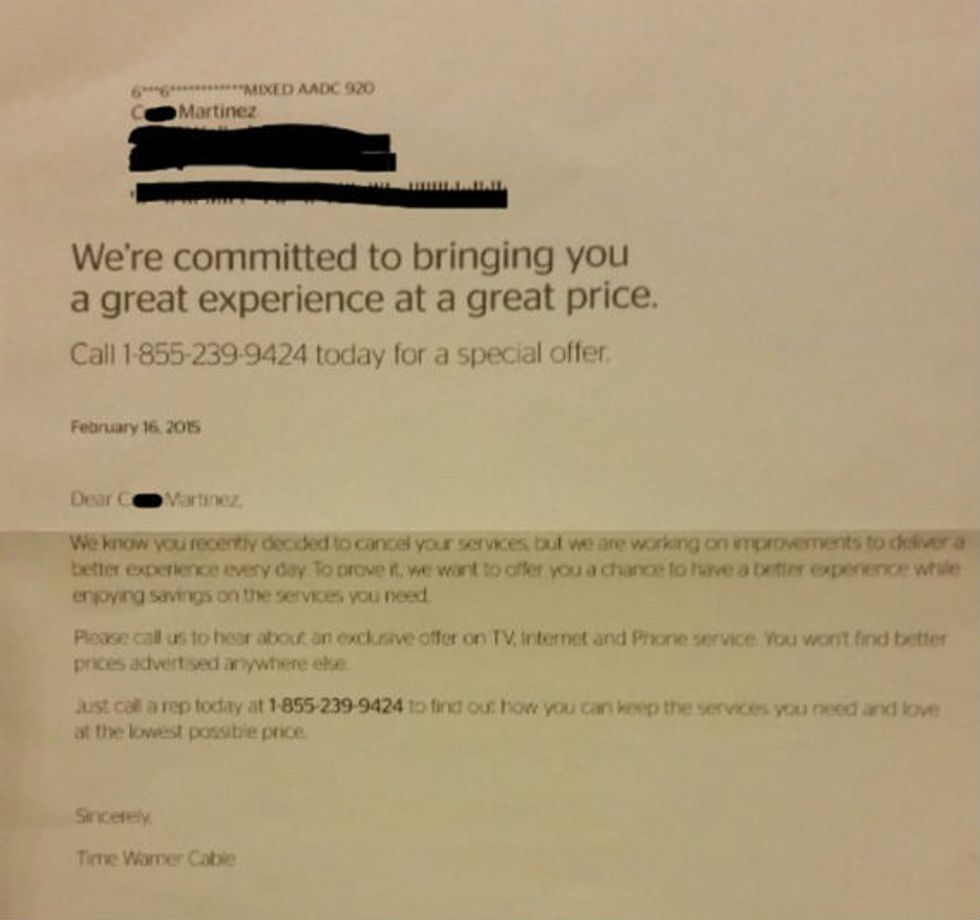 Image source: Ars Technica
In regard to her first name being rendered as "C***," Martinez wrote in an email:
"I have escalated the issue to Time Warner Cable's Corporate customer service, and was told I will receive a 'follow up' call within 48 hours. The only information they could provide was that the name change was made on 2/12/15, which happens to be the same day I used their 'live chat' feature online and called in and spoke to a representative regarding an issue with my cable box. I was not upset even when they could not resolve my issue and had to send a technician out. I have no idea why a TWC employee would do this and risk losing their job. It shows what type of companies TWC and Comcast are by the people they hire to represent them."
Time Warner Cable admitted that one of its representatives changed Martinez's first name in the company's computer system, Ars Technica reported.
"We are truly sorry for the disgraceful treatment of Ms. Martinez and have reached out to her to apologize directly," a company representative said. "Our investigation showed that this was done by an employee at a third-party vendor. We have terminated our agreement with this vendor and are changing our processes to prevent this from happening again."
In addition to the apology, Martinez told Ars Technica she got a free year of cable and Internet service from Time Warner, which assured her that "systems are in place so this wouldn't happen again to another customer."
As it happens, Time Warner Cable is being purchased by Comcast, which recently has been issuing its share of public apologies for mistreating customers similar to how TWC mistreated Martinez.
—
Follow Dave Urbanski (@DaveVUrbanski) on Twitter