LAKE PLACID, N.Y. (TheBlaze/AP) — The ovation wasn't quite as deafening as it was 35 years ago. It was riveting, nonetheless, for Dave Christian and his old Olympic buddies, together again to celebrate their Miracle on Ice.
"It feels exactly the same," Christian said Saturday night as the members of the 1980 U.S. Olympic hockey team returned to the rink they made famous with their triumph over the Soviet Union. "You could feel the electricity in the (locker) room. It's still there."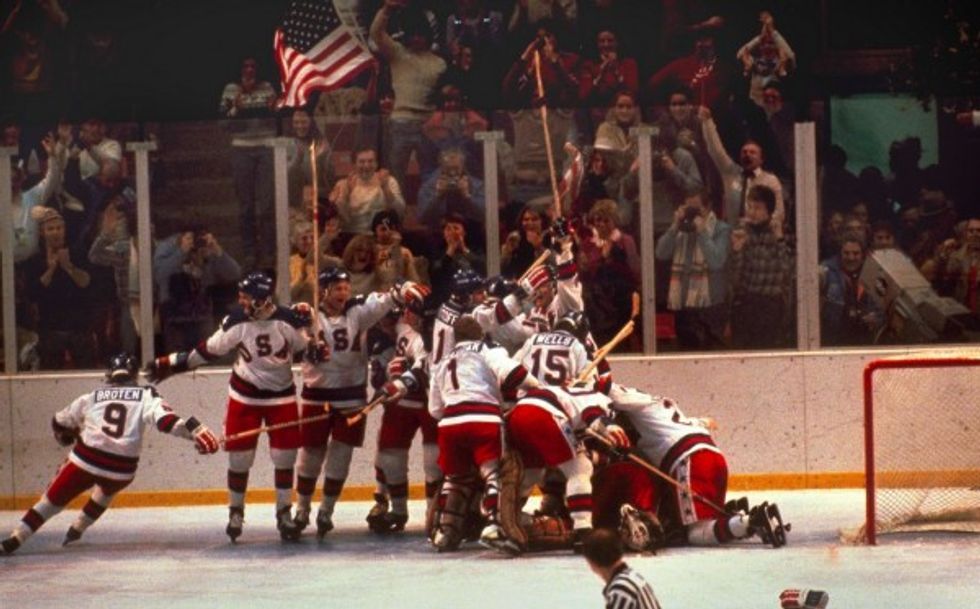 In this Feb. 22, 1980 file photo, the U.S. hockey team pounces on goalie Jim Craig after a 4-3 victory against the Soviets in the 1980 Olympics, as a flag waves from the partisan Lake Placid, N.Y. crowd. (Image source: AP, File)
The "Relive the Miracle" reunion at Herb Brooks Arena attracted more than 5,000 fans for a two-hour celebration of one of the most memorable upsets in sports history. Every surviving player from the team made the trip, including Mark Pavelich, who drove from his Oregon home with two dogs. It was the first time the team had all been together since that memorable night.
Missing was Brooks, the Hall of Fame coach who was killed in a car accident in 2003, and rugged defenseman Bob Suter, who died at age 57 in September.
"Herb had a feel for the game during the game," goalie Jim Craig said. "He would get you off the ice before you could commit a penalty. He was ahead of his time in many ways."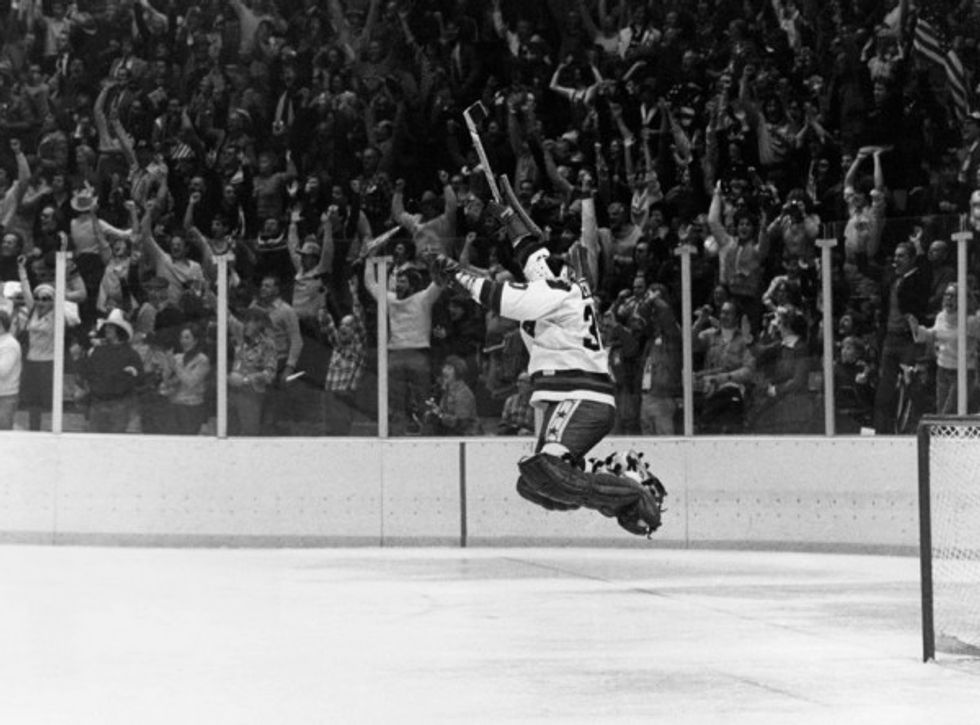 In this Feb. 22, 1980 file photo, U.S. goalie James Craig leaps high in the air at the final second of game as the U.S. Olympic hockey team defeated the Soviet team 4-3 in Lake Placid. (Image source: AP, File)
Festivities included audio, video and still pictures, as well as a discussion of the game with the players. Suter's jersey was raised to the rafters as a tribute.
"Bobby was a great player and a great person," said 60-year-old Mike Eruzione, who scored the game-winner against the Soviet Union in the medal round. "He did a lot for hockey. We all realize that at some point we're going to move on, but nobody thought that Bobby would not be with us. He was a special teammate, a special person."
Suter had dedicated much of his later life helping kids learn the game as a youth hockey coach back in his hometown of Madison, Wisconsin.
"Everyone felt a big loss," Mark Johnson said. "Everyone on the team had a role. Bobby was a character in and out of the locker room. He's dearly missed. His legacy will live on in Wisconsin."
The celebration continues Sunday, when NBC will anchor its "Hockey Day in America" coverage from Lake Placid and feature the team.
The U.S. took the lead on Friday, Feb. 22, 1980, against the powerful Soviets on Eruzione's goal midway through the third period. It was the last goal of the game as Craig stood tall in net.
Two days later after the Americans' 4-3 upset, the U.S. rallied to beat Finland 4-2 for the gold in a game the Americans had to win just to medal.
"In sports in general, everyone roots for the underdog, which we certainly were an underdog," Christian said Saturday afternoon at a press conference. "We were aware of the political situation in the world, but in a lot of respects for us it truly was a game, a great challenge."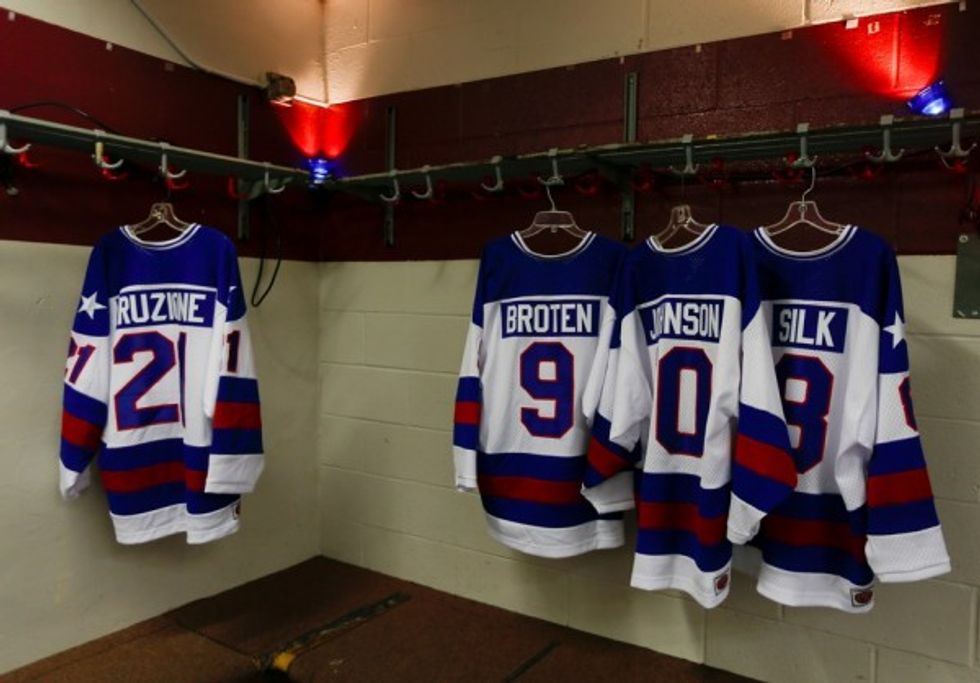 Jerseys of Mike Eruzione, Neal Broten, Mark Johnson and Dave Silk, members of the 1980 U.S. Olympic ice hockey team, hang in a locker room at Herb Brooks Arena on Saturday, Feb. 21, 2015, in Lake Placid, N.Y. (Image source: AP/Mike Groll)
"We were up against what at that time was considered one of the best teams that had been put together," he said. "So in that respect it was just a game. I think it gave people the sense of feeling good. You can't help but smile."
For Eruzione, who works in alumni relations at Boston University, his winning goal and the team's improbable gold medal changed his life. He said he deals "with it so often it's hard to believe it's been 35 years" because every week he's doing something or going somewhere that's associated with 1980.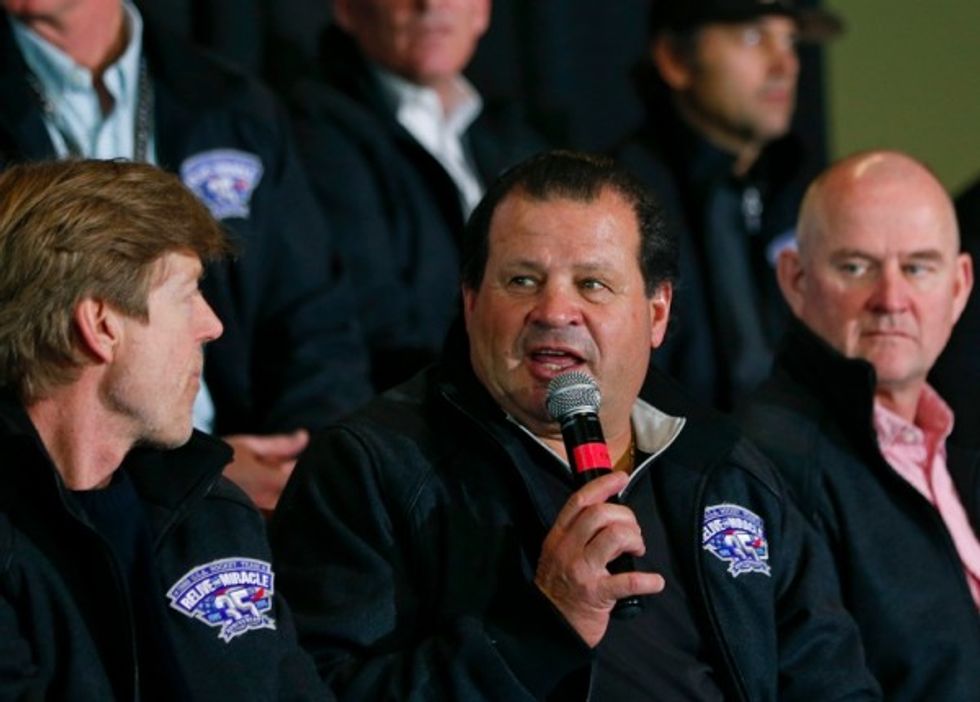 Mike Eruzione of the 1980 U.S. Olympic ice hockey team speaks during a news conference on Saturday, Feb. 21, 2015, in Lake Placid, N.Y. (Image source: AP/Mike Groll)
"The real story for me was they only scored three goals," Eruzione said. "Throughout the tournament, they were scoring seven, eight, nine goals a game. Not only was Jimmy (Craig) solid, actually, the defense and the defensemen were outstanding in that game."
When the U.S. won the gold, it was a time of world strife. The Soviet army had just invaded Afghanistan as the Cold War simmered, a group of Americans was being held hostage in Iran, the U.S. economy was hurting, and President Jimmy Carter already had announced a U.S. boycott of the Summer Olympics in Moscow.
The sociopolitical impact of that era has since faded. The memory of that February day 35 years ago in Lake Placid has not.
"I've played on a lot of teams, and this is the best team, the closest team I ever played on," Neal Broten said. "As a younger guy, I looked up to all these guys. It was a privilege and honor for me to represent our country with these guys and do what we did."
Check out below what the final minute looked like on millions of TV screen across America 35 years ago as Al Michaels asked at the top of his lungs, "Do you believe in miracles? Yes!"
Freelance writer Andy Flynn in Lake Placid contributed to this report.
—
Follow Dave Urbanski (@DaveVUrbanski) on Twitter