It's a eyeball-grabbing headline: "God is a woman, priest who died for 48 minutes claims."
But it's almost certainly not true.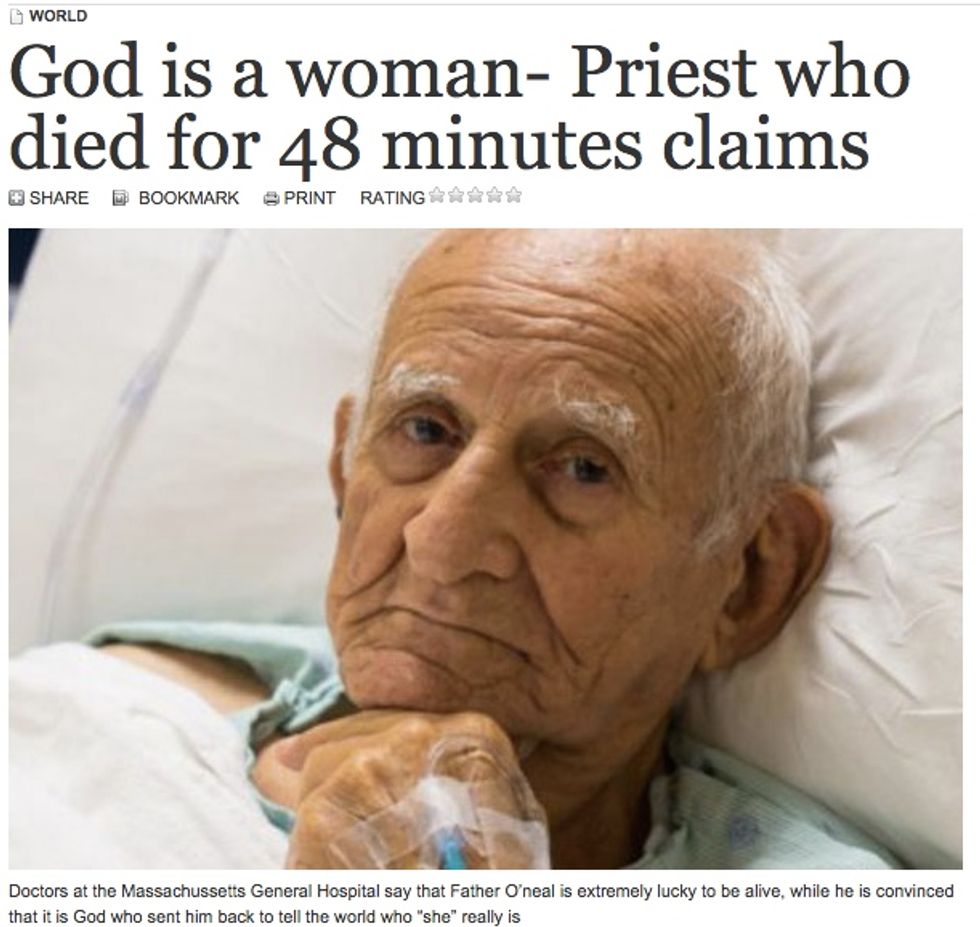 A screengrab of the likely untrue story of a priest who supposedly died and saw a female God. The picture of the "priest" appears to be a stock photo, not a picture of an actual priest. (Image via monitor.co.ug)
The story of the Catholic priest who supposedly died briefly and saw a female God has gained massive traction online, sparking debates on Reddit and getting picked up by everyone from the Dallas/Ft. Worth radio station KVIL-FM to viral news sites such as Inquisitr.
Yet the story does not appear to spring from any news outlets close to Boston, Massachusetts, where the priest was reportedly working.
Instead, the "story" was first reported by the Daily Monitor, a newspaper based in the African nation of Uganda.
Why would a remote African nation be first to an American faith story?
Because it pulled the tale from the World News Daily Report, a "satirical" website.
To add insult to injury, the images of "Father O'Neal" that accompany the stories appear to be stock photos (as Reddit user NewdAccount pointed out), not pictures of an actual priest.
It seems this story is another bogus tale in need of debunking, like the Sandy Hook conspiracy theory or the fake report of a military coup against the Obama administration over the revelation of an alleged Colin Powell affair.
Spokespersons for the archdiocese of Boston were not immediately available for comment Sunday morning.
—
Follow Zach Noble (@thezachnoble) on Twitter