Senate Democrats blocked legislation to fund the Department of Homeland Security for the fifth time on Monday, leaving just four days before DHS funding expires, and with no apparent way forward to break the deadlock.
Republicans have insisted that the Senate should take up the House-passed bill for weeks, but Democrats have refused because they oppose language that would defund President Barack Obama's executive action on immigration.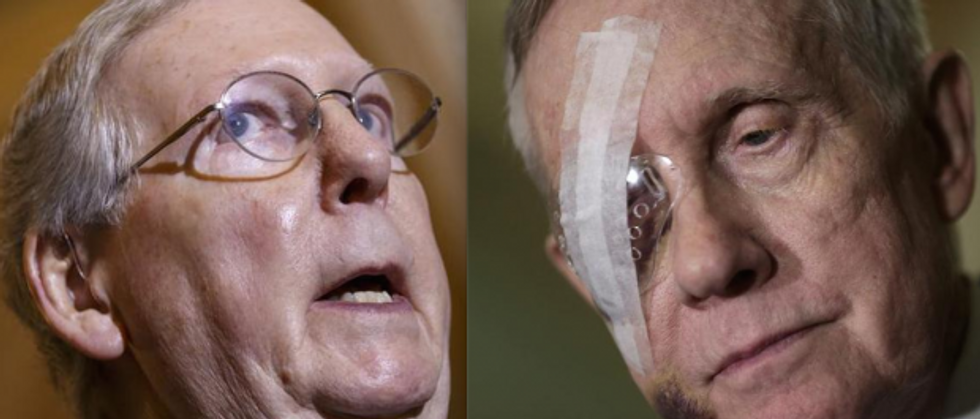 Senate Majority Leader Mitch McConnell (R-Ky.) and Minority Leader Harry Reid (D-Nev.) are still stuck on how to proceed to the DHS funding bill. Images: AP Photo/J. Scott Applewhite (McConnell), and Win McNamee/Getty Images (Reid)
Monday evening, the Senate voted 47-46 to move the bill ahead, but because 60 votes were needed, the majority vote wasn't enough to advance the legislation. That reflects the same lack of Democratic support as three prior roll call votes — Democrats also blocked a unanimous consent request to get on the bill earlier in the month.
The fight has led to an endless back-and-forth between the parties over who would be blamed if DHS were partially shut down after Friday, when funding for the department expires. Republicans have said it's the fault of Democrats, since the vote so far is only to allow the Senate to proceed to the bill, after which senators could consider amendments.
"The point is, it's time to allow this Homeland Security funding measure to come to the floor," Senate Majority Leader Mitch McConnell (R-Ky.) said. "Democrats say they want the ability to amend DHS' funding legislation. But then they keep voting to block their own ability to offer amendments."
Democrats have insisted that it's really the Republicans who are blocking DHS funding, by not putting up a "clean" DHS bill that Democrats can support. Senate Minority Leader Harry Reid (D-Nev.) repeated this argument today after McConnell spoke.
"I'm very disappointed… at the political ploy used by the congressional Republican leadership to force a shutdown of Homeland Security," Reid said.
On Sunday, Homeland Security Secretary Jeh Johnson declared flatly that "Democrats are not blocking debate."
But in terms of what is physically happening on the Senate floor, it's clearly the Democrats who are preventing the Senate from taking up the House-passed DHS bill. The Democratic opposition could reflect their belief that they wouldn't be able to amend the bill to strip out the immigration defunding language.
The issue has been stuck in the Senate for weeks, and has given the parties little else to do other than hope the other side blinks first. Democrats appeared to find a new argument over the weekend, when Johnson said there have been terrorist threats against American malls. That report prompted some Senate Democrats to say it's foolish to fight over DHS funding at a time when the country faces a real terror threat.
Republicans have used the dispute to argue that in the old days, the Senate would routinely pick up House bills, change them, and force a House-Senate discussion about how to agree on a final version. House Speaker John Boehner (R-Ohio) has implored Democrats to remember how bills used to become laws, and has said several times that it's the Senate's turn to act.
"The House has done it's job," Boehner has said.
Monday's failed vote seems to increase the chance of either a last-minute compromise late in the week, or a partial DHS shutdown after Friday. There is some talk of a short-term funding bill, but it's not clear a delay would lead to an agreement, and Democrats have said they oppose that plan as well.