© 2023 Blaze Media LLC. All rights reserved.
"Slap a little patch on their backs."
There's the birth control patch, a patch for those trying to quit cigarettes, and soon there could be a patch for those suffering from peanut allergies.
With the increasing numbers of patients who could have severe reactions to even trace amounts of peanuts, the idea of building up a tolerance to them has been gaining steam for years with success in many cases.
A new study of the Viaskin Peanut patch shows that tolerance can be built by the peanut protein being exposed to an allergy sufferer's skin, rather than being taken orally. The study was funded by DBV Technologies, the company that developed the patch.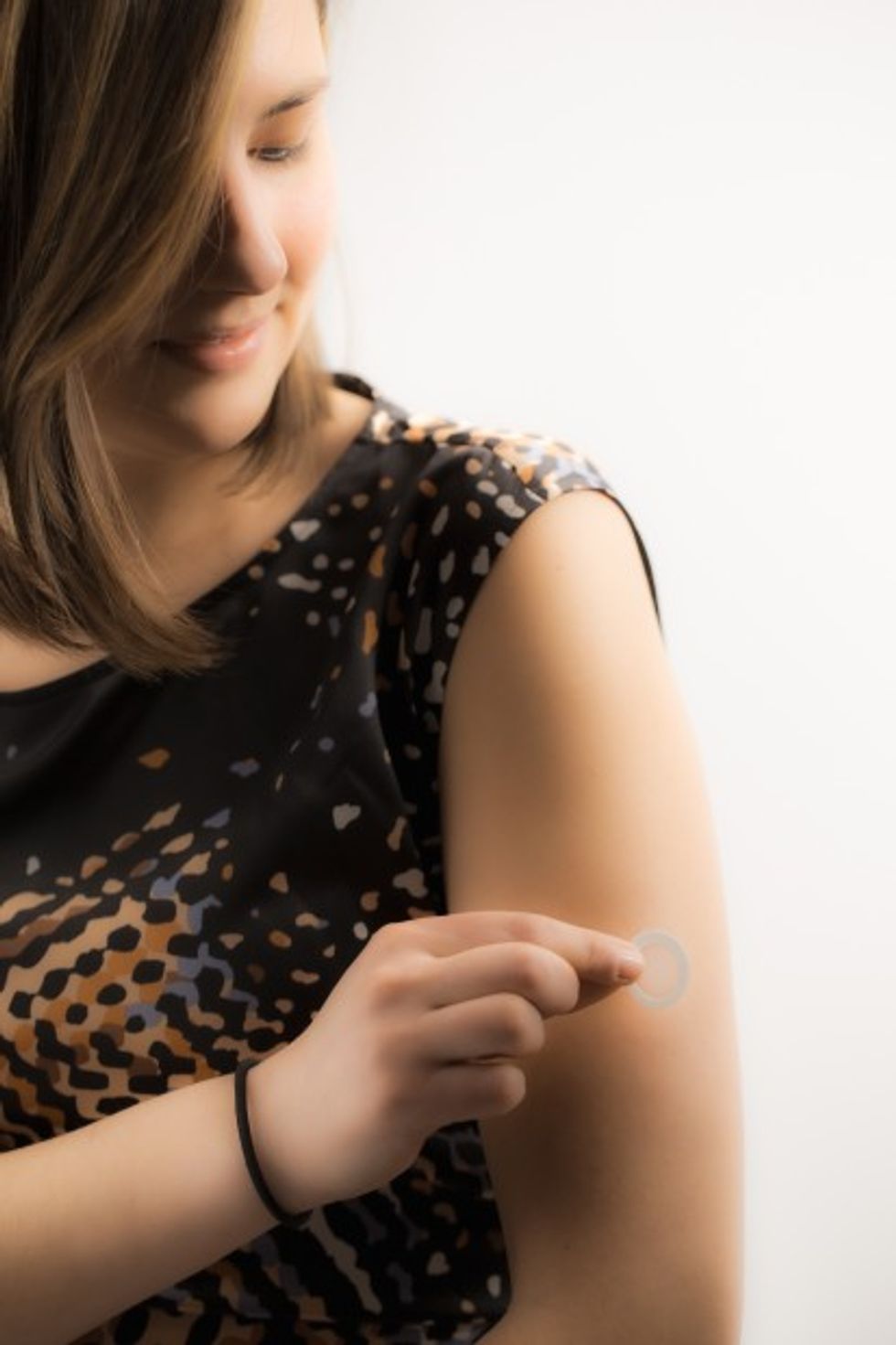 The Viaskin Patch by DBV Technologies could help deliver allergy sufferers a little bit of the peanut protein at a time to help them build up a tolerance. (Photo credit: DBV Technologies)
The study involved 221 people who are allergic to peanuts. After a year, half of the study participants who had been tested with the strongest patch dosage — three dosages were tested — could tolerate one gram the peanut protein, which the American Academy of Allergy, Asthma and Immunology wrote in a news release is equivalent to about four peanuts.
"This is exciting news for families who suffer with peanut allergies because Viaskin represents a new treatment option for patients and physicians," Dr. Hugh A. Sampson, director of the Jaffe Food Allergy Institute at the Kravis Children's Hospital at Mount Sinai, said in a statement.
Sampson told NBC's Today that the increase in tolerance means people would not have to worry about trace amounts of peanuts, like those that could be in products that were processed in plants where the legumes might also have been processed.
Just last week, hundreds of products were being pulled from store shelves after traces of peanut were found in cumin spice. The recall has been ongoing since December, as more retailers identify products that contain the cumin. The Food and Drug Administration is now warning all people with peanut allergies to avoid cumin and products that contain cumin.
While such large allergy-related recalls are rare, undeclared allergens like peanuts are the leading cause of food recalls in the United States. That can be very unsettling to people who are keeping a close watch on what they or their children eat, since food allergies can be a matter of life or death.
"You might do all of the things you are supposed to do and read the label, but there could still be undeclared allergens," Dr. Michael Pistiner, a pediatric allergist in Boston, said. "It's challenging to know that and still feel comfortable."
Though increasing one's tolerance to peanut allergies through oral treatments has been shown to be effective, Sampson told Today and some people might be fearful of that type of treatment, making the patch a more attractive option.
"Many have been told all their lives that if they ingest peanuts they will have a severe reaction and die," Sampson told Today. "So it's tough to get them to take it. With this you just slap a little patch on their backs."
According to the show's website, no serious side effects were reported but some minor side effects included skin irritation at the site where the patch was placed.
"[Epicutaneous immunotherapy] appears safe, well tolerated and effective. That's good news for families who suffer from food allergies," Sampson said in a statement.
CBS News reported that a larger trial is still required before the patch could become publicly available.
(H/T: WBNS-TV)
—
The Associated Press contributed to this report. Front page image via Shutterstock.
Want to leave a tip?
We answer to you. Help keep our content free of advertisers and big tech censorship by leaving a tip today.
more stories
Sign up for the Blaze newsletter
By signing up, you agree to our
Privacy Policy
and
Terms of Use
, and agree to receive content that may sometimes include advertisements. You may opt out at any time.