Some conservative news outlets have suggested that a public show of support for Norwegian Jews by a group of Muslims on Saturday was not exactly the "heartwarming" scene it appeared to be.
Breitbart described it as a "hoax" and a "complete fabrication by the mainstream media," suggesting that few Muslims actually attended and that an anti-Semitic, 9/11 conspiracy theorist was one of those who organized what was described as a "ring of peace" around Oslo's main synagogue.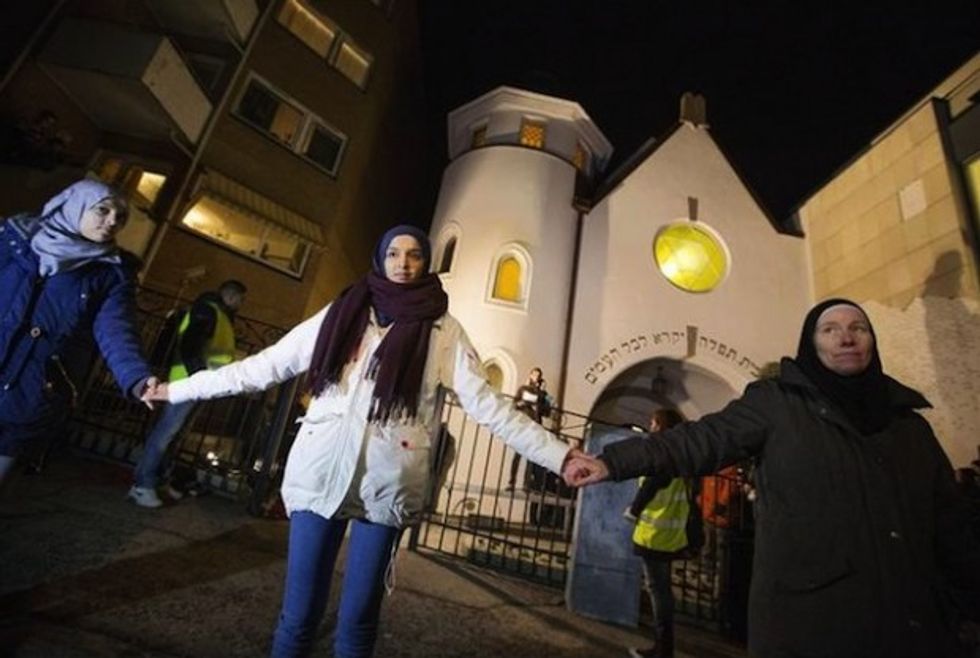 More than 1,000 people formed a "ring of peace" around the Norwegian capital's synagogue, an initiative taken by young Muslims in Norway after a series of attacks against Jews in Europe, in Oslo, Saturday, Feb. 21 2015. (AP Photo/Hakon Mosvold Larsen / NTB Scanpix)
But leading synagogue members who were at the rally told TheBlaze that it appeared that most of the attendees were in fact Norwegian Muslims, and that the Muslim organizer — who had previously articulated anti-Semitic statements — opened his remarks to the crowd by admitting he had been wrong, apologizing and saying that he now believes Jews and Muslims should live together peacefully and with mutual respect.
The rally was organized over the past week by several young Muslims as a show of support for Oslo's Jews following a terrorist attack on a synagogue in neighboring Denmark the weekend before. The attack was carried out by a Danish citizen of Palestinian descent who killed a Jewish volunteer guard after earlier attacking a free speech event.
On Sunday, Breitbart, citing an item in FrontPage Magazine, reported that eyewitnesses had suggested only some 20 Muslims formed the "ring of peace," and presented as evidence photos that showed the line of Muslims holding hands ending — suggesting there weren't enough Muslims to form a full ring around the building.
Two members of the synagogue who were at the rally told TheBlaze by phone from Oslo Monday that the men and women holding hands did not encircle the synagogue because the police did not give them a permit to demonstrate behind the building. Jewish community board member Michael Gritzman told TheBlaze he was personally involved with negotiating the permit and confirmed the rally was limited to the front of the building.
Earlier news agency reports said the event was secured by police and sharpshooters positioned in the surrounding area in light of the recent attacks on Jewish community sites in Europe.
Asked about reports that only 20 Muslims were in attendance, Gritzman said, "This is nonsense. … There were lots of young Muslims and lots of other people." Gritzman said members of other faith groups also attended, including nuns, but to say that only two dozen Muslims were there would be inaccurate.
Eli Zylberman, the cantor of the synagogue, told TheBlaze, "The vast majority were Muslim there."
Gritzman said that the show of support for Norway's tiny Jewish community – which he put at 1,200 (about the same number of people reported to be at the rally) – was incredibly uplifting, and that he was upset to hear that some in the media were trying to draw away from the show of support expressed by what he described as young "grassroots" Muslims.
He said a group of Muslims, including a 17-year-old girl, approached him and other community leaders last week asking if they could create a human ring around the synagogue.
The synagogue members suggested they do it at the end of the Jewish Sabbath, when the community comes together for the evening prayer service and the Havdalah service that separates between the Sabbath and the rest of the week.
"I must say the young people, they really stood their ground. They were courageous and ... it gave a lot of hope for the future, not only for Norway but for Jews and Muslims and the whole world," Gritzman said.
Of the organizers, Gritzman said, "They are great young people and they're proud of their Muslim identity."
"We're not the same but we respect [each other]," he said, adding, "They want to make the world better."
Regarding the "ring" of Muslims not looping behind the building, Gritzman said, "They made a physical ring where they were told by police they could make it."
Zylberman said: "For me it was a special feeling … to see Muslims showing they are against terrorism."
Zylberman said it gave him and the community "a lot of strength" after a tough week to feel the support from Norwegian Muslims.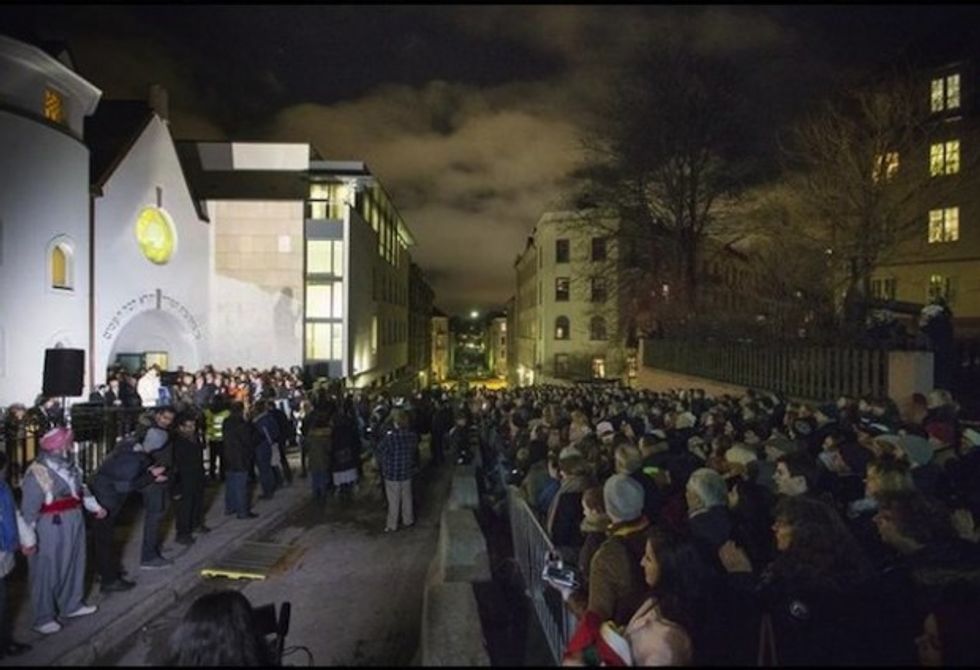 More than 1,000 people formed a "ring of peace" around the Norwegian capital's synagogue, an initiative taken by young Muslims in Norway after a series of attacks against Jews in Europe, in Oslo, Saturday, Feb. 21 2015. (AP Photo/Hakon Mosvold Larsen/NTB Scanpix)
Another point of contention surrounding the synagogue vigil was the organizer revealed to have made past anti-Semitic statements, including publicly promoting a conspiracy theory that Jews were behind the 9/11 attacks.
Ali Chishti gave a speech in 2009 titled, "Therefore I Hate Jews and Gays," the Jewish Telegraphic Agency reported. Chishti said he did not write the title.
"There were several thousand Jews away from work in the World Trade Center, and why there were more Jews in Mumbai when Pakistani terrorists attacked than usual?" he said in 2009, according to JTA. "Jews are a small group, but everyone knows that they have a lot of power."
On Saturday, Chishti confirmed to the Norwegian newspaper Verdens Gang that he had made in fact made the speech.
Both Jewish community leaders TheBlaze spoke with said Chishti opened his remarks Saturday apologizing for his earlier statements.
"He was standing outside and said, I was there five years ago and I'm sorry about that," Gritzman said.
"He said we should live together and respect and help one another. He studied and understood Jews and Muslims in history lived well together and that was his vision," Gritzman – who has also spoken privately with Chishti — recalled.
JTA reported that Chishti retracted his statements in an interview with the Norwegian newspaper Dagbladet, calling them "anti-Semitic" and "unacceptable."
"I was angry," he told Verdens Gang. "I have since changed my views." But he did say that he "dislikes" people who support "an occupying force that has been condemned in several United Nations resolutions."
"I think it is important to distinguish between being critical of Israel and anti-Semitism," he told Verdens Gang, according to JTA.
Though the two Jewish community members TheBlaze spoke with felt positive about the event and were hopeful at Chishti's ideological evolution, pro-Israel activist Eric Argaman told JTA that Chishti's participation "stained the event, which now feels more like a spin on our backs than a gesture of good will."
Norwegian media reported that Muslims in Copenhagen asked to demonstrate in support of the synagogue that was attacked last week but police turned down their request.