A pair of accidental phone calls landed Dean Brown (left) and David Fanuelsen (right) in a Florida jail.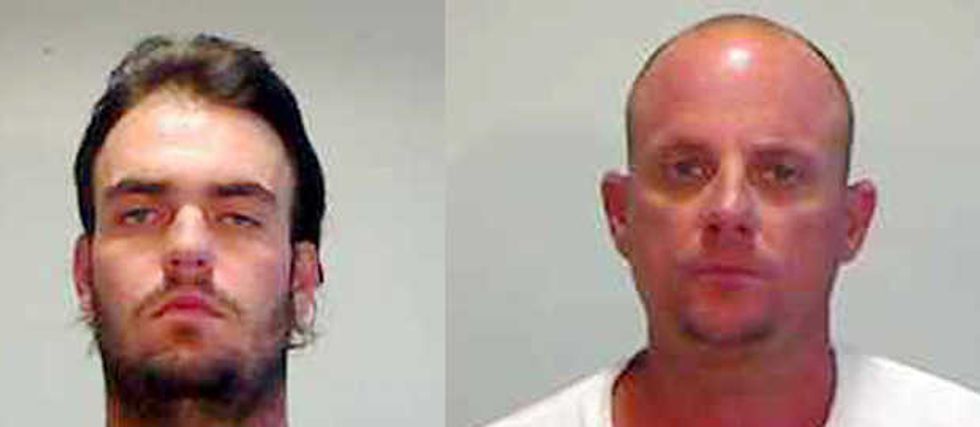 Image: Monroe Country Sheriff's Office
The pair spent last weekend behind bars and are facing felony grand theft charges after confessing to planning and stealing three expensive chainsaws from their place of employment.
How were they caught? One of the crooks "butt-dialed" the victim -- their boss -- not once, but twice.
The "butt-dialed" calls went to the duo's boss, Stace Valenzuela. According to a police report on the incident, after 11 p.m. on February 16, Valenzuela received a call from Fanuelsen's phone and attempted to speak with his employee. However, the duo seemed unaware and could not hear him. Before disconnecting the call, Valenzuela overhead the two men discussing stealing some tools from a construction site.
Concerned about his expensive equipment, Valenzuela drove to the site and discovered his trailers had been broken into. He also noticed a second call to his cell phone from Fanuelsen. This time, the call went to voice mail.
The voice mail message reportedly featured the two crooks planning how they were going to pawn the saws after stealing them from the construction site. Valenzuela contacted police and they arrived at the construction site and documented the crime, heard the voice mail message and took information on how to locate the suspects.
Key West Police Department's public information officer, Alyson Crean spoke with TheBlaze and confirmed the men admitted to stealing the equipment, intending to sell or pawn the saws.
In a Reuters interview, Valenzuela referred to the two former employees as "bumbling idiots."
According to a report posted on Monday, neither man had posted bond (set at $10,000) and were still awaiting a court date.
__
Follow Mike Opelka (@Stuntbrain) on Twitter.