Police in Michigan are looking for more information after a restaurant's surveillance camera captured video of a child writing a note that asked for help.
According to the WXYZ-TV, police in Berkley, Michigan, a Detroit suburb, acknowledged that the note could be a prank, but they're taking it seriously for the time being.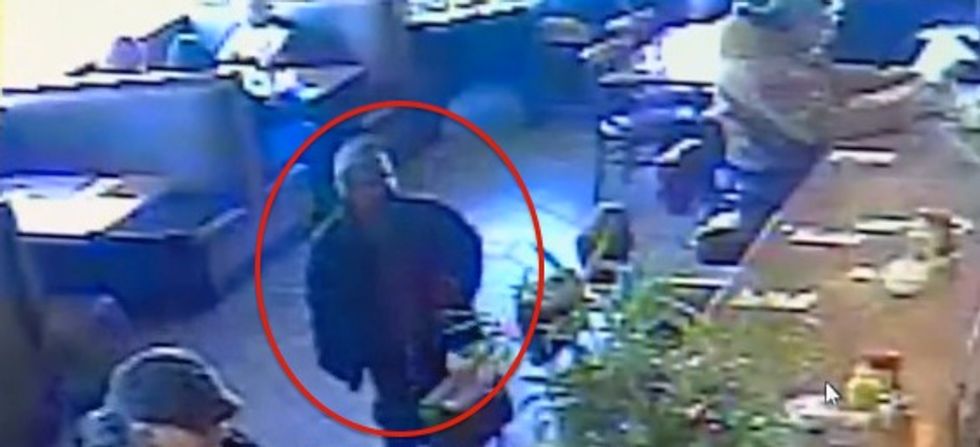 Surveillance footage showed this child sitting at the restaurant's counter where he wrote a note asking for help. The police are not looking into the situation. (Image source: WXYZ-TV) 
In the surveillance footage, a child, who was with two others kids and two adult women, picked up a pen near the cash register at Alex's Restaurant and wrote "I'm with some people, please help me." While doing so, he looked over his shoulder a couple of times.
Watch the footage:
"We're hoping this is just a prank. I hope he's not in danger," Shareen Naamou, who found the note, told the news station.
WXYZ reported that one of the women the children were with paid their bill in cash, so tracing her with credit card information is not possible.
The Detroit News reported that police called the situation "suspicious."
"We're just reaching out to find out if this is child's play or a problem," Deputy Police Chief Robert North told the newspaper.
The children were described as being around age 2, 4 and 8, accompanied by a white woman and a black woman. Police are asking anyone with information to reach out to the department.
—
Update: WNEM-TV reported Tuesday morning that police tracked down the boy's mother and found the note was part of a game he was playing.