Story by the Associated Press; curated by Oliver Darcy.
—
CHICAGO (AP) — Chicago Mayor Rahm Emanuel failed to capture a majority of the vote in Tuesday's municipal election, an embarrassment for the former White House chief of staff because it forces him into a runoff this spring against Cook County Commissioner Jesus "Chuy" Garcia.
CHICAGO (@AP) — Chicago Mayor Rahm Emanuel forced into April runoff election after failing to win majority.

— TheBlazeNOW (@TheBlazeNOW) February 25, 2015
The result exposed possible vulnerability for an incumbent who has widespread support from business leaders, national name recognition and millions of dollars in his campaign fund. He participated in half a dozen debates and forums and received a last-minute boost from President Barack Obama.
Still, he wasn't able to capture the more than 50 percent necessary to avoid an April runoff against Garcia, who finished far below Emanuel's vote total but far above the other three challengers.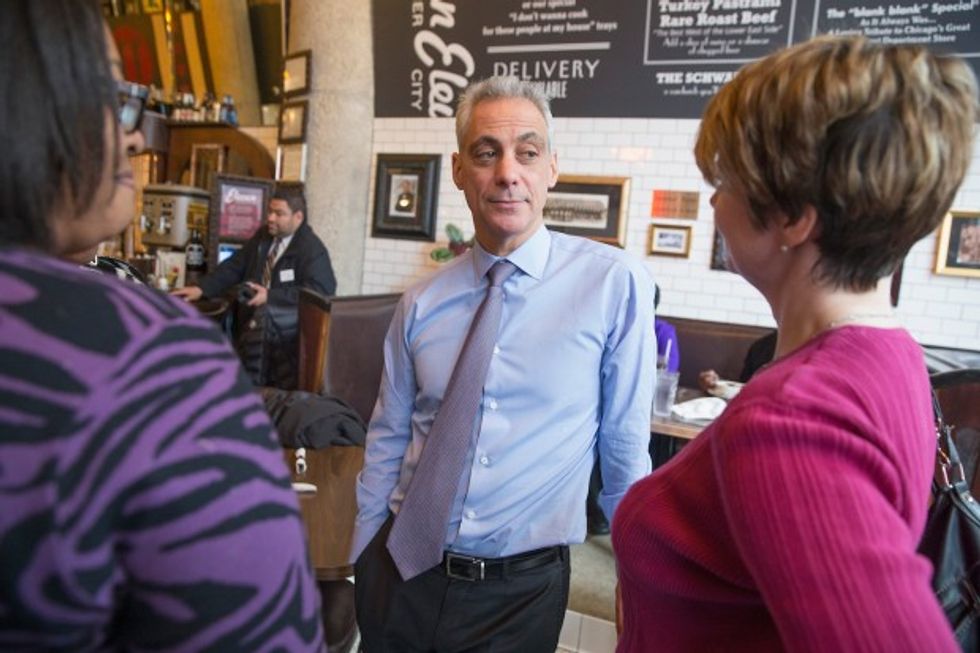 Chicago Mayor Rahm Emanuel greets residents inside a restaurant during a lunch stop on election day February 24, 2015 in Chicago, Illinois. Emanuel, who is up for re-election, leads the polls, but not with enough votes to avoid a runoff election. (Scott Olson/Getty Images)
"We have come a long way, and we have a little bit further to go," Emanuel told supporters Tuesday night. "This is the first step in a real important journey for our city."
Emanuel's challengers — which included Garcia, Alderman Bob Fioretti, businessman Willie Wilson and perennial candidate William Walls — had hoped to capitalize on resident discontentment over Emanuel's handling of schools and city violence.
On the campaign trail, Emanuel said his first term saw some tough decisions and payoffs, including budgets that didn't rely on property tax increases, drawing business to the city, getting a longer school day and raising the minimum wage.
But his critics pointed to some of more tumultuous parts of his time in office, including the city's first teachers' strike in 25 years. The following year in 2013, he pushed for the closure of dozens of schools to save money, which angered parents and activists throughout the city's neighborhoods.
The Chicago Teachers Union — whose fiery leader had once considered a bid to challenge Emanuel — backed Garcia during the race as the alternative to Emanuel. The former state lawmaker enjoyed support from other unions and neighborhood groups.
The non-partisan election on Tuesday also featured contests for a new city treasurer, aldermen and advisory-style ballot questions on campaign finance and an elected school board.
Emanuel won his first mayoral race without a runoff four years ago after the retirement of Richard M. Daley, who held the job for more than two decades.
Garcia, born in Mexico and raised in Chicago, got his start in politics as an immigrant rights activist in the city. He was named a water commissioner under the late Mayor Harold Washington in the 1980s and later elected to the City Council.
He then turned to statewide politics, serving two terms as a senator followed by a stint as a community activist before he was elected Cook County commissioner in 2009.
He has touted his role in a 2011 plan that forbid county jail authorities from detaining those suspected of breaking immigration laws who were held on other charges if they were cleared for release. Opponents said that the policy could release criminals, but Garcia said the justice system shouldn't have separate standards based on citizenship.
—