Commissioner Mignon Clyburn, one of the FCC's three Democratic commissioners, said last week and reportedly reiterated Tuesday, that her office is still in talks with that of FCC Chairman Tom Wheeler.
Clyburn, whose vote as one of the three Democratic commissioners, is key to the implementation of net neutrality restrictions, said during a speech to the Federal Communications Bar Association February 19 that talks with Wheeler's office were ongoing but that no specifics were available at the time.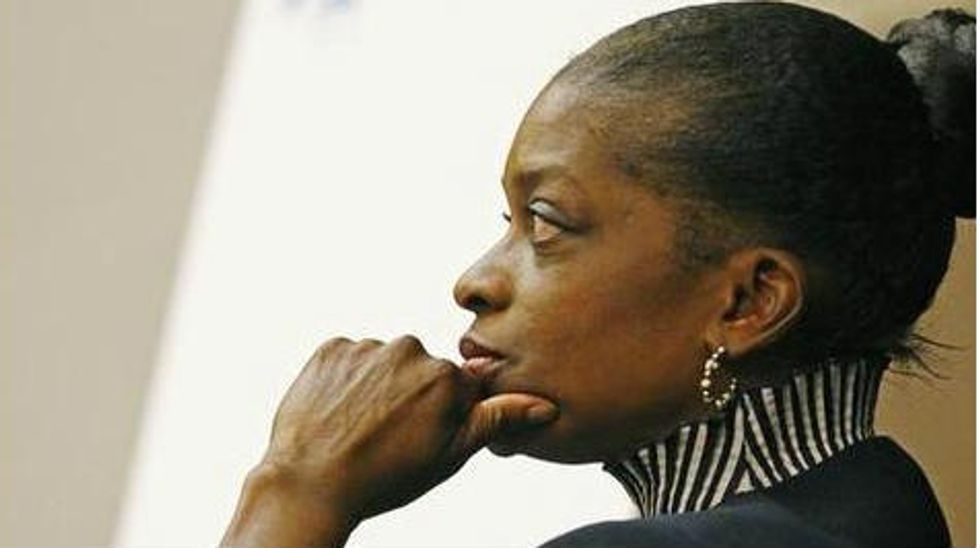 FCC Commissioner Mignon Clyburn listens to a presentation at the state Broadband Summit hosted by the Mississippi Broadband Connect Coalition, Tuesday, Dec. 2, 2014 in Jackson, Miss. (AP Photo/Rogelio V. Solis)
"[B]ut what I will say, is that it is imperative that the order strikes the right balance, for consumers deserve and need strong open Internet protections and investors need clarity and certainty," Clyburn said.
Following remarks at an event in Washington, D.C., on Tuesday, Clyburn stopped short of saying her mind is made up.
"This is a process that is an interaction with all five members of the commission and their offices," she reportedly told TheHill.
Asked by TheBlaze whether she could confirm that Clyburn is asking Wheeler to reconsider his proposal, FCC spokeswoman Kim Hart wouldn't comment on "private deliberations."
The reported shakeup comes as Republicans in Congress make their last-ditch efforts to block the FCC from approving new Internet rules in their meeting scheduled for Thursday.
"As the FCC prepares to assert absolute government control of the Internet, Congress should do everything possible to stop this outrageous power grab," Rep. Vern Buchanan (R-FL) said Tuesday. "The last thing we need are unelected bureaucrats destroying the concept of a free and fair Internet."
South Dakota Republican Sen. John Thune has drafted legislation with two of his House colleagues, Reps. Fred Upton and Greg Walden, that would implement many of the same restrictions that Wheeler is proposing, but limit the FCC's ability to enforce them without Congress' approval.
Meanwhile, FCC commissioners Ajit Pai and Michael O'Rielly, both Republicans, sent a letter to Wheeler Monday, asking him to make the full 332-page proposal available to the public and delay Thursday's vote by 30 days.
Wheeler  will not publicly release the rules until after the vote, The Hill reported.
Thursday's count will decide how the federal government can regulate Internet broadband service providers. Democrats say providers should be governed similar to how the agency oversees public utilities. Wheeler's proposal would primarily do three things: bar broadband providers from blocking or throttling Internet content and restrict providers from prioritizing certain websites over others.
The five commissioners, three of them Democrats and two of them Republicans, are set to weigh in Thursday.
(H/T: TheHill)
–
Follow Jon Street (@JonStreet) on Twitter