The wintry weather that's swept across large portions of the country has posed major challenges even for the biggest wheels on the road – but the latest icy conditions are no match for this Texas road crew.
"The highway was shut down. There's no wreckers here to help out. We got a bunch of guys together and we freed the highway," Jason Gardner told WFAA-TV. "That's a pretty good accomplishment."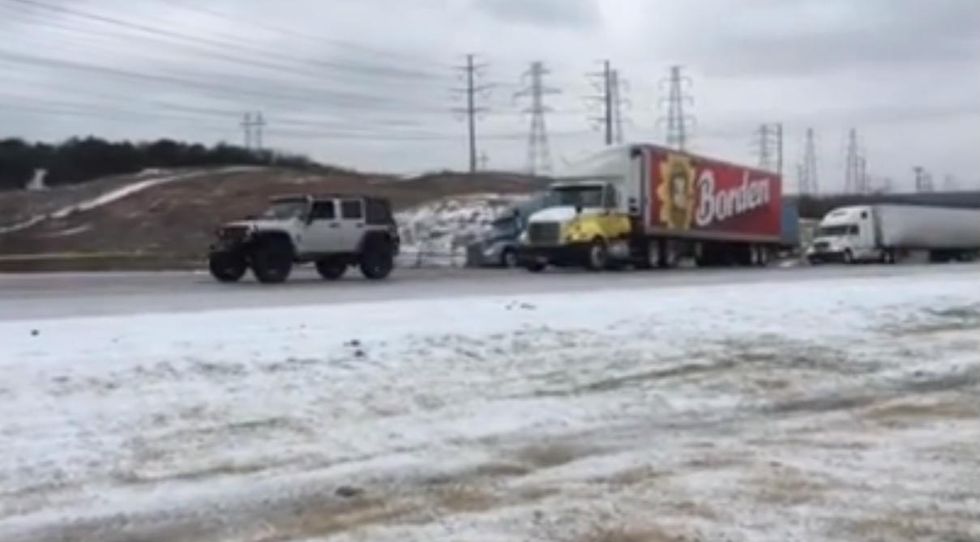 Image source: Facebook/Chisholm Trail Jeep Club

Gardner was one of several people Monday who, despite the treacherous and icy Dallas highways, linked their Jeeps together to pull much larger vehicles to safety.
They call themselves the Chisholm Trail Jeep Club.
"We wanted to get together and do some good for some people this morning and we have Jeeps that are really good to do it," Nora Cortez said.
The group of good samaritans linked their five Jeeps together to rescue many semis from the wintry conditions. They later posted a video on their Facebook page, which you can watch below.
Dallas was among several major cities that awoke this week to a cold air blast that stretched from west of Dallas, through much of the Midwest and the South and throughout the Northeast.
Follow Jon Street (@JonStreet) on Twitter