Several news outlets including Agence France-Presse, Al Jazeera, Vice and the Daily Mail reported earlier this week that Israel had intentionally flooded Gaza by opening dams in southern Israel. The problem: there are no dams in southern Israel that can be opened or closed.
The erroneous reporting was based on claims by the Gaza civil defense agency. Hamas, the hardline Islamist group, controls Gaza and its government ministries.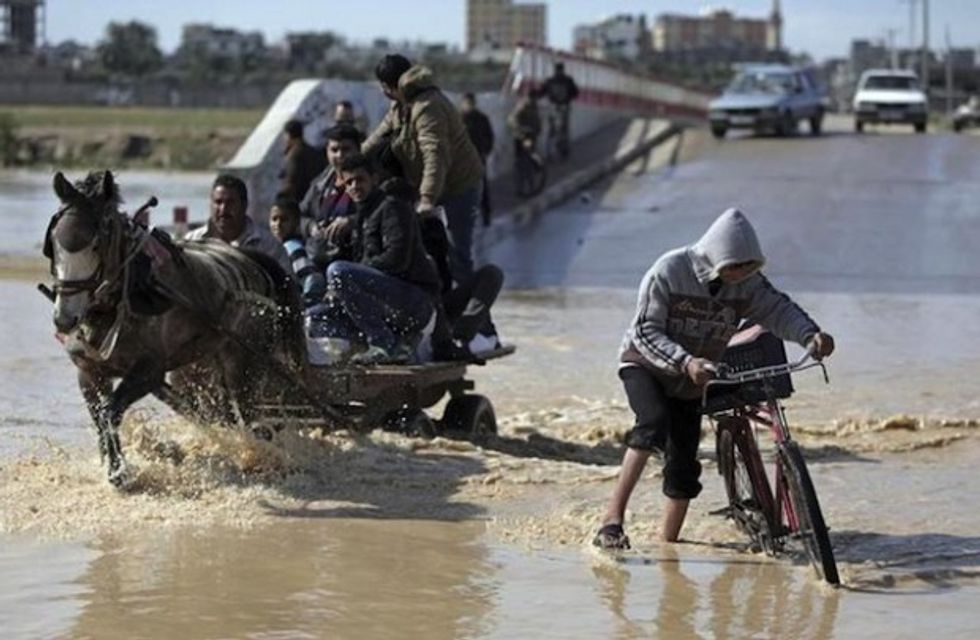 Palestinians cross a muddy flooded street in the Bedouin village of al-Moghraka, central Gaza Strip, Sunday, Feb. 22, 2015. (AP Photo/Khalil Hamra)
The Jerusalem Post reported that Al Jazeera in its original report quoted Brigadier General Said Al-Saudi, the civil defense agency chief, as saying: "Israel opened water dams, without warning, last night, causing serious damage to Gazan villages near the border."
Al Jazeera has since retracted the article and replaced it with an editor's note.
"An earlier version of this page hosted an article which stated that Israel had, without warning, opened a number of dams, which had resulted in a part of Gaza being flooded. This was false," the note says. "There are no dams of the type which can be opened in southern Israel. We apologises for this error. Al Jazeera depends on objective reporting and strives to correct all errors of fact. We are committed to accountability and transparency. We encourage our audience and others to identify and report our mistakes."
In its version of the story, Britain's Daily Mail connected the flooding with a decision by the Israeli electric company to cut power to the West Bank cities of Nablus and Jenin for 45 minutes Monday over unpaid bills. The flooding occurred in Gaza, not the West Bank, a Daily Mail oversight the Jerusalem Post described as "even more embarrassing than the baseless dam-opening allegation."
The Daily Mail edited its story and issued a correction at the end, but its world news page still had the older headline as of Wednesday morning.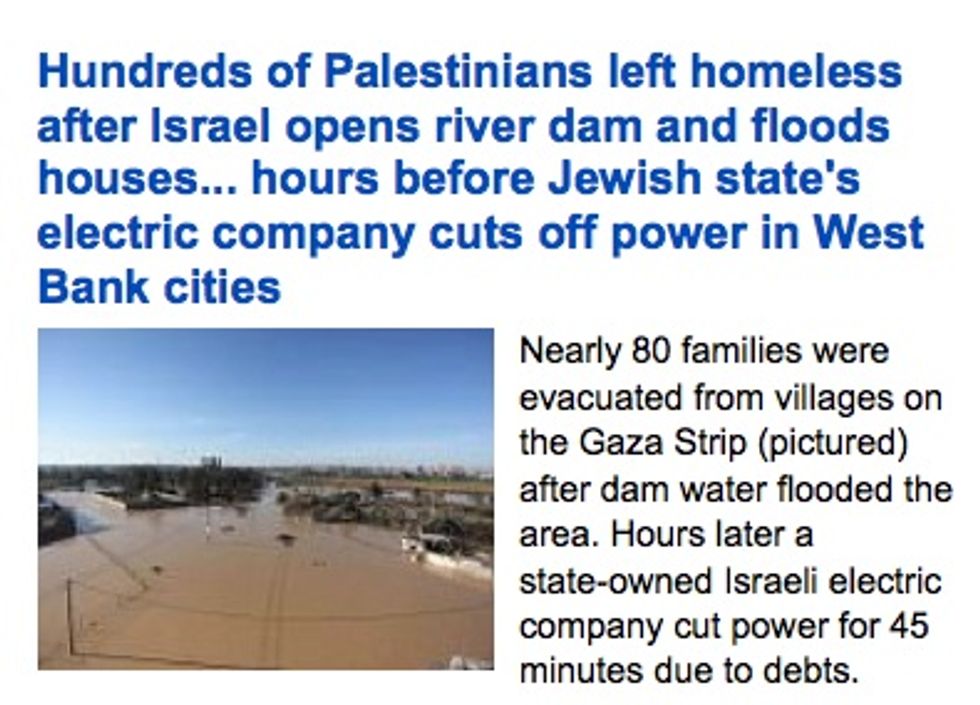 Screenshot: Daily Mail
A correction at the bottom of the revised Daily Mail story says: "An earlier version of this article stated that Israel had opened river dams in the south of the country, causing flooding in the Gaza strip. In fact, there are no dams in southern Israel and the flooding was caused by rain and drainage issues. We are happy to clarify this."
Vice News also still had the erroneous dam quote from the Gazan official in its story as of Wednesday morning and still had its story, headlined "Israel Denies Flooding of Gaza Despite Palestinian Accusations."
AFP posted video of flooding in Gaza titled, "Gaza village floods after Israel opens dam gates," which included an accusation from a resident that the flooding was "political." It did not include any Israeli voices in the report, according to the Committee for Accuracy in Middle East Reporting in America (CAMERA), a pro-Israel media watchdog group.
AFP pulled its video after being contacted by CAMERA about its error.
Supporters of Israel have long claimed that the mainstream media are too quick to accept Palestinian claims, including citing the Hamas health ministry as the main source for casualty figures during last summer's conflict.
The journalistic blunder inspired the hashtag #FloodLibel, referring to the incendiary accusation against Jews throughout history accusing them of using the blood of Christian children to bake Passover matzoh.
When the media aren't printing #Pallywood lies about Israel, they're blaming Zionists for natural causes. #floodlibel http://t.co/XS7YCtlcdH

— I Support Israel (@isupportisrael_) February 25, 2015
Crafty Zionists have figured out how to hide a whole Dam!! Fiendishly clever #FloodLibel

— Dov (@Dov67) February 25, 2015
Not only Gaza is flooded due to Israeli dams, Israel also controls the sea, causing a tsunami in Gaza Proof in photo: pic.twitter.com/0WK903gIXK

— TheWonderingIsraeli (@WonderngIsraeli) February 24, 2015
Oops. I left the faucet running & flooded #Gaza! #GazaFloods #FloodLibel pic.twitter.com/SnqLtCXW1b

— Haya Eytan (@TeachESL) February 25, 2015
A spokesman for Israel's Coordinator of Government Activities in the Territories told CAMERA, "The claim is entirely false, and southern Israel does not have any dams. Due to the recent rain, streams were flooded throughout the region with no connection to actions taken by the state of Israel."
"Prior to the storm, the Coordinator of Government Activities in the Territories allowed the transfer of four water pumps belonging to the Palestinian Water Authority from Israel into Gaza to supplement the 13 pumps already in the Gaza Strip in dealing with any potential flooding throughout the area," the Israeli spokesman added.
Nechemia Shahaf, the head of the Drainage Authority for the Shakma-Besor Region in Israel, told CAMERA that there are no dams which can be opened or closed in southern Israel.
"There is a diverting dam one meter high which directs water to reservoirs. This is a low dam which cannot be opened or closed," Shahaf said, explaining that it sits 12 miles from Gaza.
(H/T: Jerusalem Post)