NASHVILLE, Tenn. — The owners of Sweet Cakes By Melissa, an Oregon bakery at the center of national controversy for declining to make a wedding cake for a lesbian couple, and Craig James, the former NFL and sportscaster who claims he was fired from Fox Sports Southwest over his opposition to homosexuality, have something in common: they're refusing to back down.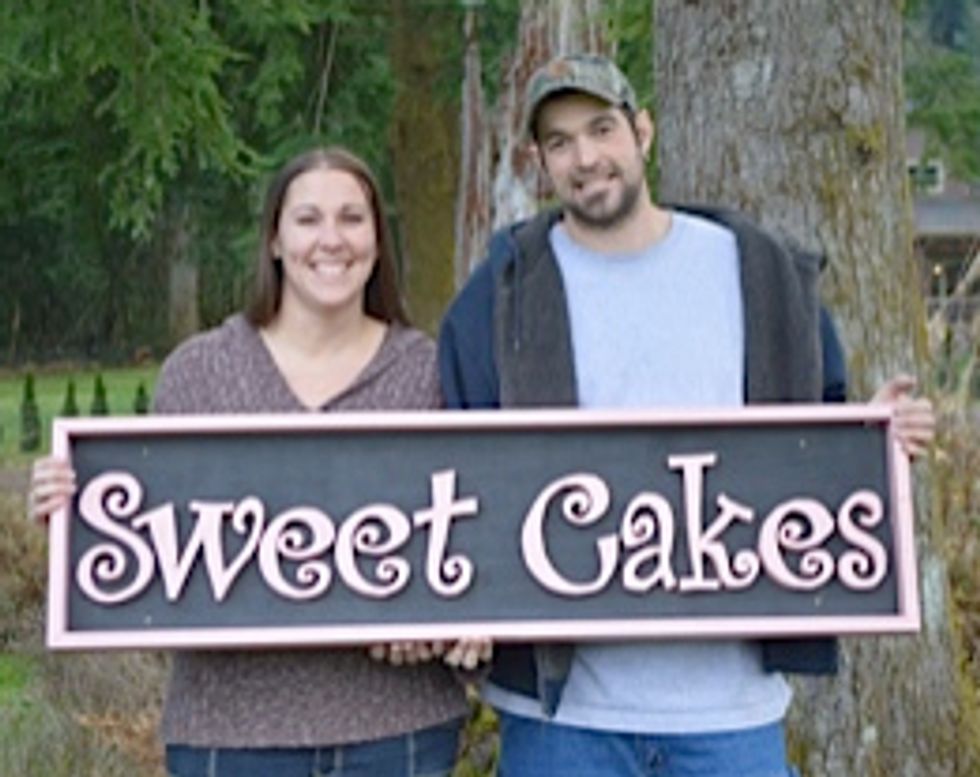 Melissa and Aaron Klein (Sweet Cakes by Melissa)
Sweet Cakes owners Aaron and Melissa Klein and James appeared together at a press conference at the National Religious Broadcasters convention in Nashville, Tennessee, this week, where they outlined their respective battles over religious freedom and conscience.
Speaking on behalf of the couple, Aaron Klein — who risks a $150,000 fine for the initial refusal to bake the cake — told press in attendance that he believes the "American people are not in line with what the government is doing" when it comes to the gay marriage debate.
Klein said that, though it might seem as though the culture war has been lost, he doesn't believe that is the case, encouraging Christians to take a stand for their rights.
"It would almost appear that we have lost the battle of culture. As Christians … I say that we can fight for our rights — that we should fight for our rights," he said. "It's painfully evident that it's something we do need to do at this juncture … we're not called to win these battles … we're called to put on the full armor of God and stand."
Klein said that he believes people like him and his wife have the responsibility not to simply cower and remain quiet.
"We are going to see this agenda forced down the throats of every American at some juncture," he said. "I believe we have an obligation to this next generation to stand up for our freedoms not given by man, but given by God."
Klein continued, "As Ronald Reagan said, 'We're never more than one generation away from losing our freedom,'"
The couple was recently found guilty of discrimination by the Oregon Bureau of Labor and Industries, with a hearing coming in March to further hash out the ongoing case (read more about the story here).
James, too, a former NFL player and a broadcaster, shared details about his legal battle against Fox Sports Southwest for alleged religious discrimination after he says he was fired for his past statements about homosexuality.
"The biblical definition of marriage is between a man and a woman," James proclaimed, proceeding to recap his employment plight. "Fox Sports ... recruited me for a job. I went on the air, spent 24 hours and was fired the next day, because some groups called and said, 'What about James' views?'"
James, who is engaged in a battle to highlight what he believes is a key case of faith-based employment discrimination, said that he plans to stand firm and openly push back against what unfolded.
"I'm not standing here today, willing to check my faith at the door," he said. "You've got to stand up and be vocal."
Craig James discusses his firing from Fox Sports Southwest. (TheBlaze TV)
James, who said he believes there's a "bulldozer in the name of tolerance" that is putting the First Amendment at risk, believes that God will use his case to help in the fight for religious conscience.
"The Lord is using me," he said. "He's using those of us in this fight for religious liberty to stand up and be bold."
James said that it's not uncommon for him to hear people say that they are nervous that their employers will learn about their Christian faith — something that concerns him.
"This is the United States, and when it comes to a time when we're afraid to let someone know about our faith, then our country is really doomed," he said. "I will not check my faith at the door. I will knock, and I will bang, and I will kick — and I will make sure people know that I have a love for my Lord Jesus Christ."
James added, "There isn't a job in this country that's worth setting aside your faith."
Read more about James' story here.