Senate Minority Leader Harry Reid (D-Nev.) warned again on Thursday that the House has no choice but to pass a clean Department of Homeland Security spending bill that will soon be approved by the Senate, and said doing anything else would make House Republicans responsible for shutting down DHS.
The Senate is expected to approve a plain-vanilla DHS spending bill on Thursday, one that doesn't include language to defund President Barack Obama's executive action on immigration. Senate GOP leaders agreed to take out that language after Democrats demanded it for weeks.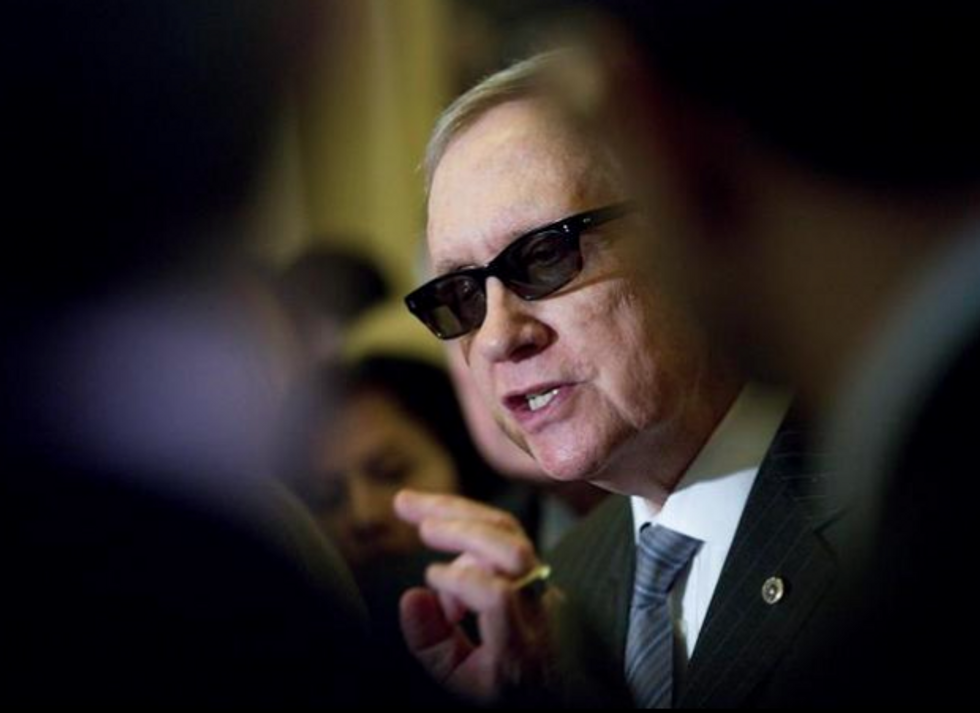 Senate Minority Leader Harry Reid (D-Nev.) warned House Republicans Thursday that they must accept a Senate deal on DHS spending, or be blamed for a shutdown. Image: Bloomberg/Bloomberg via Getty Images
But Reid warned that House Republicans shouldn't try to place the language back into the bill, or any other language Democrats would oppose on immigration.
"We hear all kinds of rumors that House is going to take our fully funded bill and send it back with a number of riders on it," Reid told reporters.
"It is a waste of time," he added. "We will not allow a conference to take place. It won't happen."
By saying Senate Democrats wouldn't allow a House-Senate conference to meet and finalize the bill, Reid is essentially saying Democrats would rather see DHS partially shut down rather than negotiate differences with the House. But Reid said the blame would be placed on House Republicans.
"If they send over a bill with all the riders in it, they've shut down the government," he said.
It was the second day in a row that Reid set out demands for how the House must take up the legislation.
The Senate GOP decision to give Democrats what they want appears to have put Congress in a position to pass the clean DHS bill by Friday, when funding expires. Senators agreed to move to the DHS on Wednesday in a 98-2 vote.
But so far, House Republicans haven't been clear about what they'll do with the bill once they receive it from the Senate. House Speaker John Boehner (R-Ohio) on Wednesday was silent on how the House would react, and said simply that the Senate needs to act before the House decides what to do next.