NASHVILLE, Tenn. — The board of directors of the premiere international association of Christian media professionals unanimously adopted a resolution at its annual convention this week calling on the United States to stand by Israel — and proclaiming that the Jewish state's existence is evidence of the "providential hand of God."
The National Religious Broadcasters, an international association whose members represent tens of millions of listeners, readers and viewers, included a call to prayer as well as an affirmation that the Jewish state is a special nation with biblical roots.
"Israel's history, including the creation and continued existence of the modern State of Israel, reveals the providential hand of God and His commitment to fulfilling His promises in His Holy Word, the Bible," the resolution reads, in part.
It continues, "The State of Israel today shares a special relationship with the United States as nations committed to freedom and democratic governance that respects the rule of law and the rights of minorities."
The National Religious Broadcasters' board of directors is made up of about 100 leaders in the Christian communications world who unanimously called for prayer for the "peace of Jerusalem," as is called for in Psalm 122:6-9.
Their message comes just days before Israeli Prime Minister Benjamin Netanyahu will address Congress in Washington, D.C.
"Israel continues to be subjected to hostile threats, attacks, and terrorism," the resolution proclaims.
See the document in its entirety below: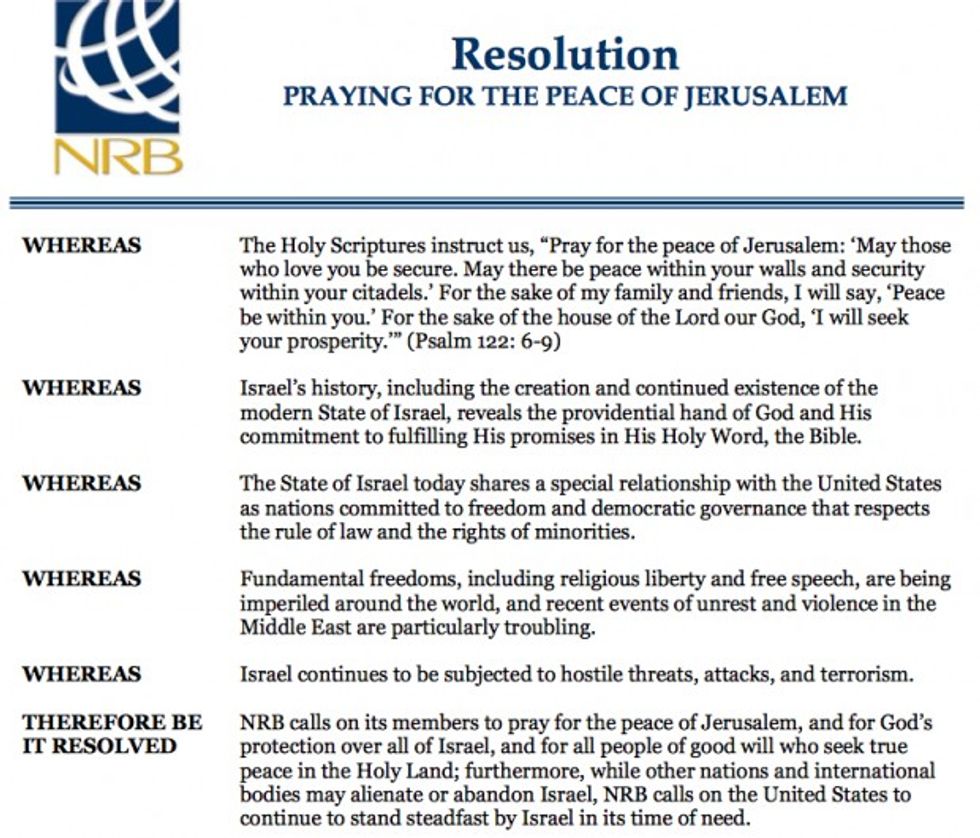 National Religious Broadcasters
In a statement announcing the adoption of the resolution, National Religious Broadcasters president Dr. Jerry A. Johnson urged President Barack Obama and Congress to let the world know that the United States intends to continue its deep relationship with Israel
"The democratic principles upheld by Israel offer Christians and other persecuted groups in the region a hope for peace and liberty," Johnson said. "We cannot allow that beacon of freedom to be darkened."
Read the resolution in its entirety here.