NATIONAL HARBOR, Md. — He knew all the right things to say to rile up the conservative base.
Ted Cruz, the junior Republican senator from Texas, received waves of standing ovations, cheers and whistles as he addressed the 2015 Conservative Political Action Conference Thursday.
"Hillary Clinton embodies the corruption of Washington," Cruz told the assembled conservatives. "We need to run a populist campaign standing for the hardworking people of America."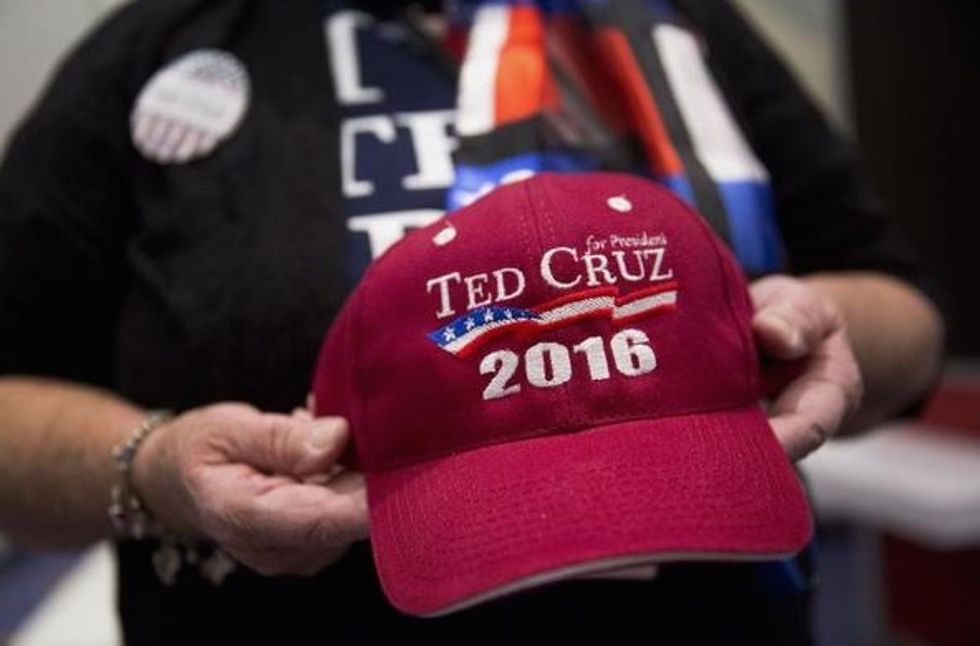 Maggie Wright from Texas holds a Senator Ted Cruz, a Republican from Texas, hat during the Conservative Political Action Conference (CPAC) in National Harbor, Maryland, U.S., on Thursday, Feb. 26, 2015. The 42nd annual CPAC, which runs until Feb. 28, features most of the potential Republican candidates for president, from Ben Carson and Carly Fiorina to Jeb Bush and Scott Walker. (Bloomberg/Bloomberg via Getty Images)
Looking forward to a "crowded race" for the 2016 GOP presidential nomination, Cruz questioned his fellow Republicans.
"Talk is cheap," Cruz said, challenging all those presidential hopefuls who pledge their conservative bona fides at CPAC to actually point to when they've "stood up and fought" for pro-life, pro-Israel, anti-illegal immigration issues. "If you have a candidate who's stood up against Democrats, that's great. When have you been willing to stand against Republicans?"
The "biggest divide" in America isn't between Republicans and Democrats, Cruz said — it's "between career politicians in Washington and the American people."
Fox News' Sean Hannity took the stage to ask Cruz a few questions, among them, "What would be the top five items on President Cruz' agenda?"
"Number one: Repeal every blasted word of Obamacare," Cruz responded. "Number two: Abolish the IRS. Take all 125,000 IRS agents and put 'em on our southern border."
Cruz also pledged to limit the power of the Environmental Protection Agency and other regulatory agencies and restore America's position of world leadership.
Cruz, who said he doesn't see presumptive Democratic 2016 nominee Clinton as a serious threat, called upon the memories of Ronald Reagan and his own father to appeal to the assembled conference-goers.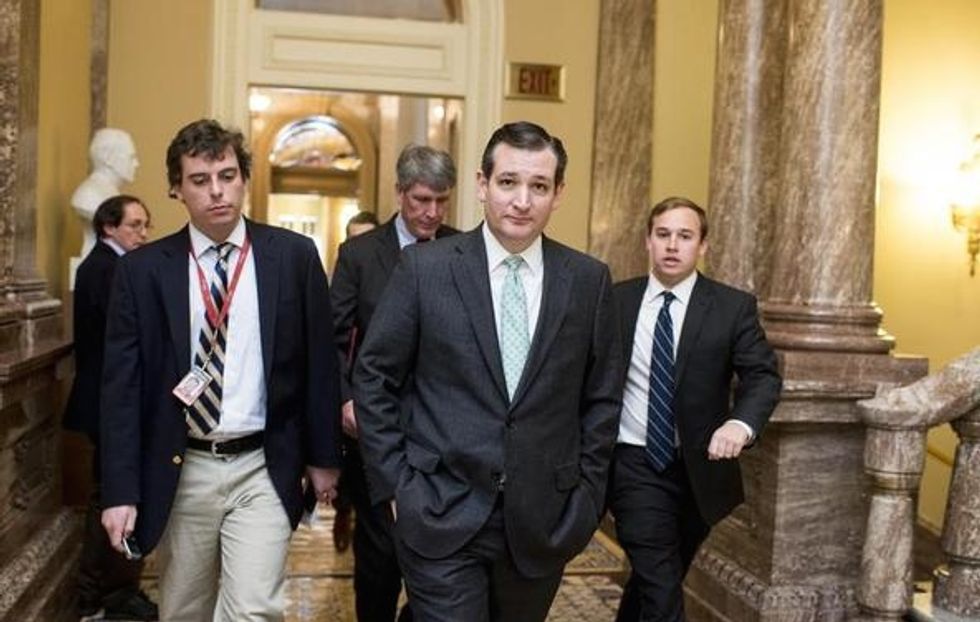 Sen. Ted Cruz, R-Texas, walks to the Senate Republicans' lunch in the Capitol on Wednesday, Feb. 25, 2015. (Bill Clark/CQ-Roll Call,Inc.)
"I am convinced 2016 is going to be an election very much like 1980," Cruz said, noting that, "Washington despised Reagan" just as the entrenched powers in Washington loathe Cruz.
Despite the opposition, Cruz cited the inspiration of his father, an emigrant from Cuba, who said, "I've seen freedom taken away once, and I'll die before I let it happen again."
—
Follow Zach Noble (@thezachnoble) on Twitter