The House on Thursday rejected legislation to extend funding for Department of Homeland Security for another three weeks, a shock result that will send GOP leaders scrambling for a way to fund the department just hours before its funding expires.
Members rejected the spending resolution 203-224, a tally that reflected significant Republican opposition to the bill. In the final vote, more than 50 Republicans voted against it, which meant that more than 20 Democrats were needed to pass the bill.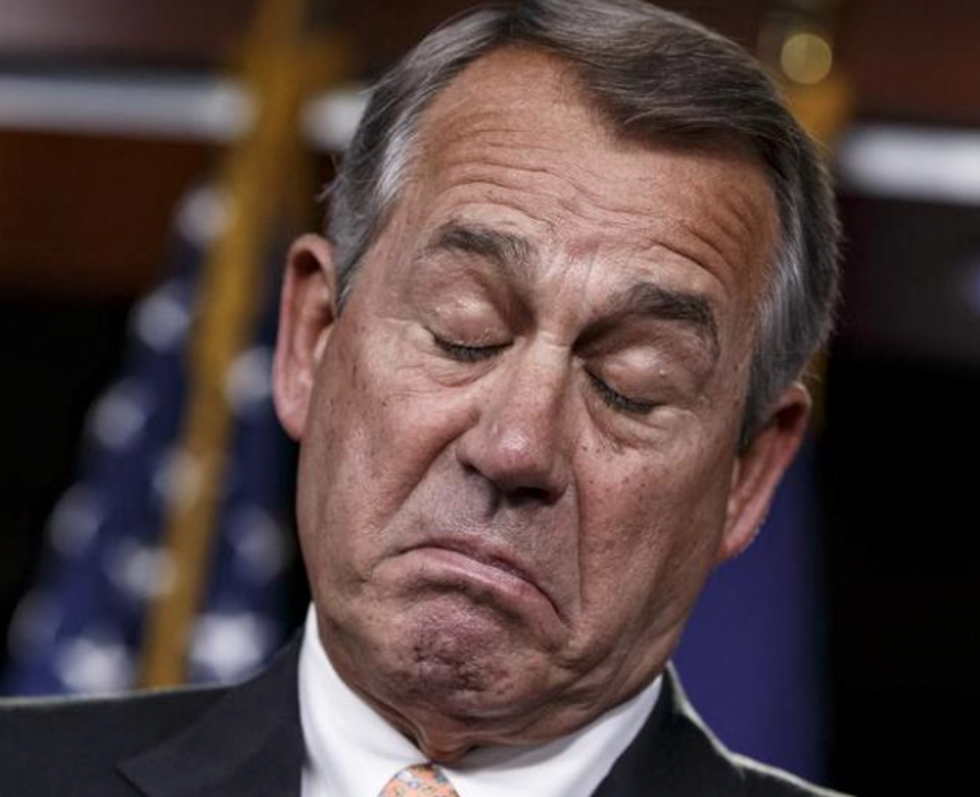 House Speaker John Boehner (R-Ohio) on Friday failed to muscle through a short-term DHS spending bill, and faced objections from dozens of Republicans and almost every Democrat. Image: AP Photo/J. Scott Applewhite
But only 12 Democrats supported the bill, and many of them voted for the bill as it became clear that Democrats would have to pitch in if the bill were to pass. House Minority Leader Nancy Pelosi (D-Calif.) asked Democrats just minutes before the vote not to help Republicans pass the bill, and she seems to have mostly gotten her way.
Conservative Republicans opposed the bill because they believe it will allow the Obama administration to implement its executive action on immigration. Republicans had pushed for language to defund President Barack Obama's action in the DHS bill, but that version went nowhere in the Senate, and many GOP members opposed the Senate's plan B, which was to take out the immigration language.
Democrats opposed the bill because they oppose a short-term stopgap measure that will only serve to keep the immigration fight alive for another three weeks.
With that vote result, it wasn't immediately clear what step could be taken to spare DHS from a partial shutdown that would take effect after Friday.
One option would be to take up the Senate's clean DHS bill, but Republicans have not indicated they are willing to do that yet. Another choice is to do nothing and allow the partial shutdown to happen, or find some new legislative proposal that might attract support.
At the end of the vote, House Majority Leader Kevin McCarthy (R-Calif.) said only that more votes were possible later tonight, and possibly over the weekend. His message about the weekend vote means DHS could now be facing a partial shutdown in the near term.
In the hours before the vote, Republicans recessed the House for nearly an hour and a half to corral the necessary votes, but clearly failed to make the progress they needed to make.
Democrats spent the day blasting Republicans for putting U.S. national security at risk through a partial DHS shutdown, by failing to pass the Senate's full-year spending bill.
"House Republicans have a plan that is a staggering failure of leadership that will prolong this manufactured crisis of theirs, and endanger the security of the American people," said Pelosi.
"I don't even think it's a political motivation with them," she added. "I think that's who they are. They don't believe in governance, they're against anything the president proposes, and this is a comfortable place for them to be."
On Friday morning, the Senate passed a full-year spending bill, after which Democrats called on House Republicans to consider that bill. Senate Democrats said the only way forward was to pass the Senate bill.
Earlier in the day, White House spokesman Josh Earnest said Obama would accept a three-week bill if that's all he could get. But the House vote showed that's not possible today.