NATIONAL HARBOR, Md. — The Republican Party may be sizing up a crowded field of presidential contenders, but in the minds of his supporters, one guy is already the man to nominate.
And he has a lot of supporters.
After winning Sean Hannity's impromptu voice poll of CPAC-goers, Kentucky Sen. Rand Paul showed up late to the Conservative Political Action Conference (delayed by a Senate vote) and blew the crowd away with his brand of libertarian conservatism.
Presidential Candidate Dr. Rand Paul pic.twitter.com/bqbE7XxDhE

— Bing Republicans (@BingRepublicans) February 27, 2015
"Those who love liberty must rise to the occasion," Paul told the packed crowd. "Will you lovers of liberty rise to the occasion?"
Young Paul supporters crowded the room, standing numerous times during Paul's speech to cheer, wave signs and chant, "President Paul! President Paul!"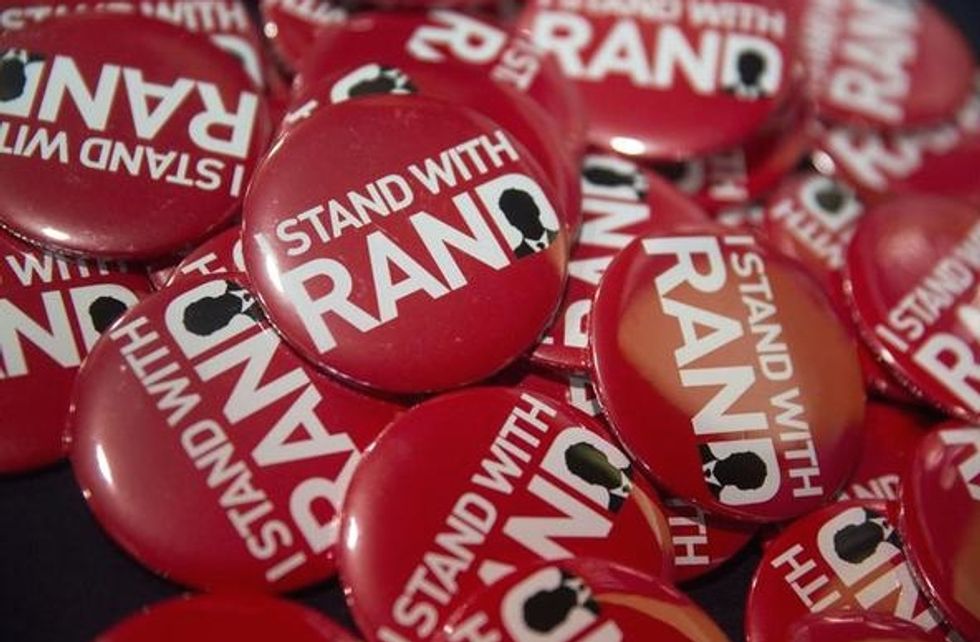 'I Stand with Rand' buttons sit on display at the Young Americans for Liberty booth on the exhibit floor during the Conservative Political Action Conference (CPAC) in National Harbor, Maryland, U.S., on Thursday, Feb. 26, 2015. The 42nd annual CPAC, which runs until Feb. 28, features most of the potential Republican candidates for president, from Ben Carson and Carly Fiorina to Jeb Bush and Scott Walker. (Bloomberg/Bloomberg via Getty Images)
Paul declared the Supreme Court's defense of Obamacare to be the "mistake of the century" and pledged to "repeal every last bit of it."
He also trumpeted his libertarian credentials, saying that, "the phone records of law-abiding citizens are none of [the NSA's] damn business" and touting a foreign policy that would leave the U.S. "unencumbered by nation-building."
"At home conservatives understand that government is the problem, not the solution, " Paul said. "We cannot succumb to the notion that a government inept at home will somehow become successful overall, that a government that can't even deliver the mail will somehow be able to create nations abroad."
While he sounded different from most other CPAC speakers in many ways, Paul hit a few familiar topics, attacking Hillary Clinton — "her dereliction of duty should forever preclude her from higher office" — and decrying the "dangerous and barbaric cult" that is the Islamic State.
But unlike the other CPAC speakers, Paul noted that the Islamic State benefitted from a haphazard U.S. foreign policy.
"[The Islamic State] grew up in a safe haven created by arming Islamic rebels in the Syrian civil war," Paul said, noting that he'd warned of the unintended consequences at risk when he voted against arming Syrian rebels years ago.
Another point Paul stressed that many CPAC speakers overlooked: taxes.
"I propose we cut everyone's taxes, from the richest to the poorest," Paul proclaimed.
When Paul was asked how the GOP can appeal to voters outside the party base, one of his supporters shouted, "Nominate Rand Paul!"
Paul responded, "Good answer."
Questioner asks how the GOP can win libertarians. Dude in crowd: "Nominate Rand Paul!" Rand: "Good answer!" #CPAC2015

— daveweigel (@daveweigel) February 27, 2015
Perhaps one of the strongest examples of Paul's popularity lay in what happened immediately after his appearance.
With virtually no delay, former Pennsylvania Sen. Rick Santorum took the stage after Paul — and half of the audience streamed out as Santorum started talking, carrying their "I Stand With Rand" posters with them.
Rick Santorum lost the "speaking slot directly after Rand Paul" lottery at CPAC. Hundreds of people streaming out.

— Scott Conroy (@RealClearScott) February 27, 2015
You can't help but feel just a little bit bad for Rick Santorum as half the room empties after Rand Paul speaks. #CPAC2015

— Katie Watson (@kathrynw5) February 27, 2015
—
Follow Zach Noble (@thezachnoble) on Twitter