He's driving a minivan and he's got at least one kid with him — but that won't stop this guy from completely losing his mind.
It was all caught on camera.
A bicyclist in San Francisco posted video of his bizarre encounter with a hyper-defensive driver online, showing the moments that a minivan pulled up alongside him...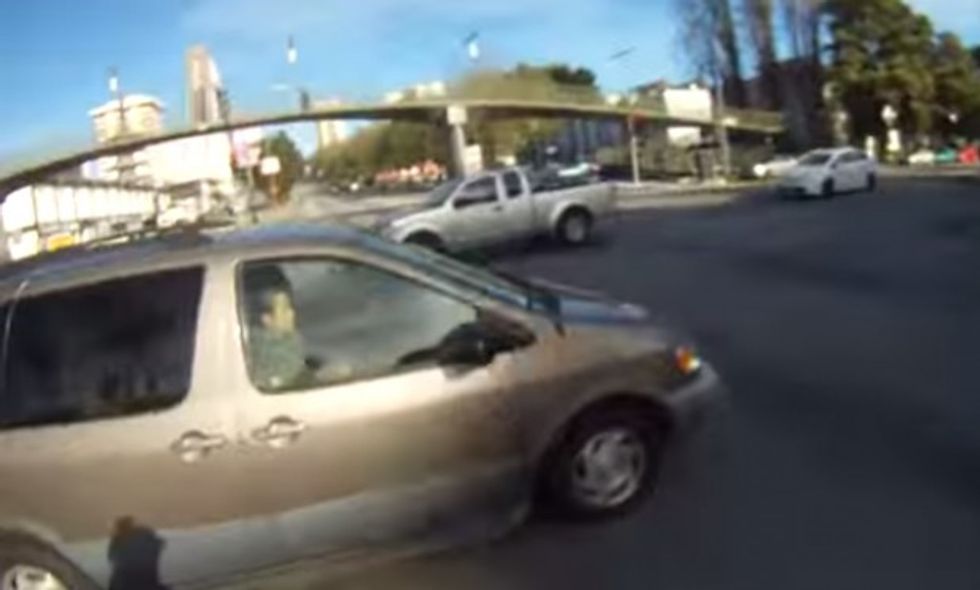 Image via YouTube
...and ultimately ran him off the road making a turn.
The biker slaps the back of the van as he struggles to stop — which prompts the driver to jump out of the van and unleash a torrent of profanity.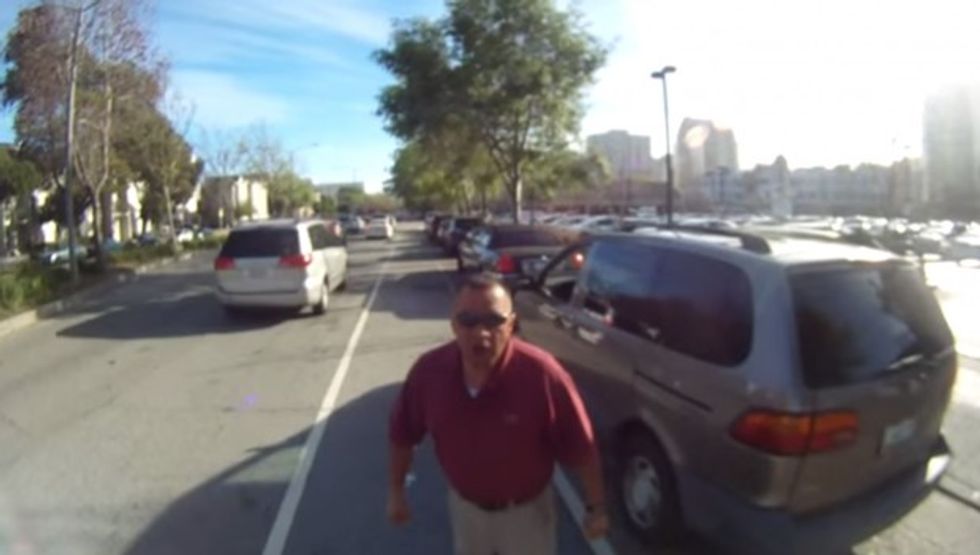 Image via YouTube
"I didn't run into you," the driver shouts. "I passed your f*****g ass."
As the biker argues and tells the driver he has video of the whole thing, the driver doesn't calm down.
Instead, he amps up the cursing and starts kicking the bicyclist's bike, yelling, "How do you like that?"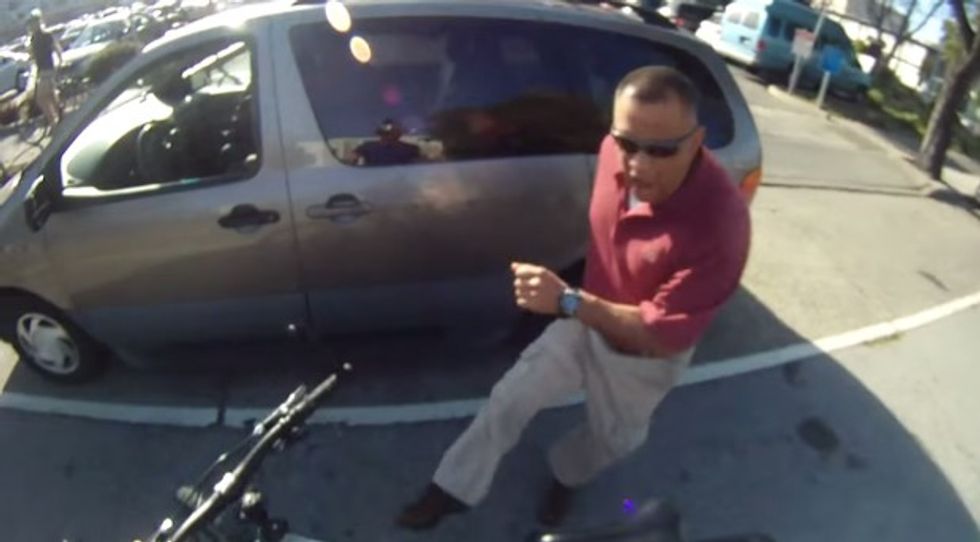 Image via YouTube
Watch the altercation unfold in the video below (content warning: strong language):
So who was in the wrong?
The state of California's rules on bike lanes are pretty clear:
Treat a bicycle lane the same as other traffic lanes.

Do not turn into the lane if there is a bicyclist in the bike lane.

Do not obstruct bicycle traffic by reducing the width required for safe bicycle passage, typically 3 to 4 feet.

When you are making a right turn and are within 200 feet of the corner or other driveway entrance, you must enter the bicycle lane only after ensuring there is no bicycle traffic, and then make the turn. Do not drive in the bicycle lane at any other time.
On the flip side, many commenters online questioned whether the bicyclist could have been more proactive about avoiding the collision — and some accused him of riding around San Francisco provoking collisions with drivers.
For his part, a commenter claiming to be the biker defended himself on Reddit, saying the video doesn't do the situation full justice.
"The video makes it look like we were going a lot slower than we really were, and it also makes it appear as though the minivan is further in front of me than it really is (170 angle lens)," the commenter wrote. "I had thought the guy saw me (since he was right next to me for a while), and was slowing down to let me go past, and then he slammed on his brakes and got right in front of me. I hit my front brake as hard as I could and actually went over the handle bars a bit."
Did the biker actually call the cops, as he threatened to do in the video?
The commenter on Reddit didn't answer that question.
—
Follow Zach Noble (@thezachnoble) on Twitter