Update: Evan Todd has launched a GoFundMe campaign to help the homeless vet get back on his feet.
--
When Evan Todd lost his 1999 state championship football ring, he assumed he'd never see the high school relic again, but ten years after it went missing, he believes that a random phone call from the man who mysteriously found it was nothing short of "miraculous."
See, it wasn't just any ring. It was a symbol of triumph after tragedy — one that he and his teammates received just months after 12 of their peers and one teacher were fatally gunned down at Columbine High School in Littleton, Colorado, by two fellow students on April 20, 1999.
Todd, too, was shot and injured during the massacre, making the football victory that year monumentally memorable.
"We got [the ring] after we won the state championship in 1999, which was months after the shooting," Todd, who played defensive tackle for the Columbine Rebels, told TheBlaze in a phone interview Sunday night, noting that the team had dedicated that season to fellow player Matt Kechter, who died during the attack. "It was quite a stepping stone to overcoming the tragedy."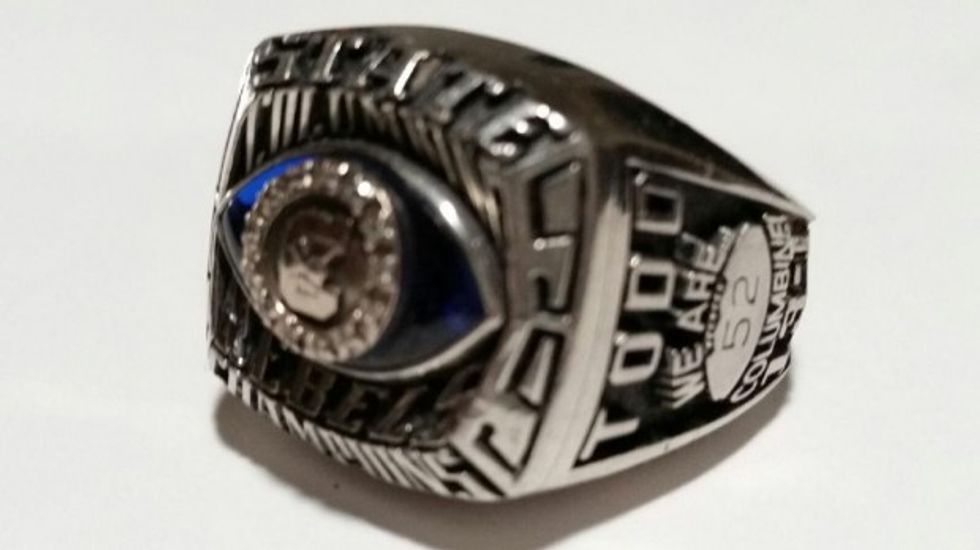 Evan Todd
The ring, which included Kechter's number and initials, also had Todd's name and number etched into it — a reminder not only of the team's victory on the football field, but of the amazing feat the student-athletes accomplished in the midst of intense grief.
"It was something that reminded me of the good things that came out of high school, the overcoming tragedy and overcoming adversity," Todd said. "It was symbolic of a lot of good things, so it was somewhat devastating to lose it."
Todd said that it was 2003 or 2004 and he had just wrapped delivering a series of speeches in San Luis Obispo, California, about his experience at Columbine when he realized that the ring had gone missing. Todd has captured nationwide attention for sharing his personal story about Columbine and for penning an open letter about gun control to President Barack Obama in late 2013.
"When I first realized it was gone, [I was] packing up," he told TheBlaze. "I was putting everything in my suitcase."
Desperate to find it, Todd said that he "tore the hotel room apart," looking beneath beds and furniture, but to no avail; the ring was nowhere to be found. To this day, he doesn't know how he lost it.
Todd said that he told hotel management about it, but that he was never contacted about the ring's whereabouts.
"We ended up having to catch a plane back to Denver," he said. "At that point, I wrote it off as lost. I just thought, 'There's no way I'll ever see that again.'"
It would be 10 years before Todd would realize that he was very wrong — a fact he learned after recently receiving a shocking text message from his brother, a teacher at Columbine High School who works with Todd's old football coach, Andy Lowry.
"My brother told me that Andy had gotten a call from a gentlemen who found my ring," Todd said. "My mom knew that I'd lost the ring, but my brothers didn't know and my brother texted me and was like, 'Did you lose the ring?'"
Considering how much time had passed, Todd was dumbfounded to learn that a man named Bobby Smith, who said he is a a homeless Vietnam veteran, located the ring while searching for stones in a local river. When he saw something shiny, he realized it was a ring and brought it to a local collector, where he told TheBlaze he was offered $2,000 on the spot.
Smith, 60, who served in the Army and found himself homeless and in California after the death of his daughter and wife last year, said that he discovered the ring while he was looking for stones and arrowheads in the Orcutt Stream near a location where he's been camping.
"I saw something really shiny and reached down in there and pulled out a ring in pristine condition — and it said 'Columbine' on it," Smith said. "Instantly, I knew what Columbine was."
Smith said that he initially took the ring to a local collector to see what it was worth. And when he was told that he would be given $2,000 to hand it over, he was conflicted.
"I'm homeless and initially said 'Yes, no,'" he quipped, noting that he inevitably made the choice not to sell the ring."Then, I got on the phone and called the high school [and] left a message for the coach."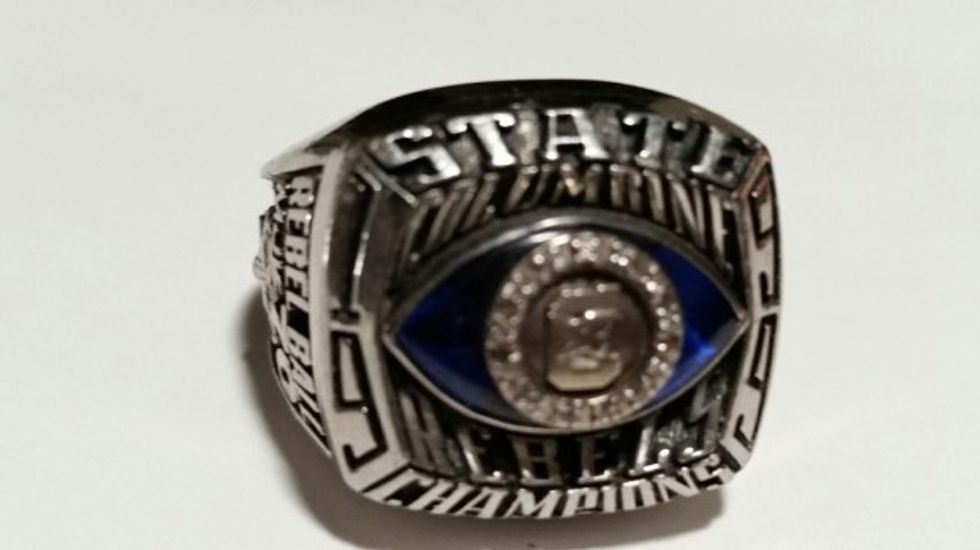 Evan Todd
Smith said that he made the difficult decision to return the ring, despite his own personal needs.
"The right thing to do in the heart and soul was just to return it to the guy. If it was me, I would want it back," he said. "I'm just like every other human being. We all know inside what's right or wrong. It's a pretty easy choice."
Todd was delighted to recently get the ring back, telling TheBlaze, though, that he wouldn't have begrudged the homeless man if he had sold it, considering his tough personal situation.
"It's actually in really good condition. There's [only] one little ding on the bottom side of the ring," Todd said. "It looks almost brand new."
He said that he was "really impressed" by Smith's quest to do the right thing, adding that Smith didn't ask for anything back in return for sending him the ring.
"I was equally impressed with what he did and the amount of effort he went through," Todd said. "And it's cool, because it's something that I did miss, that I didn't have."
Little is known about the ring's whereabouts during the 10 years it went missing and details about Smith's background have not been independently verified. Still, that hasn't stopped Todd from calling it "miraculous."
--
Editor's Note: The author of this article regularly works on speaking tours and educational projects with Evan Todd.