Senate Minority Leader Harry Reid (D-Nev.) on Monday dismissed a Republican request to hold a House-Senate meeting to discuss the Department of Homeland Security spending bill as a "charade," even though just a few years ago, he hailed these kinds of meetings as a tool that has been used successfully by Congress for more than two centuries.
Republicans are seeking a conference to sort out the differences between the House bill, which would defund President Barack Obama's immigration plans, and the Senate bill, which is silent on Obama's new program.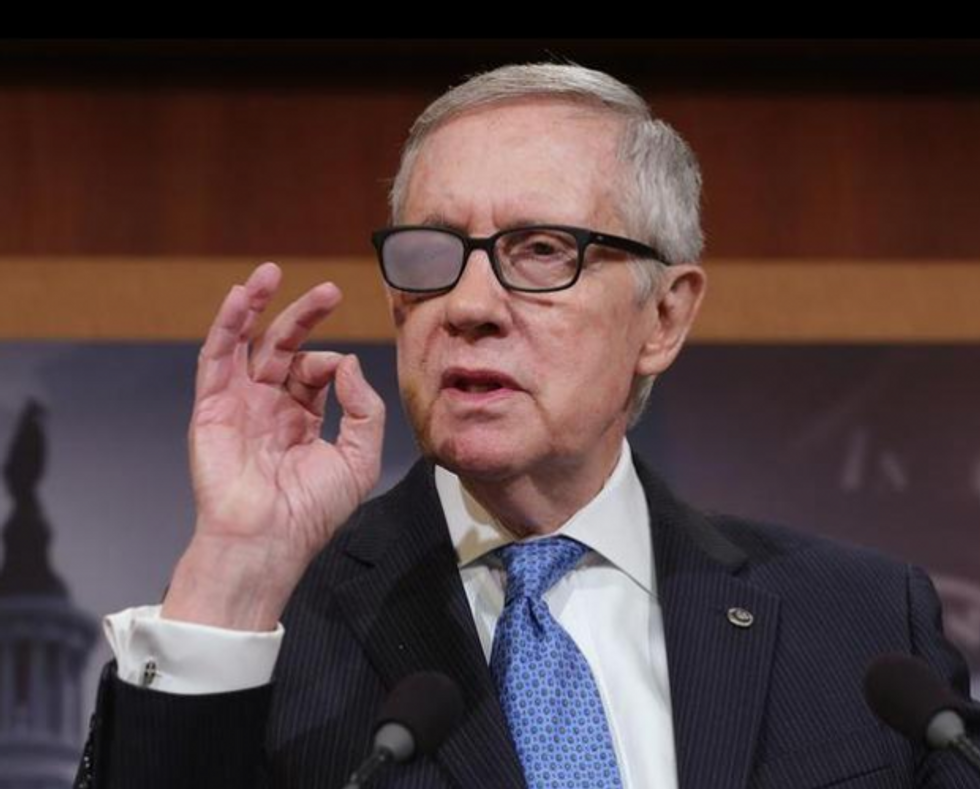 Senate Minority Leader Harry Reid (D-Nev.) once praised House-Senate meetings to work out differences on legislation as a tradition as old as Congress, but on Monday, he said a GOP request for such a meeting is a 'charade.' Image: Chip Somodevilla/Getty Images
As he was already warning last week, Reid said Democrats would not agree to such a meeting.
"That won't happen," he said on the Senate floor Monday. "We will not be a party to yet another charade by House Republicans, because it would inevitably shut down the Department of Homeland Security and put our nation at risk, and that's an understatement."
Reid's comment as minority leader are a sharp turnaround from when he was the majority leader just two years go. Then, in 2013, Reid was trying to convince Republicans to agree to a House-Senate meeting on a budget bill, and blasted them for refusing that meeting unless they were assured some of their demands would be met.
"Democrats aren't afraid to debate our principles in the light of day," Reid said then. "We aren't afraid to try to resolve our differences in a conference committee instead of behind closed doors. This has been the custom in the Senate and House of Representatives for more than 200 years."
In truth, both parties have leaned on proper legislative procedures when it suits them, and tried to avoid those procedures when it doesn't.
For example, Reid's comment in 2013 was made in a public spat with Sen. Ted Cruz (R-Texas), who was refusing to agree to a conference meeting on the budget because Republicans were unlikely to get what they wanted.
This week, the positions of the parties have flipped — a House-Senate conference committee meeting, if taken seriously, could end up in a negotiation about how to temper Obama's immigration plan, something Democrats aren't interested in exploring.
Instead, Democrats seem content to reject the meeting, since that could give Democrats in the House an opening to pass the Senate bill, over the objection of Republicans. Conservative Republicans were already at work on a plan to prevent that from happening.
On the Senate floor, Reid masked that advantage by arguing that Republicans aren't serious about negotiating a DHS spending bill at all, and said it would be a waste of time for Democrats to participate.
"House Republicans have no intention of using that conference to craft legislation that will pass both houses of Congress, and in so doing they would make sure that we have a shutdown of the Homeland Security department," he said.