Sadly, 4-year-old Jalene Salinas has been crossing off items from her bucket list as she is battling an aggressive form of terminal brain cancer.
However, the little girl had one "final wish" that only music superstar Taylor Swift could make come true.
And she did.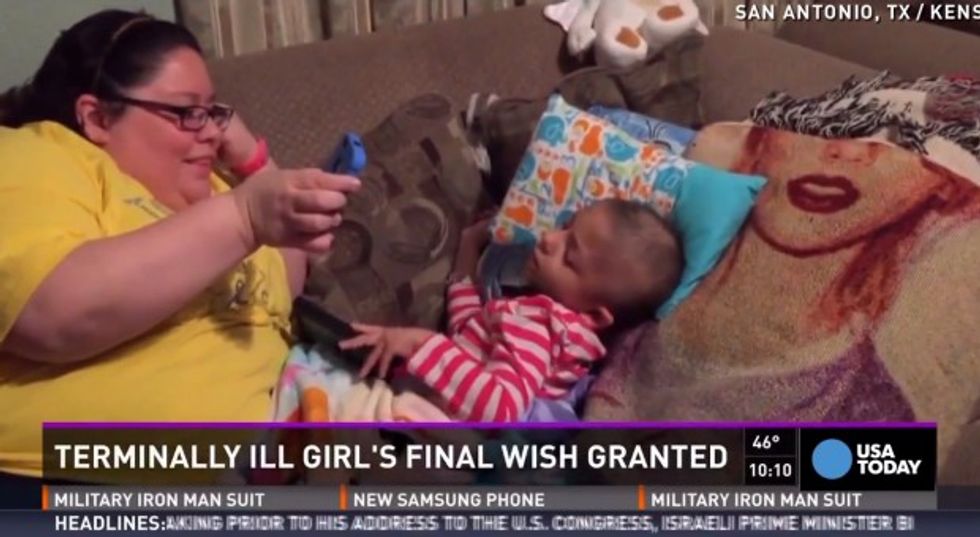 Screengrab via USA Today video on YouTube
Salinas final wish was to dance with Swift to "Shake It Off," one of the pop singer's hit songs. On Monday, Swift surprised Salinas with a FaceTime call and chatted with her for about 20 minutes. While the two didn't appear to dance, it was certainly a dream come true for Salinas.
"I'm so sorry you're having a bad night. I'm so happy to talk to you though and I'm so happy you like 'Shake It Off.' You look beautiful tonight, you really do. You're just as pretty as your pictures," Swift told the girl.
Jalene was apparently in a lot of pain at the time, but seeing Swift immediately lifted her spirits.
The hashtag #ShakeItOffJalene helped capture Swift's attention as people from across the country tweeted it. Watch the heartwarming moment below:
(H/T: Billboard)
--