"It's the truth that the Jews are resting on the Holocaust, and they are just too lazy to work."
"Child murderer! I hope that a rocket will fly up your ass."
"I am very happy that Adolf Hitler massively decimated you %&$f**ing Jews here in Germany."
That's just a sample of the 20 or so hate letters the Israeli Embassy in Berlin receives every day.
Israeli Ambassador Yakov Hadas-Handelsman read a sample of them for the German newspaper Berliner Morgenpost. Also among the items sent to the embassy: a photo of Adolf Hitler embossed with the words "Sieg Heil," the phrase historically used when performing the Nazi salute.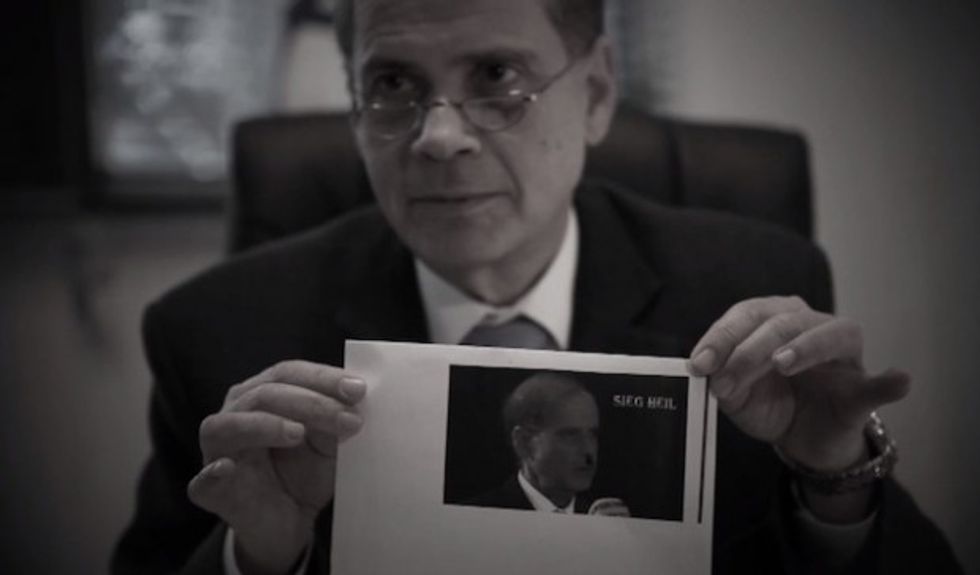 Israeli Ambassador Yakov Hadas-Handelsman holds up one photo he received of Hitler along with the Nazi phrase "Sieg Heil." (Image source: YouTube)
"It goes on and on like this," the ambassador said of the messages, which come in the form of letters, emails and through social media.
The messages include those critical of Israel, but many are just plain anti-Semitic.
"Dear Ambassador. This time Israel has gone too far! Because everyone knows that the Hamas rockets are just toys."

"Israel, you are murderers and everyone hates you. May God punish you and your families so you know what it feels like."

"Apparently mankind will only be living in … peace once the last rat-Jew has bitten the dust."
"This is just a mere pretense for Israel criticism. But this is not Israel-criticism. This is anti-Semitism," Hadas-Handelsman said. "Let's imagine the Jews are leaving a European country, but does that mean the problem society has is gone too? No it doesn't. Even if Jews left Germany, the ones sending the hate mail will continue to do so against others."
"I think Europe should definitely be worried about that," he warned.
Here's the video from the Berliner Morgenpost:
(H/T: Ynet)