It was a request that didn't make a lot of sense to Jeff Petkevicius, owner of Give It to God Competition BBQ.
Standing in an Alabama parking lot during a stop on the Sam's Club National BBQ Tour, Petkevicius began shooting video and throwing down right in front of his bright yellow camper with Old Glory flapping in the wind.
"I was just told once again...having the flag blowing there is an issue," he said. "I've been told a couple of times to take it down. And I said, 'For the sake of America, I'm not taking it down; I'm leaving it up.' I thought this was still America; I didn't think it was Cuba."
A friend of mine is at a bbq contest Daphne Al at the @SamsClub. Was told he couldn't fly the flag plz retweet pic.twitter.com/VDjlq73iDx

— hanleys bbq (@hanleysbbq) February 28, 2015
"If they kick me out, I'm outta here," Petkevicius said.
The scuttlebutt last Friday was that a Daphne city ordinance was behind a request from the Kansas City Barbecue Society that competition participants take down their flags — except no such ordinance exists.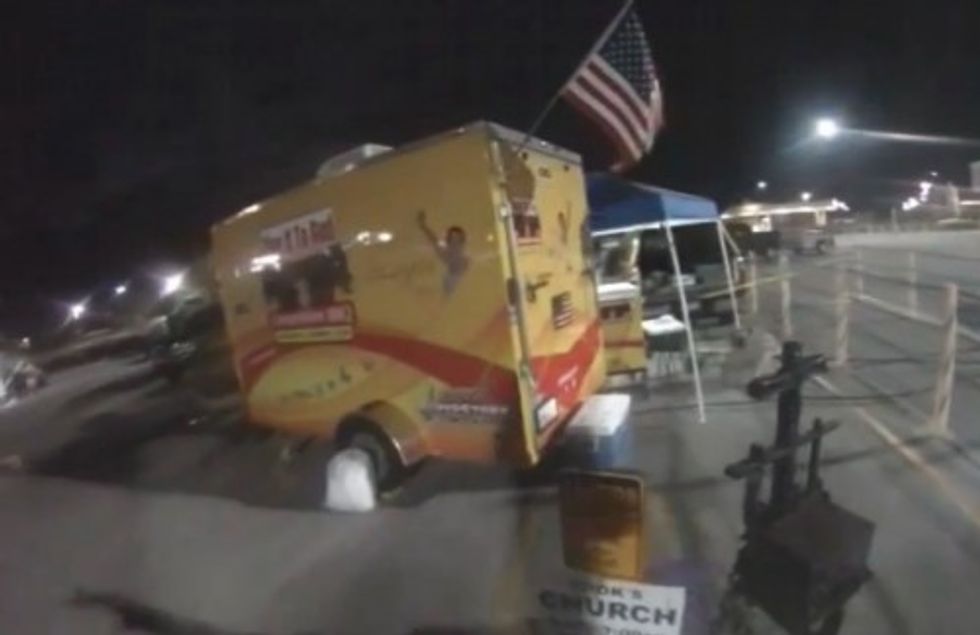 Image source: YouTube
That fact wasn't resolved for about seven hours — and in that time the city of Daphne got flamed as the controversy hit social media, AL.com reported.
In fact, Petkevicius posted a number of angry tweets, in one calling Daphne "the most un-American city!!"
Mayor Dane Haygood defended his town in a Facebook post Tuesday night, noting that there are "no such restrictions" on displaying the American flag, "nor did city officials engage with event organizers or participants in regard to flags or restrictions on signage."
"Daphne proudly displays the American flag as an expression of our appreciation for the sacrifices that have been made for our great nation and as a symbol of the freedoms and liberties that we as Americans have the privilege to enjoy today," Haygood added. "We encourage our residents to do the same."
So in the end Petkevicius apologized to the Alabama city for the "un-American" label, adding on his Facebook account Tuesday night: "I am sure that each and every one of you would agree that any ordinance that would, in fact, ban the display of the American Flag would deserve the Un-American label."
The Kansas City Barbecue Society offered a sort-of mea culpa as well: "IN HONOR OF DAPHNE, BBQ & OLD GLORY."
The group said that because of the city's "confusing" rules and codes on signage, the decision was to err on the side of "the most courteous and legal thing to do," which included removing all signs and, yes, flags. But once they knew the flags were OK, the decision was reversed.
The group's apology read, in part: "In hindsight, we can honestly say that we BLEW the original call. But thankfully, we CORRECTED it within 7 hours. Nothing made us more proud than telling our BBQ teams to hoist the Red White & Blue as they wished, and that if there was something inappropriate in doing so, we would take the heat."
(H/T: Todd Starnes)
—
Follow Dave Urbanski (@DaveVUrbanski) on Twitter