The Department of Justice this week acknowledged to a federal court that it has already given 100,000 illegal immigrants enhanced legal protection under President Barack Obama's executive action on immigration, before the court issued an injunction against the program.
Earlier this month, the U.S. District Court for the Southern District of Texas blocked Obama's action, which is aimed at protecting millions of illegal immigrants and letting them work in the United States. That injunction froze the program while the court hears a legal challenge brought by 26 states, although the Obama administration is looking to remove stay that court order.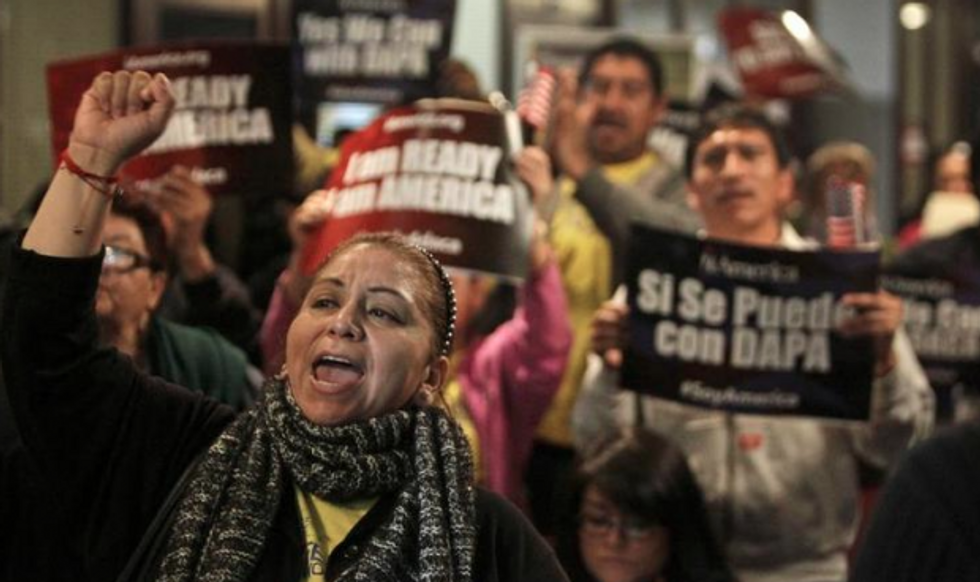 People chant during an event on President Obama's immigration relief plans in Houston, Texas. The Obama administration says it helped 100,000 illegal immigrants under his new program before a federal court imposed an injunction on the program. Image: AP Photo/Houston Chronicle, Melissa Phillip
Obama's plan has two main parts: an expansion of his Deferred Action on Childhood Arrivals program, or DACA, and a new Deferred Action on Parents of Americans and Lawful Permanent Residents, or DAPA. The DACA part expands Obama's 2012 DACA program, in part by making it eligible for a much wider range of people, and also by sparing illegal immigrations from deportation for three years, instead of the original two years.
The court order stopped the administration from implementing these new elements. But in its court filing, Justice said that as people started reapplying for the new DACA benefits, it gave about 100,000 people the new three-year extension, and noted that these extensions were given out before the court's injunction.
"These pre-injunction grants of three-year periods of deferred action to those already eligible for 2012 DACA were consistent with the terms of the November guidance," Justice said.
Justice said it wanted to make sure the court is aware that these decisions had already been made, "out of an abundance of caution." Justice also said it does not believe it should have to take back these new benefits, and only told the court to be sure it is "fully aware of defendants' pre-injunction actions."
Read Justice's court filing here: