Indoor smoking bans might help protect nonsmokers from smelling like cigarettes after a dinner out and from the harmful effects of secondhand smoke, but it's not likely to encourage smokers to give up the habit, a new study says.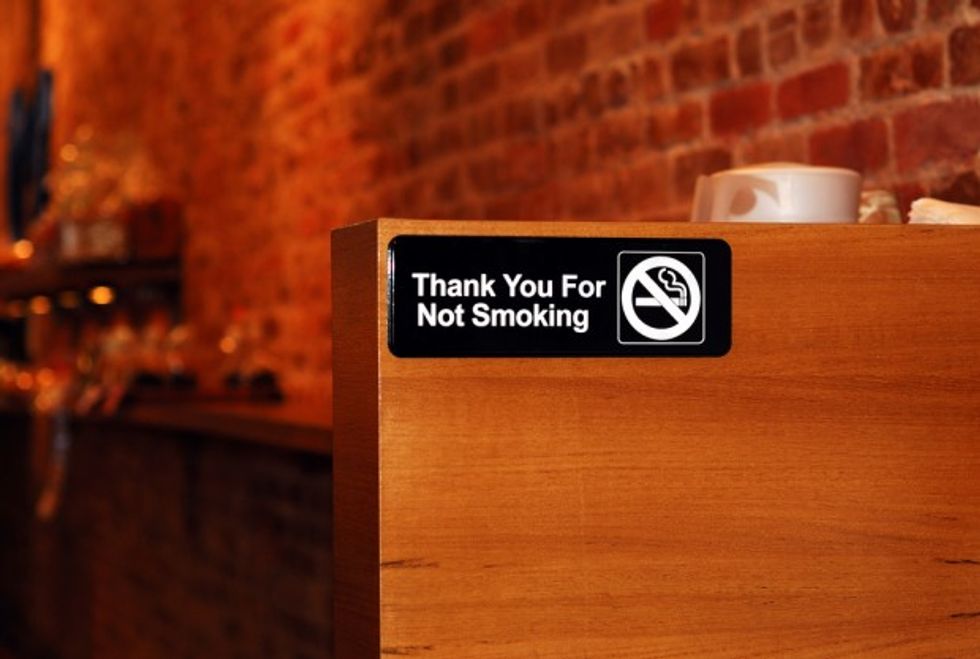 Photo credit: Shutterstock
Research from Concordia College in Minnesota found that the habits of smokers often remained the same at home even after a ban at restaurants, bars and workplaces was enacted in their area.
The study published in the journal Nicotine & Tobacco Research was based on data collected before and after a smoking ban in Quebec. The researchers found that a ban didn't necessarily lead to people kicking the habit at home, but being in the presence of a nonsmoker might.
"What distinguishes people who restrict smoking at home is the presence of a non-smoker," Sylvia Kairouz, an associate professor in Concordia's department of sociology and anthropology, said in a statement. "The social network seems to be more of a factor than the law."
Those who did still smoke at home in the Canadian study though often tried to reduce secondhand smoke for others.
"The popular belief is that opening windows or doors to blow out smoke makes it OK, when that's not the case," Kairouz said. "People might be sensitive to the issues, but there was a lack of information about how the effects of secondhand smoke are transmitted."
A separate study published in 2013 found that complete smoking bans — those that also restricted smoking at home — increase the likelihood that a person will quit.
Another nicotine-related study published in late February suggested that American smokers frequently use a combination of products to get their fix, including e-cigarettes.
It's a preliminary finding, but it highlights some key questions as health officials assess electronic cigarettes.
"Are e-cigarettes a step toward a cigarette smoker getting off of cigarettes? Or are e-cigarettes a crutch so they can get nicotine in places and times when they wouldn't normally be allowed to smoke cigarettes?" asked Dr. Andrew Hyland of the Roswell Park Cancer Institute, the primary investigator for a huge government study of trends in smoking and tobacco use.
Hyland's study is one of a number of projects that scientists are watching as they explore the public health implications of e-cigarettes.
At a meeting of nicotine researchers late Thursday, Hyland presented preliminary findings from the first 20,000 people to enroll in the study, a baseline as the Food and Drug Administration and National Institutes of Health track how use of tobacco products, or alternatives like tobacco-free e-cigarettes, is evolving.
A fraction — 28 percent of adults and nearly 9 percent of youths — reported they currently use any type of tobacco product, Hyland said.
About 40 percent of those current tobacco users report using two or more products. And half say battery-powered e-cigarettes are one of the multiple products they use, Hyland found. In fact, the most common combination was cigarettes and e-cigarettes.
Ultimately, the PATH study — it stands for Population Assessment of Tobacco and Health — will follow 46,000 people ages 12 and older over five years, a source of information as FDA decides how to regulate tobacco-related products.
(H/T: Science Daily)
—
Front page image via Shutterstock. The Associated Press contributed to this report.