Pastor Lee Jong-Rak runs the Jusarang Orphanage in South Korea now, where he has saved the lives of hundreds of special needs babies abandoned by their parents. But years ago, he was a "raging alcoholic" who abused his wife before hitting rock bottom.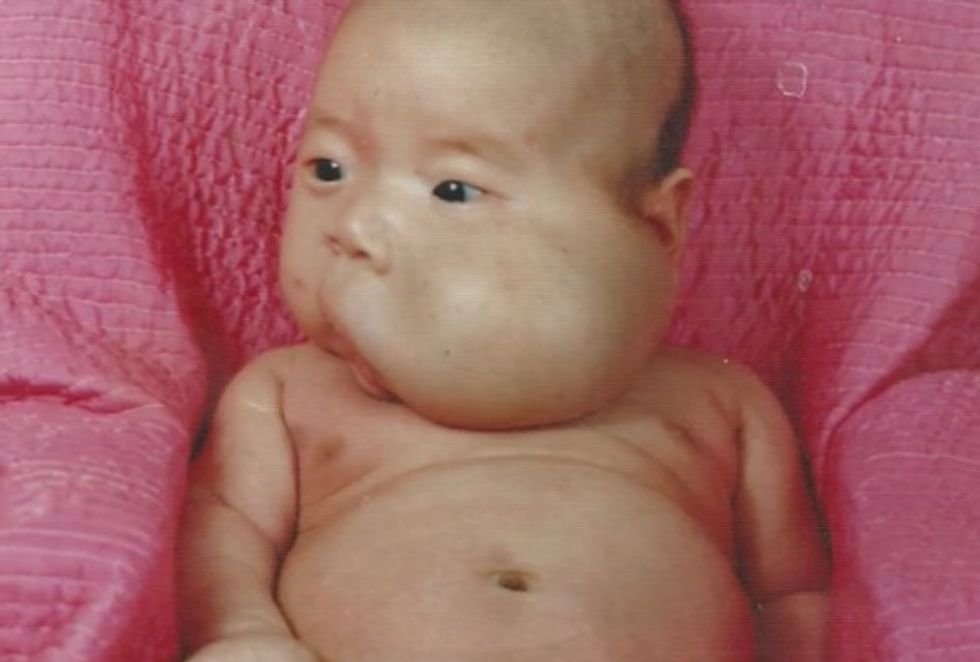 Babies with deformities or disabilities are often abandoned in South Korea, but Pastor Lee and his wife refused to give up their son. (Image via TheBlaze TV)
"In that moment, he surrendered his life to God," Glenn Beck said of the pastor on his television program Wednesday. "As he found his faith, his prayers were simple. He asked God to bless him with a son. His wife got pregnant, and after hours of brutal struggle, his son was born."
Lee's son was born with a large cyst on his cheek and doctors said he would be permanently bedridden, but Lee and his wife refused to give him up. He admitted that he briefly asked, "Why did [God] give me this kind of baby? Why didn't he give me a healthy baby?" But said it "wasn't even 30 seconds" before he repented and thanked God for giving him a son.
In South Korea, babies with deformities or disabilities are often abandoned or killed, but Lee's love for his son caused him to try to save others like him. So he created a metal "drop box" outside his home, outfitting it with warming lights, soft blankets and motion detectors that let him know when someone arrives.
"This is a facility for the protection of life," a sign on the box reads. "If you can't take care of the disabled babies, don't throw them away or leave them on the street. Bring them here."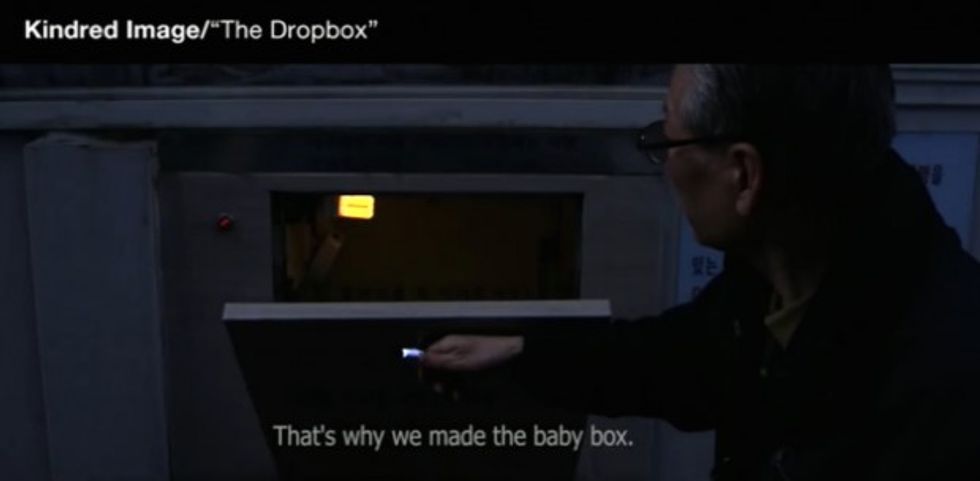 Pastor Lee opens the drop box he created for abandoned babies. (Image credit: Kindred Image/"The Drop Box" via TheBlaze TV)
"It's hard to imagine, but in South Korea, this drop box alone has seen over 650 babies deemed unwanted by their mothers and fathers," Beck said. "In a country where a simple deformity makes a baby a curse instead of a miracle, this is the box of the unwanted. But because of one man, they are being saved."
Brian Ivie created a documentary about Pastor Lee's work called "The Drop Box," which airs March 3, 4, 5 in movie theaters nationwide.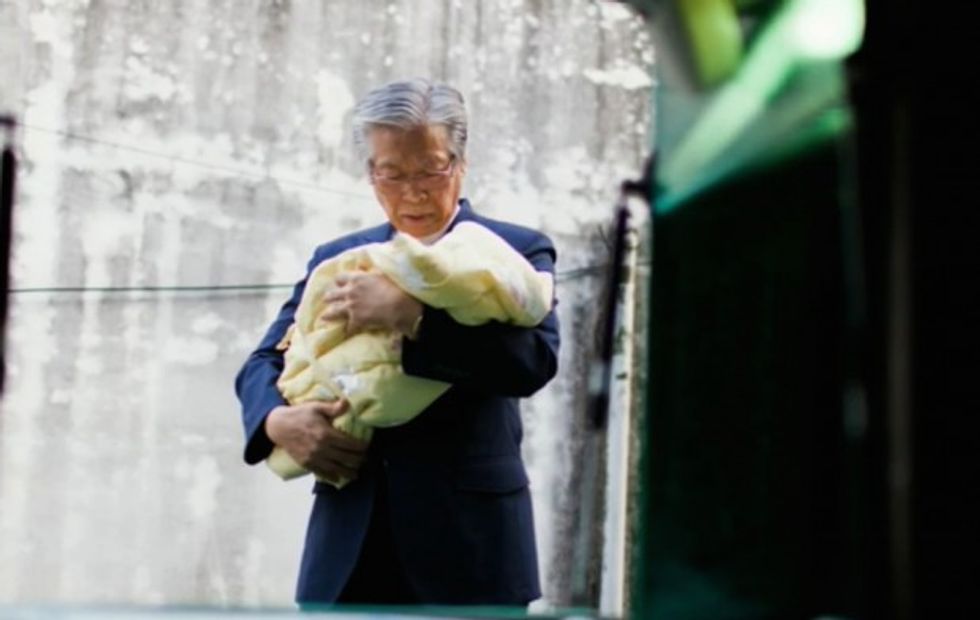 Pastor Lee cares for a baby left in the drop box he created in South Korea. (Image credit: Kindred Image/"The Drop Box" via TheBlaze TV)
"I came back from this trip obviously affected. God uses the weak to train the strong," Ivie said. "He used a person who didn't believe in him at all to make this movie. He used a man in the gutters of alcoholism and rage to save children. The world's tipping their hat to him, and they have no idea that he's not a natural-born hero, but that he was saved to save. And so was I."
Pastor Lee said the abandonment of infants with special needs is a "global issue," and people from over a dozen countries have come to film the work they are doing. One of the things that sets them apart, he says, is that he and his wife are "mom and dad" to those they save. He said he made a commitment to the Lord saying, "God, I will die for these children."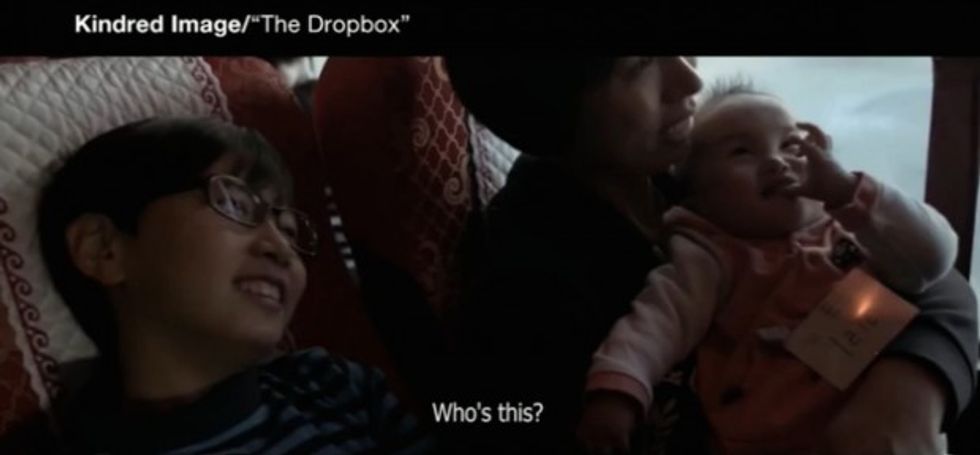 Pastor Lee said he would die for the children he and his family save. (Image credit: Kindred Image/"The Drop Box" via TheBlaze TV)
"God has chosen this story to bring about the message of hope for those children," he said. "It's God's way of loving a life, through awakening a lot of people around the world, just like me ... to do what they are supposed to do."
[mlbvideo content_id=40404683]
The full episode of The Glenn Beck Program, along with many other live-streaming shows and thousands of hours of on-demand content, is available on just about any digital device. Click here to watch every Glenn Beck episode from the past 30 days for just $1!