Millions of people will pop a tiny plastic coffee pod into their single-serve coffee maker this morning, punching through its foil lid to create a personalized cup of java. John Sylvan is not one of these people, which wouldn't seem so unusual except he's the inventor of the Keurig K-Cup. 
"I don't have one. They're kind of expensive to use," Sylvan told the Atlantic. "Plus it's not like drip coffee is tough to make."
What's more, given the increasing number of K-Cups that are being dropped into garbage cans because they are not recyclable, Sylvan told the news outlet at times he regrets inventing them.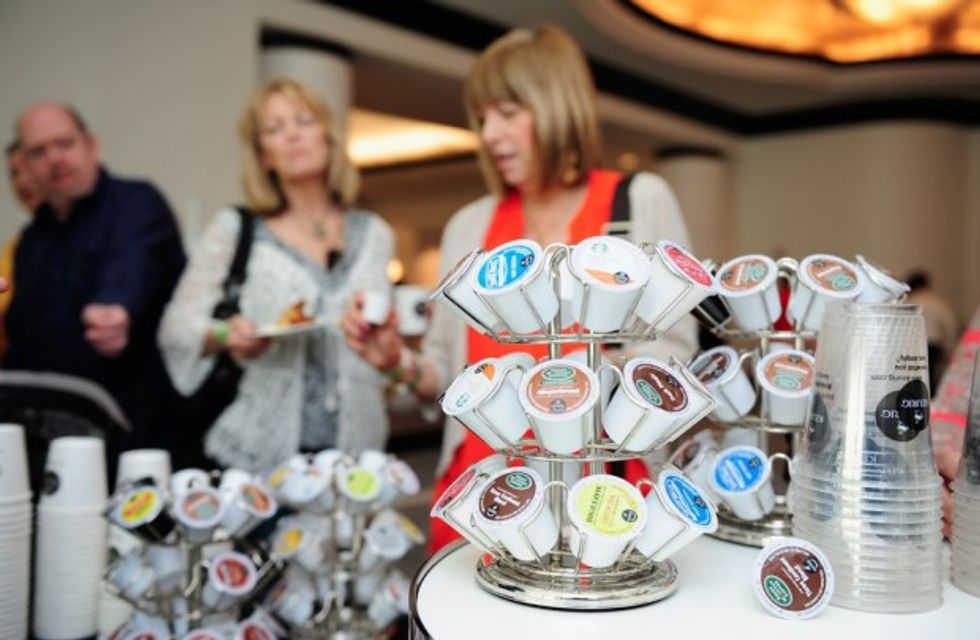 Guests enjoying Keurig at the Southern Kitchen Brunch hosted by Trisha Yearwood, part of The New York Times series during the 2015 Food Network & Cooking Channel South Beach Wine & Food Festival presented by FOOD & WINE at Loews Miami Beach Hotel on February 22, 2015 in Miami Beach, Florida. (Sergi Alexander/Getty Images For SBWFF)
"I feel bad sometimes that I ever did it," he told the Atlantic.
There has been public backlash over the waste of K-Cups for years. In January of this year, a petition to "Kill the K-Cup" was launched with this dramatized video of cataclysmic consequences plastic cups (Content warning: strong language):
Though the current K-Cup itself might have some environmental issues, the company appears to be trying to set itself on the path to sustainability. In a news release last month, Keurig Green Mountain said it is "deeply committed to becoming more sustainable through relentless, incremental improvements."
Among its top priorities were making the the K-Cup 100 percent recyclable by 2020.
"Keurig is taking a holistic approach to finding a solution to this challenge, focusing on product design, recycling infrastructure and the end market development for the materials," the news release stated.
The Atlantic pointed out that most K-Cups are already recyclable, in a way. They have to be broken down by the user into their different material components though.
"No matter what they say about recycling, those things will never be recyclable," Sylvan told the Atlantic. "The plastic is a specialized plastic made of four different layers." The cups are made from plastic #7, a mix that is recyclable in only a handful of cities in Canada. That plastic keeps the coffee inside protected like a nuclear bunker, and it also holds up during the brewing process. A paper prototype failed to accomplish as much.
The Atlantic said the company would not divulge an estimate of how many K-Cups it sells. In the first quarter of 2015 alone, 4.5 million Keurigs were sold, but Fortune pointed out that the K-Cups accounted for nearly 75 percent of the company's sales this quarter.
Read the Atlantic's full article on the tiny plastic cups.
(H/T: Daily Mail)
—
This story has been updated to correct a typo.