Glenn Beck on Friday weighed in on Israeli Prime Minister Benjamin Netanyahu's recent speech to Congress, saying "no one will talk about" the spiritual element of his remarks.
"This is really critically important, and I'm not surprised that nobody in the media picked this up," Beck said. "This is something that we predicted, that I said in advance. I said he's coming the week the Jews remember Esther. So everybody was focused on 'Oh, he's coming for the elections that are happening in two months.' No, he's not. He picked this week because this is the week that the Jews remember what happened to Esther."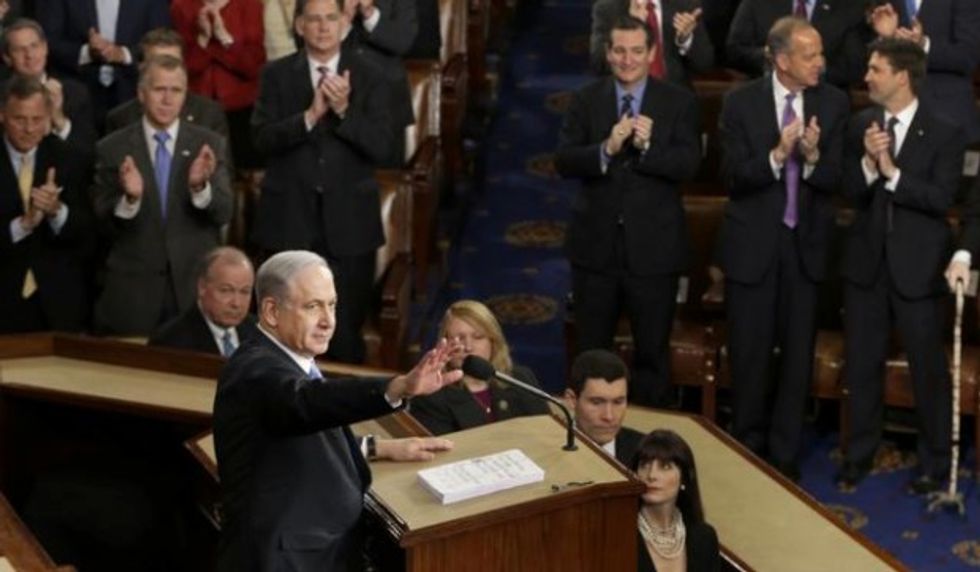 Israeli Prime Minister Benjamin Netanyahu speaks before a joint meeting of Congress on Capitol Hill in Washington, Tuesday, March 3, 2015. In a speech that stirred political intrigue in two countries, Netanyahu told Congress that negotiations underway between Iran and the U.S. would "all but guarantee" that Tehran will get nuclear weapons, a step that the world must avoid at all costs. (AP Photo/J. Scott Applewhite)
"If you don't know the story of Esther, it's really quite critical here," Beck added. "Esther was a queen in Persia, and the king was somebody who was being misled by a guy named Haman. Haman was going to kill all the Jews, and the king was going to allow it to happen."
Mordecai went to Esther and told her to speak to the king, even though those who approached the king without being summoned could be killed. Mordecai told Esther she was born for a time such as this, and added that there would be deliverance for the Jews, but the king's people may not survive if he allowed the slaughter to occur. In Netanyahu's speech, he referenced the book of Esther and said Jews today face the same threat from "yet another Persian potentate," Iran.
"I think we are Esther, and he was saying clearly to the American people that you were born [for times such as this]," Beck said. "He didn't say this, but this is what he was implying: 'You as a nation may not stand if you don't side with the Jewish people today. God's commandments will tell you that. If you side with the Jew, you will survive. If you don't, you will not survive.' So he was coming to us, without ever saying it, just in timing, saying: 'You've got to stand up. We need America by our side. But more importantly, you need the Jewish people by your side.'"
"No one will talk about this. That is the key to this speech, because he was speaking to us in spiritual terms," Beck concluded. "Wake up, America. You are going to lose your place in the world if you don't stand with the Jewish people. You are Esther.'"
You can listen to the clip below for Beck's complete analysis of the speech, which he called "absolutely brilliant."
The full episode of The Glenn Beck Program, along with many other live-streaming shows and thousands of hours of on-demand content, is available on just about any digital device. Click here to watch every Glenn Beck episode from the past 30 days for just $1!